Number of Sink Compartments
The first factor to consider as you look into buying kitchen sinks is how many sink compartments you'll need. Among the types of sinks available, the different number of compartments serve various purposes and help improve efficiency in your establishment. Although the three compartment sink is one of the most common sink layouts in the industry, you can also choose between one compartment, two compartment, and four compartment sinks.
Most basic of the models
Excellent for space-saving
Best used for utility or vegetable washing
Perfect for food trucks
---
Features a compact footprint
Bowls can often vary in size and depth
Best used for food thawing and prep
Perfect for snack bars, cafes, or concession stands
---
Most common for commercial kitchens
Keeps each step of the cleaning process separate
Best used to rinse, wash, and sanitize dishes
Perfect for standard restaurant kitchens
---
Features the largest footprint
Each bowl is typically dedicated to a specific function
Best used to scrape, rinse, wash, and sanitize
Perfect for university and hospital kitchens
Compartment Sink Materials
The material of the sink you buy is just as important as its number of compartments and size. All compartment sinks are made of stainless steel to ensure long-lasting durability, but there are different grades of steel used. You will often find compartment sinks made of either 430 stainless steel or 304 stainless steel.
What's the difference between type 304 and type 430 stainless steel? Type 430 contains no nickel, but type 304 does contain a percentage of nickel. Both alloys are resistant to corrosion and food safe, though 304 is not magnetic and generally considered higher quality.
Type 430 Stainless Steel Compartment Sink
Commonly used in the industry for all kinds of equipment
Standard material
Can eventually rust
Quality:
Type 304 Stainless Steel Compartment Sink
Commonly used in wet environments like coastal areas
Heavy duty material
Resists rust
Quality:
Compartment Sink Gauges
Each compartment sink is also made with a specific gauge of steel. The gauge is a measurement of the steel's thickness, with lower gauges indicating a thicker metal. The most common gauges for compartment sinks are 18 gauge, 16 guage, and 14 gauge.
18 Gauge Stainless Steel Compartment Sink
Thin material
Good for soft water areas
Quality:
16 Gauge Stainless Steel Compartment Sink
Medium grade material
Stronger legs for basin support
Quality:
14 Gauge Stainless Steel Compartment Sink
Thick material
Greatest durability
Quality:
Compartment Sink Accessories
You can pair your compartment sink with a variety of accessories and configurations to maximize your experience and efficiency.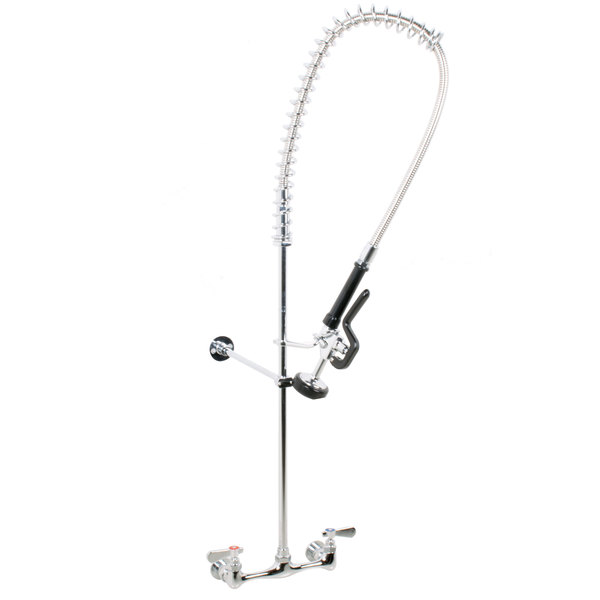 Drainboards: For the best convenience, compartment sinks can come with drainboards on one or both sides for a variety of purposes, from drying washed dishware to adding extra table space.
Faucets: Most sinks also include holes drilled into the backsplash to support swing nozzle, gooseneck, or pre-rinse faucets, depending on what you need, to give you the chance to streamline rinsing and cleaning. With three and four compartment sinks, the units commonly come with multiple centers punched over different sinks so that you can have multiple faucets for separate purposes while you work.
Once you have your compartment sink installed and in use, it is important to
clean the stainless steel properly
, regardless of the type of sink you own, to ensure that your sink will last for years to come.