What is Auto Reorder?
WebstaurantStore's Auto Reorder feature can make your life easier by automatically purchasing and shipping chosen items at set intervals of time. How do you know if the product you want works with Auto Reorder? Simply look for the Auto Reorder symbol on the product page. Check out the step-by-step directions below to learn how to set up a new Auto Reorder and how to manage your existing ones:
How to Use the Auto Reorder Management Page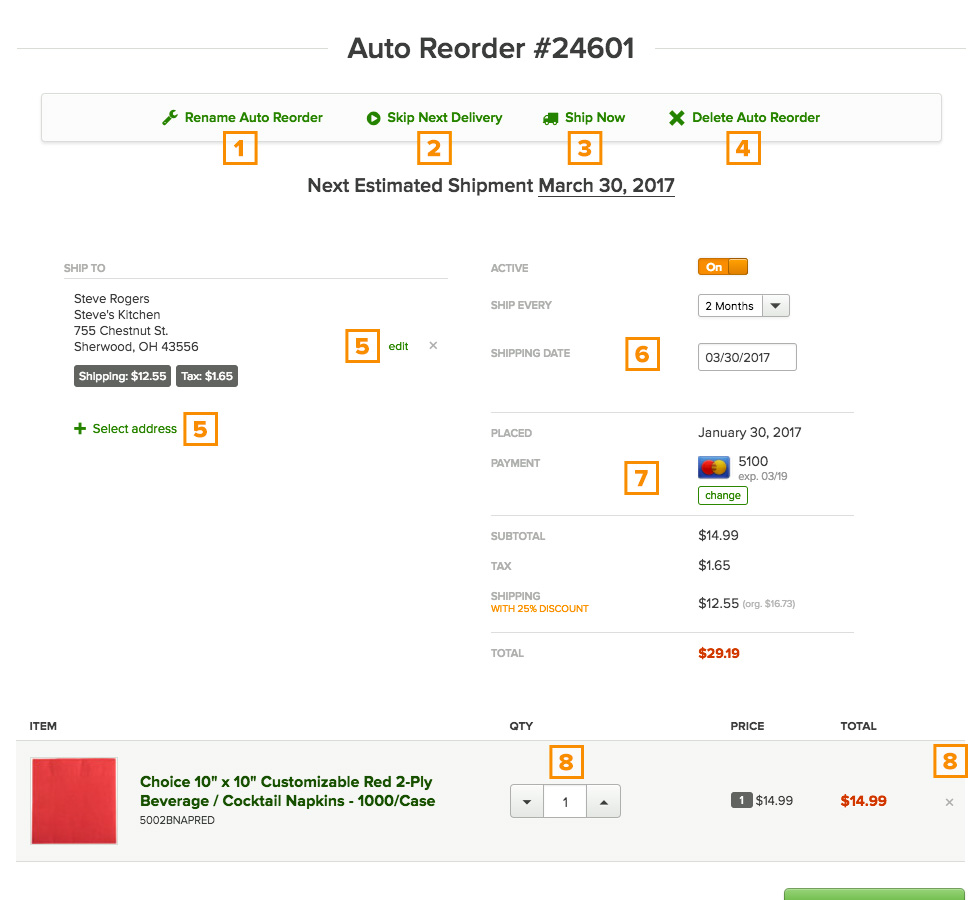 1. Rename the Auto Reorder
You can select the "Rename Auto Reorder" tab to customize the name of your order.
2. Skip the next delivery
If you don't need your next scheduled order right away, you can skip it by clicking the "Skip Next Delivery" button.
3. Ship now
If you need your Auto Reorder shipped right away (instead of waiting for your next scheduled delivery), you can click the "Ship Now" button.
4. Delete Auto Reorder
If you decide that you no longer want or need Auto Reorder for a particular product, you can cancel it entirely.
5. Edit a shipping address
You can either save your shipping address or edit an existing one depending on your needs.
6. Change the shipping date
With this feature, you can change future Auto Reorder shipping dates.
7. Change payment
By selecting this option, you can choose a saved credit card from your account or you can add a new one.
8. Quantity updates or remove products
You can always change the product quantity in your Auto Reorder if necessary. You can also click on the "X" icon to remove a product from Auto Reorder.