Traditional Hispanic Food
From tacos and quesadillas to tres leches cake and margaritas, Hispanic food has become integrated into the cuisine of many Americans. But no matter how well-known and appreciated Hispanic cuisine is, there are many authentic Hispanic dishes you may not be familiar with. To honor the rich culture and heritage of people from Spain, Mexico, the Caribbean, Central America, and South America, consider celebrating National Hispanic Heritage Month in your restaurant with some of these traditional Hispanic foods!
Shop All Hispanic Foods
When Is Hispanic Heritage Month?
Hispanic Heritage Month begins on September 15, 2022 and lasts until October 15, 2022. The reason Hispanic Heritage Month begins in the middle of the month is because September 15 holds cultural significance for five Latin American countries. It's the anniversary of independence for Costa Rica, El Salvador, Guatemala, Honduras, and Nicaragua.
Hispanic Food List
Check out our list of popular Hispanic foods! Any of these dishes would make a tasty addition to your menu during Hispanic Heritage Month.
1. Tortilla Espanola
Tortilla Espanola is a classic dish that is beloved throughout Spain. The name translates to "Spanish tortilla," but you'll also hear the dish referred to as a Spanish omelette or potato omelette. No matter what it's called, this combination of eggs, potatoes, and onions is easy to prepare and can be served any time of day.
A traditional tortilla Espanola is made with a filling of thinly sliced potatoes and sauteed onions enveloped by fluffy, beaten eggs. Some Spanish omelettes are thin, and some are thick and dense. There are many interpretations of the dish, which can be enjoyed hot or cold. Tortilla Espanola is served as a snack, a tapa, or even a main entree.
---
2. Empanadas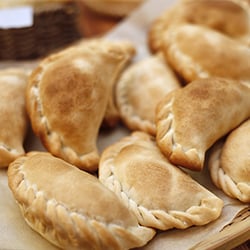 Empanadas are pastry shells stuffed with fillings and baked or fried to golden perfection. These crescent-shaped hand pies can be filled with a variety of savory ingredients or sweet fillings. In Argentina, empanadas are made with a flour-based dough and filled with meats mixed with peppers, onions, or olives. But in Belize, empanadas are made with a corn dough called masa and filled with beans, fish, or chicken.
Every country and region has a unique take on preparing empanadas, which is why this dish is so versatile. To make an empanada, lay out a flattened round of dough and place a spoonful of filling on one side. Fold the dough over the stuffing and crimp the edges. Bake or fry the pastry pocket to yield a slightly crispy, flaky outer layer and a soft interior.
---
3. Arepa
Arepas are unleavened cornmeal cakes that are fried, baked, or grilled. They can be served whole and topped with melted cheese and salsa fresca, but one of our favorite ways to prepare arepas is to split them open and fill them like sandwiches. You'll see authentic arepas paired with a variety of toppings like cheese, cuajada (milk curds), beans, meat, or avocado.
Arepas originated in the pre-Colombian northern region of South America, which is present-day Venezuela and Columbia. Today, these simple but delicious corn cakes are a household tradition throughout Columbia and are eaten for breakfast, lunch, and dinner.
---
4. Tajadas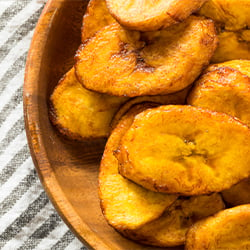 Tajadas are fried ripe plantains that can be served as a dessert, a side dish with rice, or with entrees like pork or fried chicken. Fried plantains are a traditional Hispanic food enjoyed in many countries, including Columbia, Honduras, Venezuela, and Nicaragua. In Cuba, sweet plantains are called maduros.
The key to making tajadas is to use ripe plantains. Green plantains are a staple food of Latin America and the Caribbean, but to make this sweet dish, the plaintains need to be ripened until the skin is black. As the plantain ripens, the flesh becomes tender and sweet. To prepare traditional tajadas, cut the ripened plantain on the bias (diagonally) to create long slices.
---
5. Gallo Pinto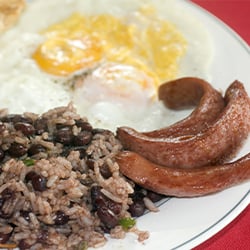 Gallo pinto is the Central American version of rice and beans. These two ingredients are featured in Hispanic cuisine throughout the world, but gallo pinto is a staple of Costa Rican and Nicaraguan cuisine. It's so beloved that it's the national dish of both countries!
The word gallo pinto translates to "spotted rooster" and describes the speckled appearance of beans mixed with rice. Every region has its own take on the dish, but the classic combination includes white rice, beans, onions, peppers, and spices. In Costa Rica, it's usually served with a spiced brown sauce called salsa lizano.
---
6. Tacos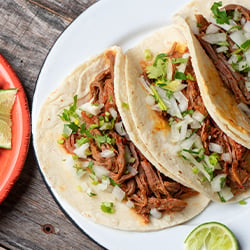 Tacos need no introduction! This traditional Mexican food is beloved all over the world and is one of America's favorite comfort foods. Authentic Mexican tacos were made with soft-shell corn tortillas and best eaten immediately. The hard taco shell was invented in the 1940s to create a more portable version of the taco that kept longer.
This iconic street food can be fused into all types of cuisine, giving us grilled tuna tacos, vegan jackfruit tacos, and kimchi tacos. Or you can stick with traditional varieties like tacos al pastor (marinated sliced pork) or tacos de barbacoa (shredded beef, lamb, or goat). The Americanized fast-food version of the taco that comes stuffed with cheese and sour cream can be delicious, but today's taco lover appreciates the authentic version made with simple, fresh ingredients.
---
7. Stuffed Peppers
Stuffed peppers are popular all around the world, including Hispanic countries such as Spain and Mexico. The dish usually consists of a hollowed out or halved pepper stuffed with fillings like meat, rice, and vegetables. Once filled, the peppers are cooked and sometimes topped with cheese or sauces.
In Spain, "pimientos rellenos" are bell peppers filled with chicken and Manchego cheese. Mexican stuffed peppers, called chile rellenos, are roasted poblano peppers stuffed with melted cheese (Chihuahua or queso Oaxaca) along with a mixture of pork or red meat, raisins, and spices. Stuffed peppers may also be covered in "salsa roja," or red sauce.
---
8. Elote Corn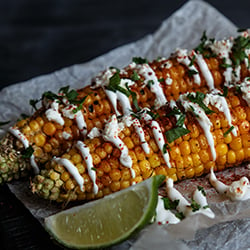 Elote is a Mexican street food made with fresh, grilled corn on the cob. The corn cobs are charred over an open grill and coated with mayonnaise and Mexican crema (sour cream). Next comes a sprinkling of Tajin seasoning, followed by fresh cilantro and crumbled Cotija cheese. The elote is finished off with a squeeze of fresh lime juice.
When you deconstruct elote and remove the corn from the cob, you get another tasty Mexican street food called esquites. This "street corn in a cup" is less messy than elote and features all the same salty, smokey flavors. For the most authentic street corn, use Mexican white corn, not sweet corn.
---
9. Mole
Mole is a Mexican chili sauce that is usually served over chicken, seafood, or turkey. Though it can take many different forms, it's always made with fruit, chili peppers, herbs and spices (such as garlic, cumin, coriander, anise, cloves), and sometimes chocolate. Mole can be time-consuming to make, but the rich flavors make it more than worth it!
Mole (pronounced mow-lay) sauce has a rich history in Mexico and is an important component of the popular dish, mole poblano. The word mole translates to "sauce" and comes from the native language Nahuatl, which was spoken by the Aztecs and is still used in parts of Mexico today.
---
10. Paella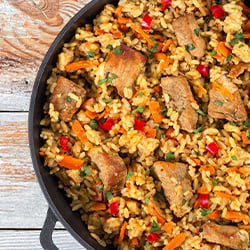 Paella is a fragrant rice-based dish made with meat or seafood, vegetables, and saffron, which gives the dish its signature yellow hue. Ingredients in a Spanish paella will vary by region, but one thing is certain - authentic paella is made in a traditional paella pan.
A paella pan is a wide, shallow frying pan that provides a large surface for the rice and ingredients to be tossed for even cooking. The secret to the perfect paella is to lightly toast the rice on the bottom without burning it. This creates a crispy shell nicknamed "Valencian caviar."
---
11. Ceviche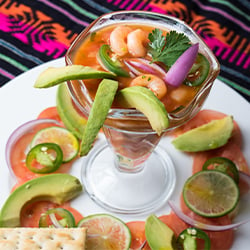 Ceviche is a seafood dish that is popular in Peru, Ecuador, Mexico, and other Pacific coastal regions of Latin America. Consisting of fresh raw fish, citrus juice, chopped onions, salt, and cilantro, ceviche is a refreshing, sweet-savory dish.
Ceviche recipes vary slightly by location. This Hispanic dish might feature shrimp, or it could take the form of a ceviche "cocktail," which is popular in Mexico. "Vuelve a La Vida" is a well-known Veracruzan dish, which is a ceviche cocktail of oysters, octopus, fish, clams, and any other available seafood. Ceviche cocktails are usually served in cocktail glasses and may come with tostadas and avocado.
---
12. Flan
Flan is a custard with a gelatin-like consistency and may also go by the name "creme caramel" or "pudim" (Portuguese). Essentially a baked custard, flan is usually made of eggs, sweetened condensed milk, evaporated milk, vanilla extract, and sugar. You may find a Mexican flan covered in dulce de leche, a sweet caramel syrup, while a Spanish flan may have a layer of caramelized sugar on the bottom.
The origins of this popular dessert go all the way back to the Roman empire. Different variations of the custard were adopted across Europe, and Spanish conquistadors brought the recipe to the Yucatan Peninsula in Mexico.
---
13. Arroz con Leche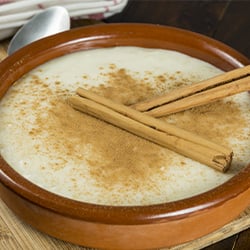 Arroz con leche, translating to "rice with milk," is a creamy rice pudding made with cinnamon, nutmeg, and vanilla. You'll sometimes see the addition of orange or lemon peel for extra flavor.
Believed to have Moorish origins, arroz con leche is enjoyed throughout Spain and Latin American countries, including Mexico, Colombia, and Venezuela. In Colombia, arroz con leche may feature grated coconut, and cloves might be added in Peru. Many Hispanic households have their own recipe for arroz con leche that has been passed down through the years.
---
14. Tres Leches Cake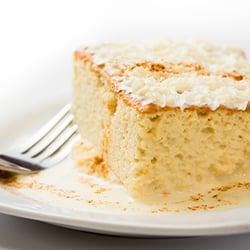 Tres leches (three milks) cake consists of a sponge cake or butter cake soaked in three different types of milk: evaporated milk, condensed milk, and heavy cream. After the sheet cake is baked and cooled, holes are poked into the top with a skewer and the milk mixture is poured over top. The fluffy sponge absorbs the milk and cream, yielding a moist, rich cake.
Tres leches cake is popular throughout Mexico, Nicaragua, Panama, Cuba, Puerco Rico, Guatemala, Costa Rica, and many other Latin American countries. In Mexico, tres leches cake is served at weddings, birthdays, and other celebratory events.
---
15. Churros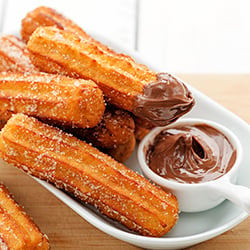 Churros are long, sweet fried-dough pastries that are normally served with a dipping sauce of chocolate or dulce de leche. A popular street food, churros are also served for breakfast or as a dessert at sit-down restaurants.
Churros are enjoyed throughout Hispanic and Portuguese-speaking countries, including Spain, Portugal, Brazil, Mexico, Colombia, Peru, and Argentina. Churro vendors, called churrerias, specialize in this tasty treat. Crispy on the outside and tender on the inside, churros are coated in cinnamon sugar and are best served warm!
---
16. Bunuelos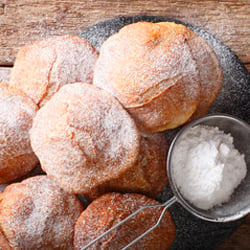 Bunuelos are a fried dough fritter, or type of donut, that is shaped into a ball or a flattened disk and covered with cinnamon and sugar. Perfect as a snack or dessert, bunuelos are a simple, tasty treat that's enjoyed throughout Spain and Latin American countries.
Each country has its own take on buneolos. In Mexico, anise is added to the dough and the fritters are served with a warm sugar cane syrup. The bunuelos in Uruguay and Argentina are also called banana fritters and are considered a special rainy day treat. Columbian bunuelos are dough balls containing white cheese curd, served with custard as a traditional Christmas dessert.
---
17. Margarita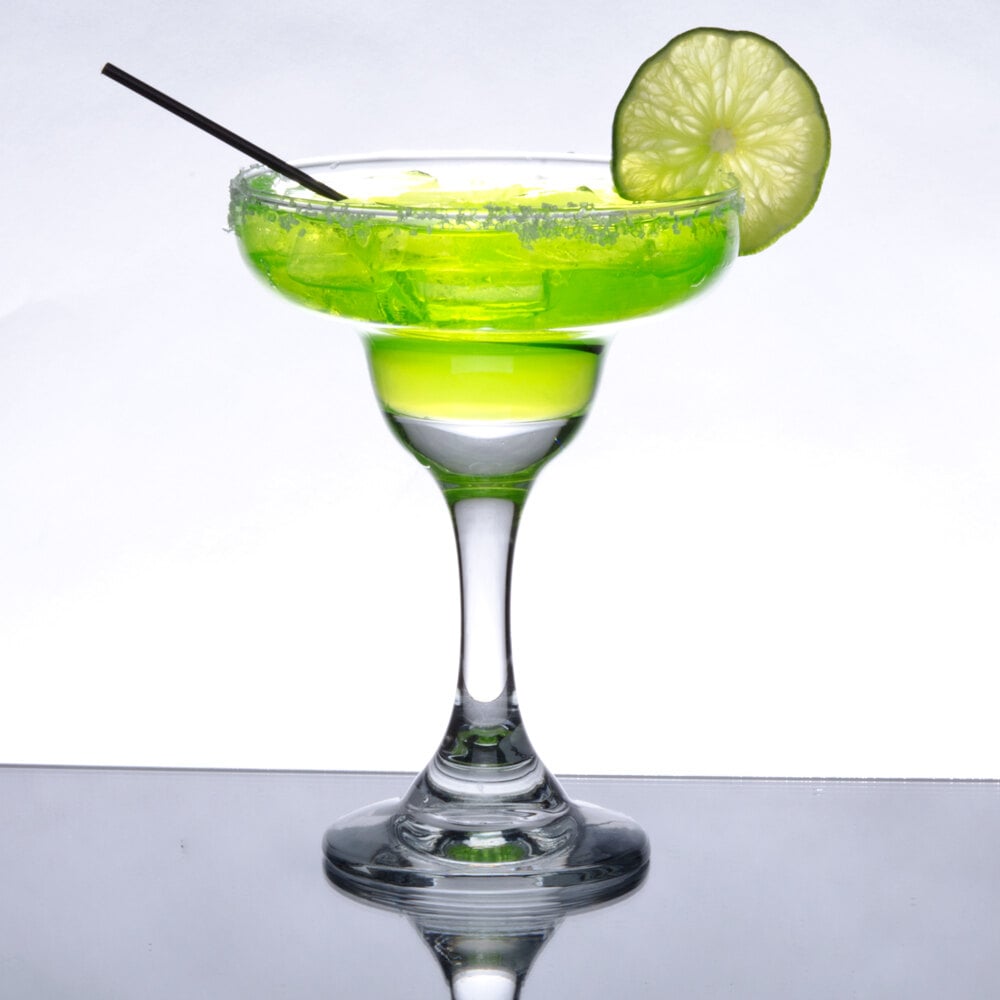 You certainly can't forget happy hour when creating your menu! The margarita is a classic cocktail made with tequila, orange liqueur, and lime juice. It's served in a signature margarita glass with a salted rim. The great thing about the margarita is that it can be customized for each customer. Serve it with salt, sugar, fruit flavors, or blend it into a frozen drink. You can even try a variation like the Coronarita, which combines the cocktail with the Mexican beer corona.
Some believe the margarita evolved from a Mexican cocktail called the Tequila Daisy. This tequila-based cocktail had similar ingredients, and margarita translates to "daisy" in Spanish. No one knows for sure how the margarita came to be, but we thank Mexico for giving us one of the most popular cocktails of all time.
---
Hispanic food represents rich cultures from many different countries, and a large portion of the American population are from Spanish-speaking cultures. Many traditional meals can be prepared as they have always been, or adapted to incorporate your own preferences. To celebrate this Hispanic Heritage Month, consider incorporating some traditional food into your restaurant's menu.

Posted in:
Holidays
|
Seasonal
| By Hannah Herrera