How to Start a Grocery Delivery Business
Last updated on 10/27/2021
With only so many hours in a day, many people look for ways to streamline their daily routine. Because of this, many services like food delivery and meal kits have expanded to make customers' lives more convenient. In particular, grocery delivery services have seen a substantial rise in popularity. Beyond just saving time, these services have inspired business owners and entrepreneurs to establish their own method of grocery delivery. Below, we'll investigate what a grocery delivery service is and what steps to follow to start your own.
What Is a Grocery Delivery Business?
A grocery delivery service allows customers to order groceries and have them delivered without visiting a grocery store. Doing so allows them to keep their kitchens stocked without wasting time or having to make a trip back to the store for an item they forgot. While some grocery stores might choose to create their own delivery service, it's also possible to start an independent business that shops for clients.
---
How to Start a Grocery Delivery Service
Grocery delivery services operate differently than traditional businesses, making it difficult to identify a starting point. Below, we've provided a list of steps to help you make informed decisions as you establish your delivery service.
Click any of the sections below to learn how to start and manage your own grocery delivery business:
1. Choose a Type of Service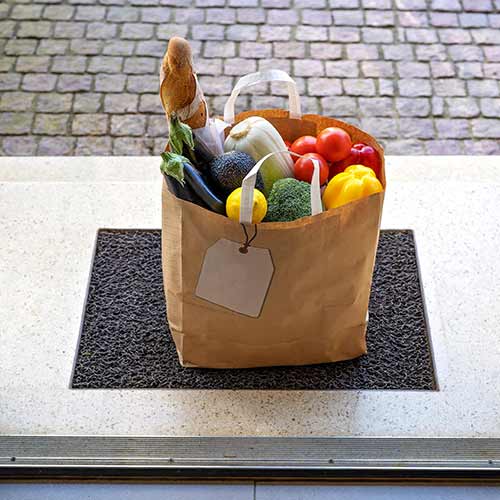 Choosing the right type of grocery delivery service is essential, as your success can vary depending on the market you'll be making deliveries in, the number of employees you intend to hire, and your business goals. To learn more about the different grocery delivery options available to choose from, continue to the list below:
Partner with a grocery store: One of the easiest options available is to contract with a local grocery store. In this scenario, the store would charge customers for deliveries and pay your company to fulfill them.
Partner with a wholesaler: Starting an account with a wholesaler allows you to let customers place an order which you'd then pick up directly from the wholesaler. Partnering with a wholesaler rather than a grocery store can result in cheaper food prices and a higher opportunity to profit, however, it may be more difficult to find customers.
Register with a delivery service: Working through a delivery service such as Uber Eats or WeGoShop is an easy way to get started in the grocery delivery business. These companies allow users to place orders directly through their app, which then assigns a driver to deliver food to them.
Work directly with customers: Another option available is to forgo registering or partnering with other companies and work directly with customers. This will require you to set up an effective line of communication and invest in your own supplies, but it can be rewarding in the long run.
2. Identify Key Demographics
An important part of starting a grocery delivery service is identifying what groups of people are most likely to be a customer. In general, people order their groceries online because they don't have enough time in the day to go to the grocery store. Additionally, many customers have their groceries delivered because they have difficulty getting to the store on their own. These groups of people can range from busy parents trying to balance their home and work lives to senior citizens or individuals in assisted living facilities. Regardless of who is ordering, analyzing the demographics in your market makes it easy to decide on marketing strategies and accommodate your customers.
3. Assess Competition
Competitive analysis, when done right, can give your business an advantage. Identifying your competition, their services, and how they operate doesn't just help you to understand the industry, but also helps to give you a competitive advantage against other businesses in your market. Additionally, this practice can help you to stay on top of industry trends and any changes happening in your specific market. Don't just study your competitors' successes, analyze their mistakes to avoid repeating them.
4. Invest in Equipment and Transportation
Having the right equipment helps to keep your delivery drivers prepared for any food they might have to deliver. Furthermore, having access to reliable and efficient transportation is the key to making deliveries fast and efficient. Continue reading below to learn how you can invest in equipment and transportation to improve your customer service:
Coolers: Since customers may order frozen foods, make sure that your drivers have coolers on hand. This helps to ensure cold foods remain cold until they reach their destination.
Insulated food carriers: Having insulated food carriers on hand while making deliveries is helpful when customers order hot foods, particularly those prepared in-store. These carriers allow you to keep foods warm and fresh as you drive from the grocery store to your delivery destination.
A reliable car: Not only does investing in a reliable car make it easy to get from place to place, but it also makes it easier to make deliveries during inclement weather, when you may see an increase in orders. Being able to drive safely through snow, rain, or any other type of weather makes it easier to get to your destination on time.
A GPS system: As they make deliveries, it's important to make sure your drivers know how to get to their destination. For that reason, be sure to provide them with a reliable and accurate GPS system that will guide them from place to place.
5. Set Prices
Setting competitive prices ensures that you are maximizing profit and making the most of your services. Generally, grocery delivery services make their money by collecting subscription fees, charging delivery fees, and product markup. To learn more about these fees and how they are applied, continue reading the list below.
Markup: In most cases, groceries available for purchase through a delivery service are slightly more expensive than they are in store. This is because many services increase prices to ensure they make a profit. The amount you mark up items depends on several factors including their in-store price, other fees you charge, and what your competition may charge.
Subscription fees: Some grocery delivery services charge customers a membership fee in order to use their services. This can be a weekly, monthly, or even annual charge. Although prices can vary depending on a variety of factors, many memberships amount to roughly $100 annually.
Delivery fees: In addition to membership fees, it's also possible to charge customers a fee for each order they place. The amount you charge can vary depending on how much a customer orders. For example, when a customer puts in a small or standard order, you may charge them a standard fee. However, if they place a larger order, it's possible to waive the delivery fee. In many cases, waiving this fee encourages larger orders, which in turn results in more money made from marked-up prices.
Beyond knowing what to charge your customers, it's also important to have a system in place to refund them if their order isn't complete. Since many grocery ordering services rely on in-store employees to retrieve the items a customer wants, there is a chance that something is forgotten or the store is out of that specific product. Since customers pay in advance for their groceries, you'll need to be able to give them a refund for any missing products.
6. Create a Website
Since many potential customers will do research online, it's essential to make sure you create a website with up-to-date information for your grocery delivery service. Furthermore, consider allowing customers to order food directly through your website, as this makes it convenient for them to shop and gives you an easy way to keep track of orders. Whether you're building your site by yourself, hiring a professional to design it for you, or working through an online website hosting service, having a functional and convenient website is a key to success in the modern business world.
7. Establish a Schedule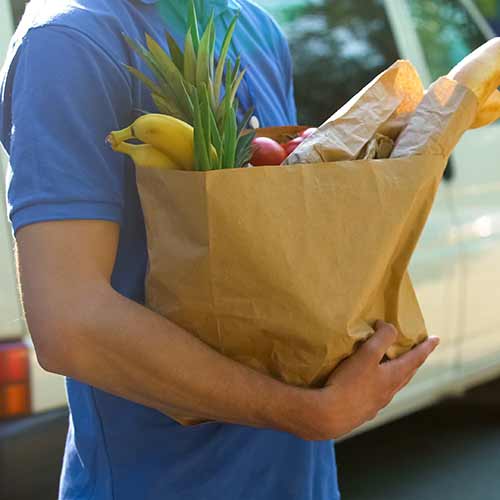 As your service grows in popularity, it may become difficult to keep up with deliveries. Increased demand, repeat customers, and the size of your orders can all affect how long it takes to get food to your customers. Because of this, it may be helpful to consider establishing a delivery schedule.
Setting a delivery schedule makes it easy to keep track of your orders and make sure they arrive on time. You can set them weekly, bi-weekly, or even work with customers individually to establish a schedule that works best. Some factors to consider as you begin putting together your delivery schedule include:
Driver availability
Vehicle capabilities
Traffic patterns
Geographical restrictions
Weather forecasts
Average time spent per delivery
Previous difficulties fulfilling orders
Back to Top
---
Starting a grocery delivery service presents a unique set of challenges and expectations compared to other types of businesses. Due to the type of work they require, the different ways they can be approached, and the different factors that affect how they perform, it may be difficult to identify how to get started in the grocery delivery business. By building an understanding of what a grocery delivery service is and familiarizing yourself with how to start one, you'll be able to put yourself in a position to succeed.