What is No Contact Delivery?
No contact food delivery and takeout services are methods of providing food to customers with as little human contact as possible. This includes person-to-person contact, as well as contact with food while it is being prepared and packaged. The purpose of no touch delivery is to eliminate cross-contamination of foods and prevent the spread of pathogens like the coronavirus.
Shop All Disposable Food Packaging
How to Set Up Contactless Delivery and Takeout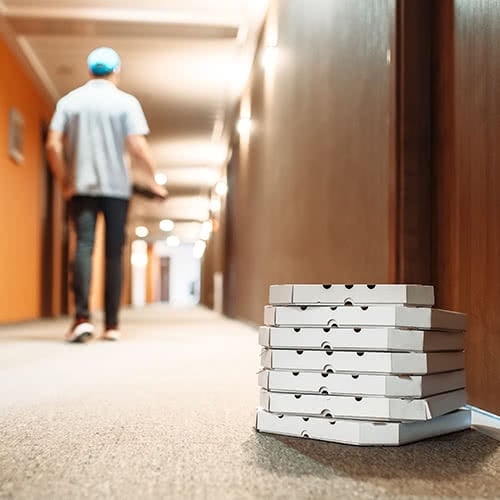 If your business is already providing restaurant delivery services, you can take it one step further by setting up no-contact delivery. Check out the steps below to implement touchless delivery services and no-contact takeout for your customers:
1. Create a Separate No-Contact Menu
Creating a separate menu for your delivery and takeout services helps to make the process more efficient. Not all foods on your menu will be suited for no touch delivery. Choose dishes that require no hand assembly after being cooked, like pizzas, grilled sandwiches, and hot soups.
Avoid uncooked dishes with ingredients that are prepped by hand, like salads and cold sandwiches.
2. Train Your Chefs on No-Touch Cooking Procedures
The key to no-touch cooking is having zero hand contact with foods after they leave the oven, even when wearing gloves.
Establish no-touch procedures for each item on your new menu and go over the process with your kitchen staff.
Use only sanitized cooking tools and ensure that the handles of utensils, spatulas, and pizza peels never come into contact with cooked foods.
Instead of packaging foods by hand, use spatulas, tongs, and other utensils to transfer food directly from the oven into takeout containers.
3. Choose the Right Takeout Containers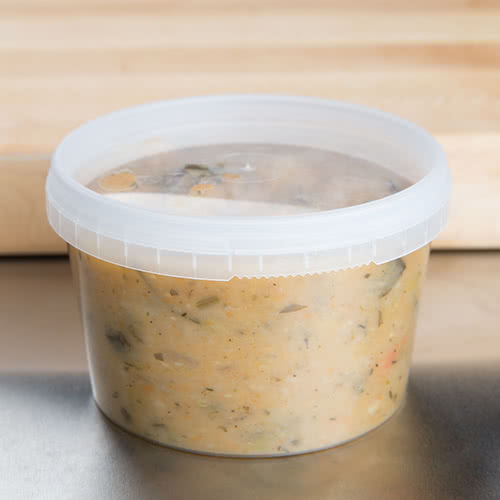 Choose takeout containers that can be sealed easily without touching the inside of the lid or package.
If you are using hinged lid containers, try sizing up to a larger container. More room makes it easier to place foods inside with tongs or a spatula.
Consider using tamper-evident containers so your customers know the package was not opened after being sealed.
Apply a sticker to each no-contact package to alert your staff and customers that the dish was prepared with no-touch procedures.
4. Establish Touchless Payment
Set up payment options on your website or online ordering app.
No touch payment can also be performed the old-fashioned way, over the phone. Train your staff to request and enter the correct credit card information in your POS system.
5. Train Your Delivery and Takeout Staff
Delivery drivers should be trained to leave food orders or shipments outside the customer's front door.
Designate a space near the entrance of your business for takeout orders. There should be at least six feet between the pickup location and any working employees.
Your waiting room or vestibule would make a convenient location to keep electric holding units for takeout orders. Instruct your takeout team to label orders clearly and place them in the holding cabinet so that customers can grab them without entering your building.
6. Market Your Contactless Delivery Services
Highlight your no-contact delivery and takeout services through your website, social media accounts, and emails.
Provide a detailed description of your no-contact delivery service and outline each step in the process.
Encourage customers to remove food from takeout containers and dispose of the packaging immediately.
If you're looking for a way to provide the safest takeout and delivery service to your customers, no-touch delivery could be the answer. Through limiting hand contact during the cooking process, you can ensure that menu items are safe to eat. Eliminating person-to-person contact with your customers also lowers the risk of spreading germs like the coronavirus.

Posted in:
Foodservice Trends
|
Food Safety
| By Michale LeRoy