Safe Event Planning for Caterers
Last updated on 12/02/2020
In order to serve guests in the age of COVID-19, caterers and event planners are adapting traditional methods of serving large groups to promote a safer environment. By changing the way caterers view party planning and through the use of key disposable products, it's still possible to serve food in group settings. Check out our catering ideas and learn how you can organize a safe event.
Shop All Disposable Catering Supplies
1. Micro Events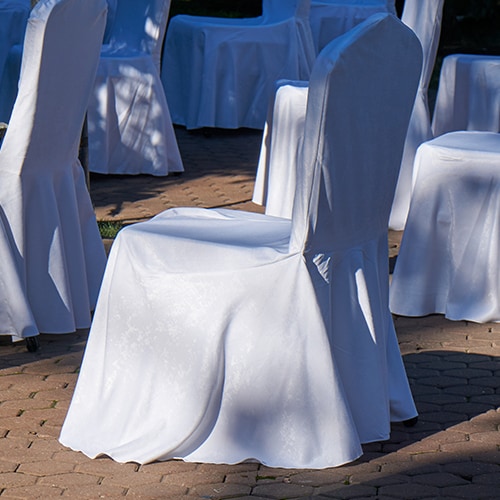 Think small. Guest lists are shrinking as more caterers plan micro events instead of large gatherings. Micro events are small gatherings with a limited number of attendees, which makes it easier to promote social distancing guidelines. With more space available, you can arrange your seating options with ample room between guests.
Besides meeting state regulations about gatherings, there are other benefits to hosting a micro event. Small events also allow for a greater focus on the details. With fewer guests, more of the budget can be allocated for high-end decor and a pricier menu.
---
2. Single-Use Products
Disposable products play a large role in limiting contact between guests and staff. Single-use catering products like plastic barware, plastic cutlery, and tableware can be tossed out after the event is over. This eliminates a trip to the dishwasher and reduces exposure for all attendees. Disposable catering supplies can also be used in creative ways to make a unique presentation that promotes safety. Consider using these serving methods:
Plastic Shot Glasses and Mini Samples - Not just for appetizers and desserts, these mini plastic cups can also hold side dishes and small salads.


Food Picks and Skewers - Guests can grab skewered morsels by the food pick, eliminating contact with shared utensils.


Tasting Forks and Spoons - Place a tiny tasting fork on top of small serving bowls so that guests don't have to touch other utensils.


Plastic Mason Jars with Lids - The lids on these mini mason jars keep the food inside safe from airborne germs.
---
3. Skip the Buffet
Self-serve buffet tables have always played a major role in traditional catering, but today the safer serving option is to utilize attendant served stations instead. With one attendant working at each food station, you can guarantee that serving utensils and serving dishes are being handled by one person only. For even greater assurance of safety, consider using cashier shields at your food stations.
Not just for omelets anymore, chef-attended food stations can be set up to serve a variety of dishes. Consider a pho or ramen station where the chef prepares each bowl with the guest's favorite toppings. Skip traditional pizza and set up a pinsaria station with artisan hand-pressed pinsa.
---
4. Individual Portions
Many caterers are offering the option to serve boxed lunches and individually packaged meals instead of using traditional serving methods. In place of tables laid with food displays that encourage grazing, you'll see banquet tables with stacks of neatly packaged meals, bottled beverages, and individually packaged desserts.
Get creative with individual portions and consider these catering ideas:
Mini charcuterie boards - Instead of a communal charcuterie display, try packaging mini personal charcuterie boards and serving them with single-serving wine bottles. Charcuterie-in-a-cup is a new trend that features a mini charcuterie display for one, packaged in a paper cone, mason jar, or plastic cup.


S'mores kits - Create a dessert kit inside a paper takeout container with graham crackers, marshmallows, and mini chocolate bars.
---
5. Offer an Online Ordering Platform
Online ordering isn't just for restaurants. Mobile orders have become a way of life for most consumers, so it's essential that your catering business offers online ordering too. With an online catering menu, you can cut down on lead times and serve your corporate clients more quickly. Office lunches can be ordered by phone at any time of day and delivered onsite with minimal contact involved.
Choose online ordering software built for caterers so your specific business needs can be met. In addition to placing an order, customers should be able to enter important info like the number of guests, details about the venue, and special requests.
---
6. Transparent Cleaning Procedures
Cleaning and sanitizing procedures are always important in foodservice, but today's customers want to know the details about your cleaning protocols. You can be proactive and start with your guest email list. Send out an email outlining all the cleaning and safety procedures you have in place to ensure a safe catering experience. Update your company website so that your safety protocols are listed on the front page. Consider including this information:
Are all staff members required to wear masks and gloves?
How often are masks and gloves changed throughout the day?
What surfaces are sanitized throughout the day, and how often?
What types of sanitizers are being used?
---
7. Take It Outdoors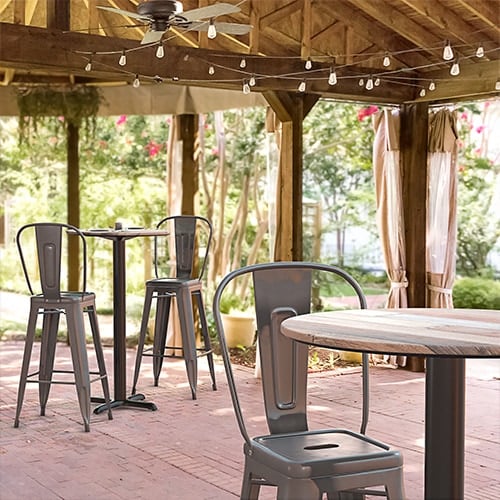 Outdoor locations provide the safest environment for catered events. If your catering company is located in a region with temperate weather year-round, take the event outdoors. Portable catering equipment makes it easy to prepare meals onsite at outdoor venues.
In other parts of the country that are expecting colder temps this winter, get creative with patio heaters and heated tents. Fire pits are a guest favorite and they provide a warm place to get cozy at an outdoor event.
---
Caterers must work within current limitations to come up with creative ways to serve guests safely. Despite the challenges imposed by the coronavirus, it is possible to serve groups as long you abide by state regulations. Use our safe catering tips to meet the needs of your clients while promoting a healthy environment.