Restaurant Readiness: Preparing for Emergencies
If your restaurant has been affected by the recent measures taken to stop the spread of coronavirus, we have some tips to keep your business going despite dine-in closures. It's important to adapt quickly to the changing needs of your customers and staff so you can maintain sales and provide a valuable service to your community. Follow these steps to preserve the continuity of your business:
1. Open For Business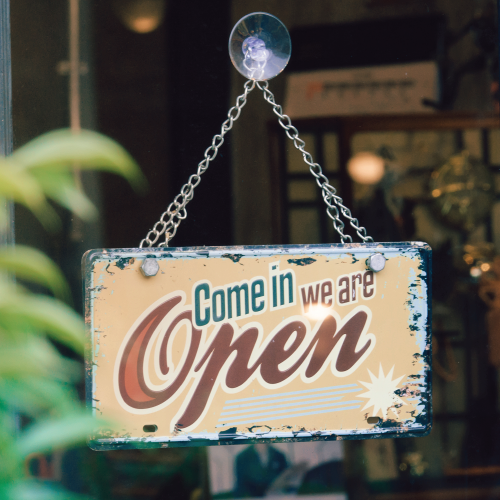 The current restrictions placed on restaurants and bars due to coronavirus will have many of your customers wondering whether you are still open for business. Make it obvious that you are open by keeping your neon signs lit, placing a sandwich board sign out front, or attaching colorful balloons to your storefront.
If you have the capabilities, consider sending out an email blast to highlight your takeout and delivery services. Utilize free social media marketing through Instragram and Facebook to inform your customers that you are open.
2. Promote Gift Cards
Purchasing a gift card is a great way for your loyal customers to support your business even if they can't leave their homes. A gift card acts as a temporary loan by providing immediate financial support. Guests can use the gift certificate at a later date or gift it to someone they know in financial need.
3. Put Delivery, Takeout, and Curbside Services Into Action
Preventative measures against the spread of COVID-19 have many Americans sheltering in place. If your customers can't come to you, it's time to pivot your business to bring your services to them.
Put the focus on your takeout business and set up a delivery service for your restaurant. Make it as easy as possible for customers to pick up orders by providing curbside pickup. Pare down your menu to include only those items that travel well, and stock up on takeout supplies.
4. Review Your Handbook
This is the perfect time to review your restaurant employee handbook and go over policies with your staff concerning paid leave and sick time. If you don't have an employee handbook, consider creating one now.
Your handbook should contain a section outlining your contingency plan and the steps you'll take to prepare your business for an unplanned event. Having a contingency plan in place will help you to achieve continuity of your business. Consider adding these steps as part of your crisis plan:
Nominate a crisis team
Assess business risks
Document procedures
Test your plan
5. Brush Up On Labor Laws
Make sure you're familiar with the restaurant labor laws that protect employees. When a crisis like coronavirus affects the attendance of your workforce, you might need to adjust work schedules to meet the needs of your business. Your serving staff relies on tips for their main source of income, so you may need to adjust their hourly wages if your dine-in services have been restricted.
6. Monitor Your Supply Chain
Just as your business is seeing the effects of COVID-19, your supply chain may be suffering as well. Monitor your inventory closely, make sure your distributors are stocking the items you need, and be on the lookout for shipping delays. Shortages and delays may require you to research other sources for your most needed items.
7. Deep Clean Your Business
Right now, there is no better time to deep clean your bar or restaurant. If your sales are suffering because of coronavirus restrictions, you can keep your staff busy with a cleaning checklist and ensure your business is safe and sanitary.
Educate your employees about the differences between cleaning and sanitizing and pay extra attention to frequently touched surfaces like door handles, table tops, and condiments. Talk to your staff about the importance of hand washing and make sure your hand washing sinks are stocked with plenty of soap and paper towels.
Show your customers that safety and cleanliness are important to you by keeping hand sanitizer in plain site at your entrance and checkout stations. Protect your staff and guests by utilizing sneeze guards and cashier shields to prevent the spread of airborne germs.
8. Shut Down Unnecessary Equipment and Lighting
You don't need to keep all your cooking equipment running when you have a simplified menu. Consider limiting your usage to equipment with multiple functions, like combi ovens. If your restaurant is open for takeout and delivery services only, turn off the lights in areas of your business that aren't being used.
9. Cross-Train Employees
When you have a smaller workforce and attendance is unpredictable, you can cope by cross-training your employees to perform multiple tasks. Cooks and dishwashers can be trained to take phone orders while servers can be trained to operate a deep fryer. With a pared-down menu and only the simplest cooking equipment in use, your entire staff can pitch in to prepare meals.
10. Make a Plan for Reducing Food Waste
If the coronavirus crisis has caused your sales to drop off, you may be stuck with more food than you need. Establish a food waste plan that helps you to re-purpose ingredients and maximize your current stock. Try to use up your perishable items as quickly as possible and adjust your inventory requirements to line up with your new simplified takeout menu.
In order to weather the storm of an unplanned crisis, you must take action to adapt your business as quickly as possible. Consider implementing the steps we've outlined to preserve your sales and maintain continuity.

Posted in:
Management & Operation
|
By Michale LeRoy
The information provided on this website does not, and is not intended to, constitute legal advice. Please refer to our
Content Policy
for more details.