How to Load a Dishwasher
Last updated on 4/22/2020
An essential part of food safety in your establishment is making sure that your dishes are as clean as possible. Learning how to load a dishwasher properly can save you time, energy, and money with every spotless dish! We'll show you the best way to load a dishwasher and provide you with a helpful graphic that you can print out.
While Stay-In-Place orders are being enforced during the coronavirus pandemic, you may find yourself doing more loads of dishes. Be sure you protect your dished by loading your dishwasher correctly.
Shop All Dishwashers
How to Properly Load a Dishwasher
Loading a dishwasher can be considered a cumbersome and unpleasant task. However, it is important to do this process correctly to prevent damaged dishes and caked-on food even after the wash cycle is complete. There are various types of dishwashers on the market, but the same loading strategies can be applied with various styles. We'll walk you through the process of loading an undercounter dishwasher correctly with our printable dishwasher loading guide.
1. Top Rack
These are the items you should put in the top rack of your undercounter dishwasher:
Cups
Small bowls
Saucers
Glasses
Dishwasher safe take-out containers
Serving spoons and forks
Spatulas
Small items
Use these layout tips when organizing your dishes into the top rack of your dishwasher:
Place mugs on one side of the top rack beside the tines and not on them.
Place small glasses on the other side of the top rack beside the tines and not on them.
Place small bowls in the middle of the top rack on an angle so water can reach the inside of the bowl and does not pool on top.
Place saucers in the middle of the top rack behind the bowls.
Lay dishwasher safe serving utensils and spatulas flat between the cups and bowls, with spoons facing downward to prevent pooling.
Some dishwasher top racks feature a folding plastic safety guard for stemware. Separate shorter wine glasses and champagne flutes between the bumpers to keep them from scratching or cracking.
The top rack will often have adjustable or entirely removable tines so you can make more room according to the items in your wash load.
2. Bottom Rack
These are the items you should put in the bottom rack of your undercounter dishwasher:
Plates
Pots
Pans
Casserole dishes
Cake pans
Large items
Use these layout tips when organizing your dishes into the bottom rack of your dishwasher:
Place large plates in the front row of the bottom rack, working from the outside in so that all of the plates are facing the center of the rack.
Place smaller plates in the back row following the same inward pattern.
Line the outer edges of the bottom rack with dishwasher safe cutting boards and trays to keep them from blocking the water stream or detergent door. Wooden cutting boards should be kept out of the dishwasher.
Place any large wine glasses in the back of the bottom rack, using a dishwasher stemware saver to keep them in place.
Place large pots, pans, bowls, and casserole dishes on an angle on the bottom rack in order to not block the water stream.
For a dishwasher load of glassware, you can replace the bottom rack with a compartment glass rack to prevent breakages and scratches.
3. Flatware Basket
These are the items you should put in the flatware basket of your undercounter dishwasher:
Forks
Spoons
Dinner and butter knives
Use these layout tips when organizing the flatware basket of your dishwasher:
Distribute your flatware randomly between the basket compartments to prevent interlocking or nesting.
Place spoons and forks in the baskets with handles down.
Place knives in the basket with handles up to prevent injuries.
If you do have the same type of flatware in one compartment, face some spoons and forks with the handles up to prevent nesting.
---
What Not to Put in the Dishwasher
Here are some kitchen items that you should never put in a dishwasher:
Brass items
Bronze items
Wooden items
Items with gold leaf decorations
Large kitchen knives and sharp utensils
Most non-stick cookware
If you're in doubt on whether an item is dishwasher safe or not, check for a dishwasher safe logo on the item or check your dishwasher's owner's manual.
---
Common Dishwashing Mistakes
With all the debate surrounding dishwashing techniques and proper loading practices, there are some common dishwashing mistakes that are important to identify. Here are some practices to avoid when loading your dishwasher: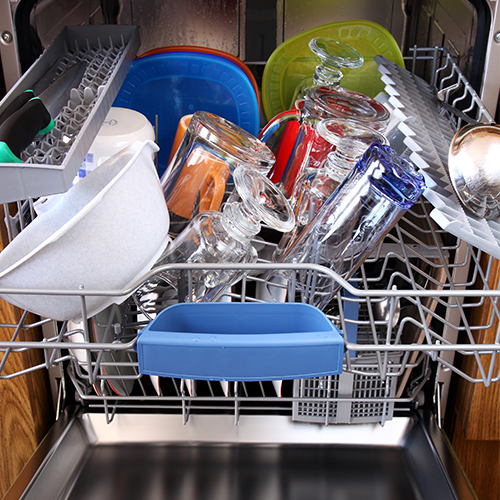 Placing dishes in random spots in the dishwasher. By loading items haphazardly into the dishwasher, you may end up blocking the jetstream and preventing water from accessing the dirtier surfaces of your dishes. This will result in stuck-on food and possible breakages from dishes knocking into each other.
Facing plates in the same direction. When plates are all organized in the same direction, the water stream will be unable to access the dirty side of the plate on the outermost edge if they are facing the walls of the dishwasher.
Fully rinsing dishes before loading them into the dishwasher. Dishwashing detergent is made to tackle leftover food particles off of the surfaces of your dishes. By pre-rinsing your dishes, the detergent may not have enough food particles to cling on to and can end up deteriorating your dishes instead.
Overcrowding the dishwasher. It may be tempting to place all of your dirty dishes into one load to avoid having to run a second load, but this can cause your dishes to still have food particles on them after the cycle is complete. Too many dishes in your machine means that water cannot properly reach all of the dirty surfaces. It is best to only run the intended load size of your machine or else you may end up having to wash the dishes again, either by hand or run the cycle once more.
Not having hot enough water. You want to make sure your water heater reaches 120 degrees Fahrenheit for your dishwasher to properly sanitized the surfaces of your dishes.
---
Dishwasher Loading Tips
For the best results from your dishwasher, we have a few things to check for before you run your dish load.
Check that the sprayer arm can rotate freely.
Check that there is nothing obstructing the detergent door.
Ensure that any small plastic items in the top rack or flatware baskets are secure and cannot fall through the rack. Items that slip through may end up obstructing the sprayer arm.



Take a look at your owner's manual before putting your dishwasher into use in order to become familiar with the way the manufacturer intends the unit to be used.

---

Before filling up your dishwasher and loading your warewashing chemicals, it's important to brush up on the best way to load a dishwasher. This will ensure that your dishes come out spotless each time! Whether you operate a busy restaurant or small cafe, clean dishes can make a big difference when it comes time for your health inspection.