Wine Tasting Room Basics
Last updated on 8/29/2018
Offering a wine tasting at your winery gives customers an opportunity to try a product before committing to a bottle of something they may not like. In addition, wine tastings are often part of a fun day out for couples, friends, or coworkers. Below are a few ways in which a wine tasting room can benefit your business and give customers a memorable experience as they select a few new favorite wines to take home.
What Is a Tasting Room?
A tasting room is a designated area in which customers can try samples of your winery or brewery's products. These rooms are typically located on-site and can be used as a way to sell product directly to the customer.
Depending on the size, tasting rooms can also be used to house wedding receptions, corporate events, and other social gatherings. Additionally, a tasting room is an effective space to market your wine club to interested customers.
Benefits of a Wine Tasting Room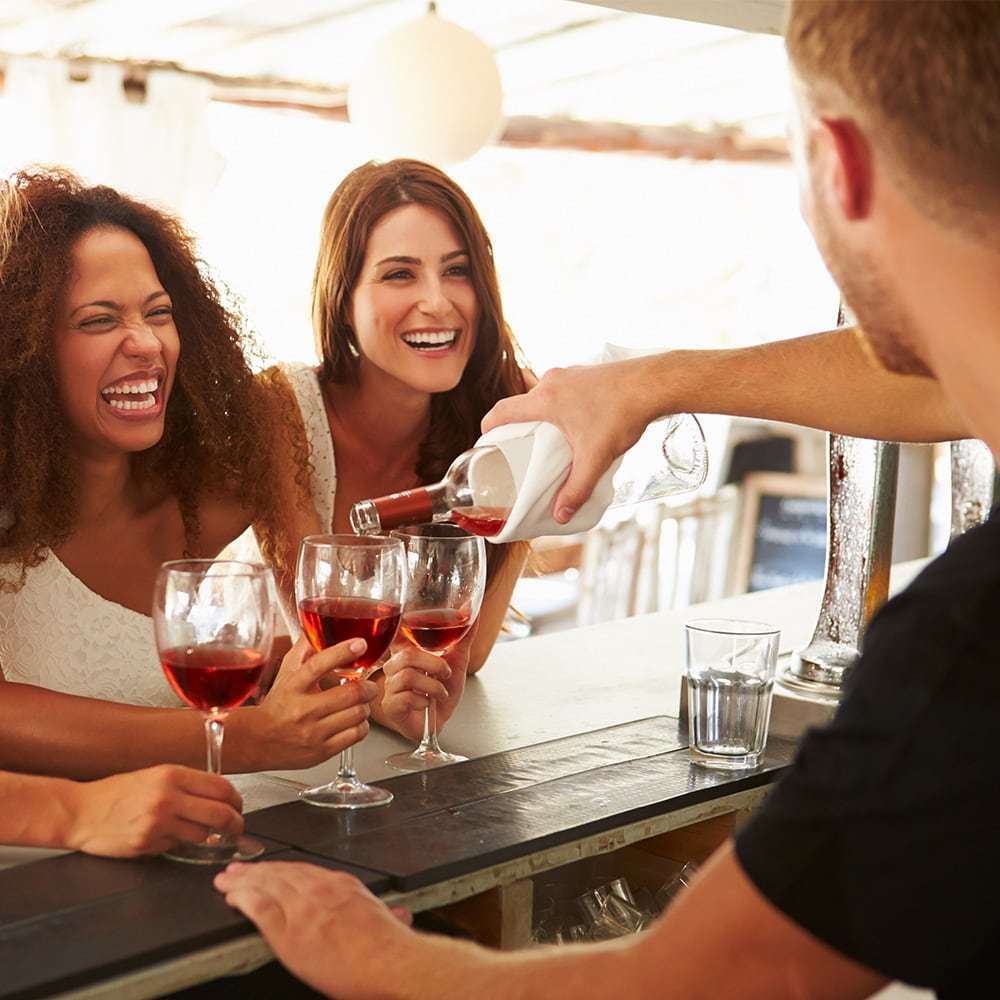 There are a few key benefits to keep in mind when hosting a tasting room at your winery or brewery:
Creates brand loyalty: When customers have a great experience at your wine tasting room, they may keep it in mind for their next party or as a recommendation to friends.
Offers a personal connection: Tastings allow for staff engagement with customers as they inform and converse with guests in a small, intimate setting.
Educates customers: Tastings are an ideal tool for educating consumers on your brand, regional grape varieties, and the winery's history. This can encourage guests to make a more informed decision when purchasing bottles at your establishment.
Encourages direct sales: Rather than picking your selections out from the competitively crowded shelves of a liquor store, bringing guests to your winery encourages direct sales and even consumption on the premises.
In general, tasting rooms offer both a social gathering spot for customers to enjoy and an effective tool for developing brand loyalty and selling your selection straight to the consumer.
Wine Tasting Basics
While incorporating unique qualities into your tasting room can help set your business apart, there are a handful of important aspects every tasting room must consider as well.
Wine Tasting Cost
When pricing out your menu, keep the following in mind:
How many wines guests may sample
Complimentary cheese and snacks
If guests can keep their glass as a souvenir
Average price of a bottle of wine
There is no typical set price for tastings, as they can range from free of charge to $20 and above. It is common practice, however, to either waive the fee of the tasting or offer a discounted rate if a customer decides to purchase one or more bottles afterward.
Wine Tasting Sample Size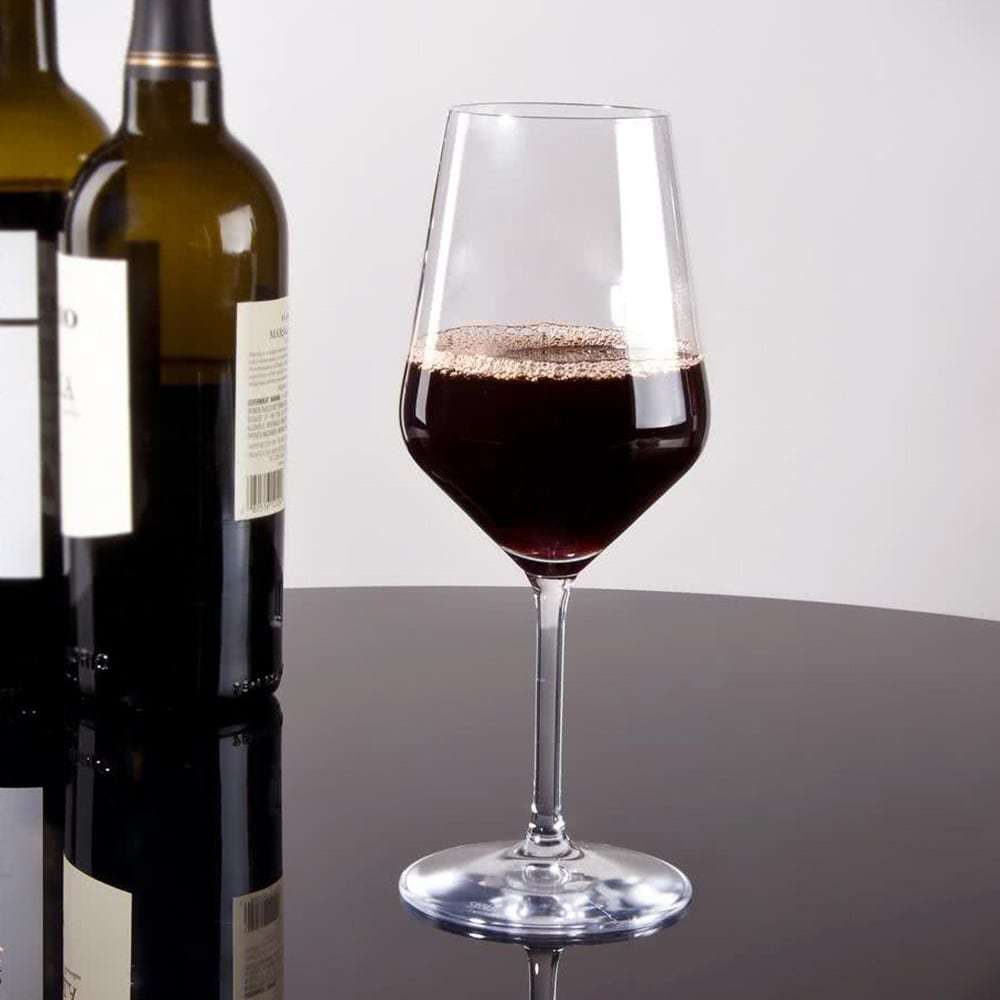 A wine sample is typically 2 to 3 ounces, which is half the size of a regular serving. One bottle of wine can produce approximately 10 sample sizes.
While the portions are smaller, it is acceptable to use a regular-sized wine glass to serve tastings. This allows customers to effectively swirl their wine to fully release and enjoy each wine's unique aromatics. Alternatively, you can feel free to use disposable plastic cups if you're operating in a more casual tasting room atmosphere.
Will Customers Spit Out Wine?
At your tasting, some customers may choose to taste and spit out the wine rather than swallow. This is because there are many patrons who are looking to experience the aromas and taste of the wine without the adverse effects of drinking too much.
You should always provide spittoons for your guests to either spit into or dump out the remainder of their sample. It is also recommended you provide guests with water and crackers to cleanse their palate between varieties.
Wine Tasting Order
Your wine tasting order should progress from light-bodied to full, robust flavors:
Light, dry white wine: sparkling wine, Riesling, Pinot Grigio
Heavier white wine: Sauvignon Blanc, Chardonnay
Rose: Pink Moscato, White Zinfandel
Light-bodied red wine: Pinot Noir, Grenache, Zinfandel
Full-bodied, bold red wine: Merlot, Cabernet Sauvignon, Shiraz, Syrah
Sweet or dessert wines: fruit wines, Concord
Going in this order prevents bolder flavors from overpowering the delicate notes of lighter wines.
How to Train Your Tasting Room Staff
Focus on hiring staff for your tasting room with backgrounds in hospitality. Their ability to interact well with customers while creating a warm and inviting atmosphere is more important than an extensive knowledge of wines and grape varieties.
Once you've hired the right people, then you can focus on training them. While they don't need to be trained sommeliers, your staff should be able to effectively communicate with customers who may have years of experience in trying different wines.
Qualities to Look for in Wine
When discussing wine with customers, employees should be aware of what qualities make a great wine:
Sight: Employees should instruct guests to observe the color of the wine and how it can be affected by the climate and aging process.
Viscosity: Encourage guests to swirl their glasses to showcase the wine's viscosity. Typically, the higher the sugar content of the wine, the higher its viscosity will be. High viscosity wine will cling to the side of the glass for longer.
Smell: Swirling the wine also releases its aroma, so guests should immediately put their nose into the glass after swirling.
Touch: Tell guests to take notice of the texture the wine has while in their mouth. The texture directly correlates to the wine's viscosity.
Taste: Talk with guests about what flavors or notes they're picking up in the wine. Tell them to consider its acidity. If possible, use a flavor wheel to help find the right words to describe how the wine tastes.
Wine Aroma Wheel
A great way to help your employees find the right words to describe different wines is to provide them with a wine flavor wheel. This graphic offers descriptors from broad terms, such as fruit or oak, to more nuanced flavors, like green apple or smoked almond. Flavor wheels are also great tools for customers who may be trying to find the perfect words to describe their observations as well.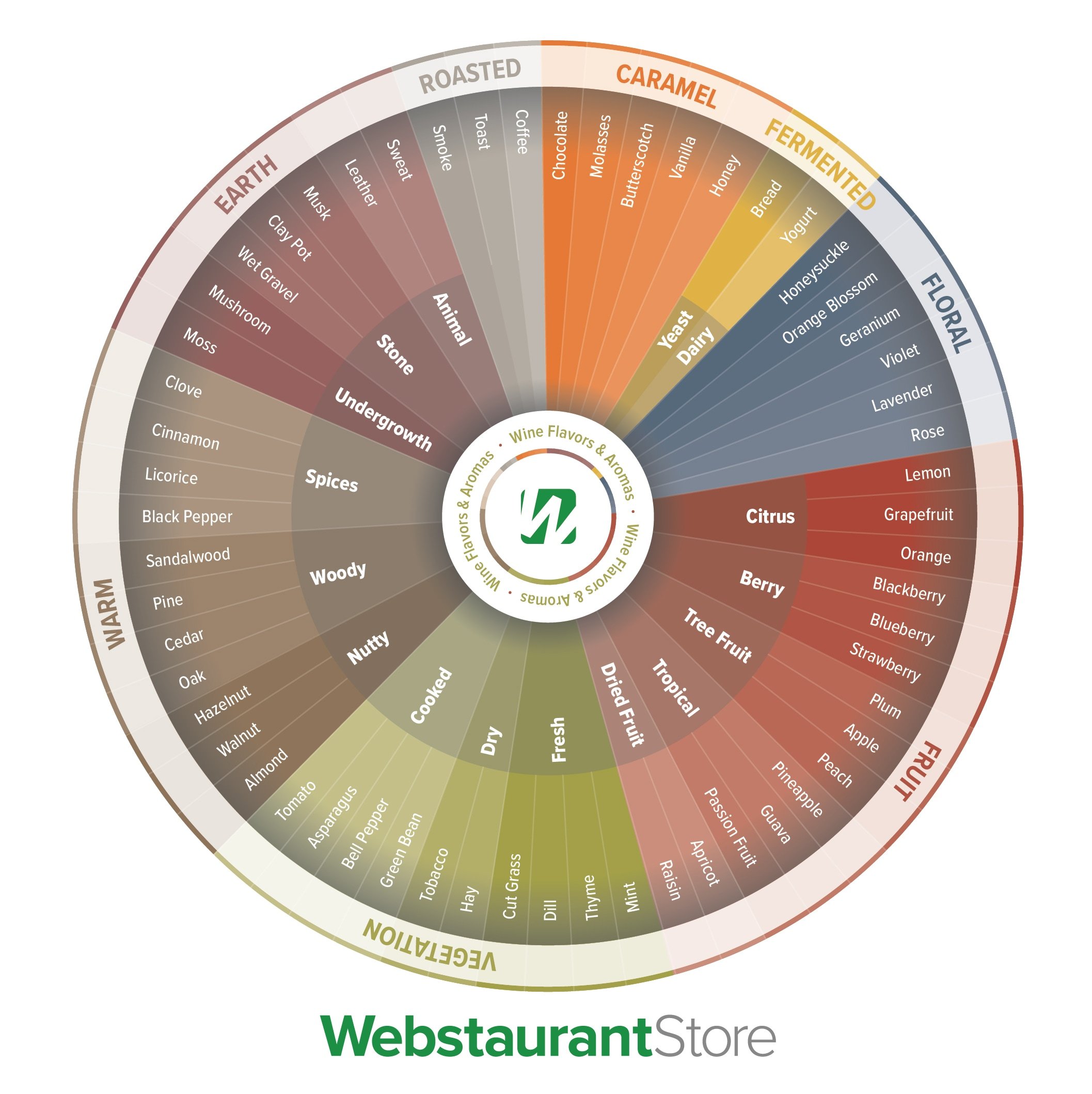 Create an Inviting and Educational Atmosphere
Visiting a winery is often a celebratory event or fun, social outing amongst friends. This means your staff should focus on creating a warm and relaxing experience for guests.
Try to follow your customer's cues in terms of what type of experience they wish to have. Some may not have much interest beyond simply tasting a few new wines. Others may want to discuss wine types with you. And some may be more engrossed in their own conversations, in which case it's your job to simply ensure their glasses stay filled. Always to try to read what type of experience each guest wants and respond accordingly.
Along those lines, it's important to encourage guests to ask questions, but try to avoid showing off or providing more information about wine than customers may need or wish to know. Customers come to a tasting room expecting to share a more personal experience with employees than they would at a restaurant. That's why it's so important to hire those who are naturally pleasant and enjoying working with people.
What Is a Wine Club?
Wine clubs are monthly or quarterly tastings provided to an elite group of customers. These customers are often offered access to exclusive collections or experimental blends. Being a member of a wine club can also include other perks such as invitations to special events at the winery and discounts on purchases.
A wine club can have different membership tiers, which allows customers to choose how much they want to spend. How a wine club is structured can be left up to you. The basic idea, however, is that a wine club allows you to gain more customer loyalty by offering membership perks in addition to your basic tasting room offerings. Just as your staff is responsible for encouraging wine purchases, they can also inform customers about your wine club in an effort to establish a rapport.
There's a lot that goes into running a successful wine tasting room. But as long as you focus on creating a relaxed and fun experience for your customers, you're taking steps in the right direction. So, whether you're figuring out who to hire or showing the ropes to your staff, keeping these ideas in mind can help your business thrive.