Parts of a Stapler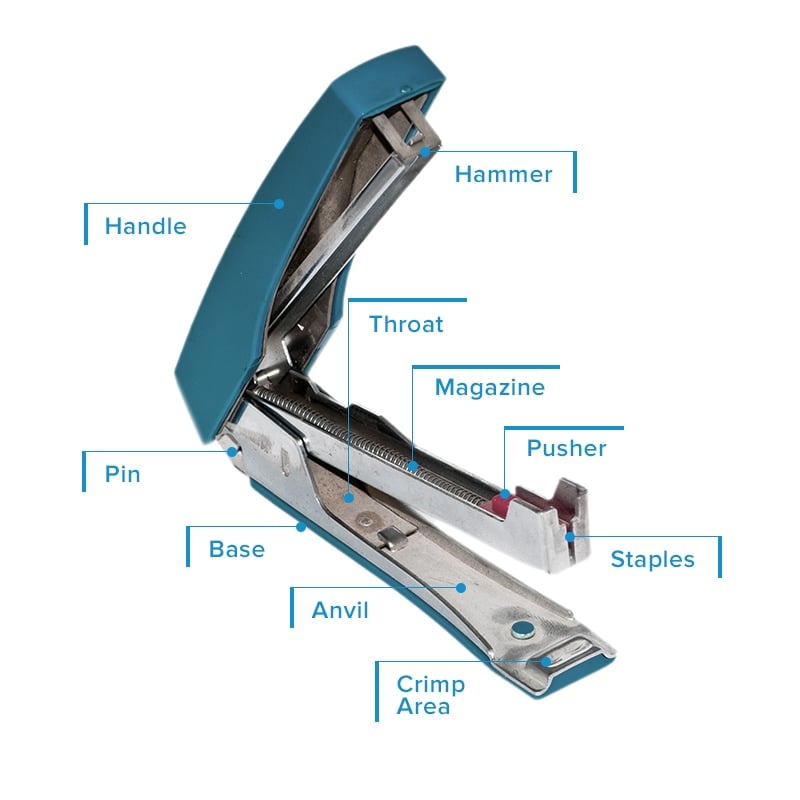 Handle:
The handle exerts force to push a staple into a stack of paper.
Pin:
The pin allows the handle to swing up and down to load staples.
Magazine:
The piece that holds the staples and pusher.
Staples:
The fasteners used to join papers together.
Pusher:
A piece of metal that adjusts to accommodate strips of staples. This keeps the staples loaded in the magazine and ready to be inserted by the hammer.
Hammer:
The part that drives a staple into a stack of papers.
Crimp Area
and
Anvil:
When the staple is forced through the paper, these two parts are what bend the staple into the secure shape that keeps the papers securely joined.
Throat:
The section you slide a stack of papers into. The deeper the throat, the further into the stack you can staple.
Base:
A sturdy bottom that most often has non-skid properties.
Styles of Staples
Half strip, full strip, and cartridge staples are some of the most popular styles of staples. As long as the staple size matches your compatible stapler, purchasing a half or full strip length is completely up to you. Cartridge staples are a little more exclusive in terms of usage, as they're designed for electric or heavy duty staplers only.
Usually 100 or less staples per strip
Fits most standard staplers

Usually 200 or more staples per strip
Fits most standard staplers

Can hold up to 5000 staples per strip
Used in electric and some heavy-duty staplers
How to Fix a Jammed Stapler
It's inevitable: at some point, your stapler is going to jam. But never fear, our experts have discovered two easy methods for unjamming a stapler. All you need is a paper clip!
Method 1:
If a stray staple is preventing the handle from detaching from the magazine, insert the paper clip between the two sections and slide it around until the jam is loose.
Method 2:
If a staple is stuck between the hammer and the magazine, use the paper clip to fish out the staple.