Commodity Paper vs. Linen-Feel Napkins
On average, each customer uses 3-5 commodity paper napkins per sitting. If you use tabletop dispensers or leave stacks of napkins on each table, this number can double or even triple. The majority of these napkins are unused and simply thrown away when bussing tables.
The easiest way to control waste is to control usage. One linen-feel dinner napkin is absorbent enough to last an entire meal. Imagine how much money and storage space you can save by reducing each customer's napkin usage down to 1 per meal. And with the convenience of a disposable napkin, your staff won't have to worry about washing, drying, and ironing your napkins at the end of each night, saving you valuable time and labor.
Plus, patrons will notice the difference as they enjoy the look and feel of linen with the convenience of a disposable napkin. By switching from traditional paper napkins to linen-feel you'll add an upscale feel to your establishment or event!
Linen vs. Linen-Feel Napkins
Traditional linen napkins are a popular variety to be used. They are great for use in upscale restaurants, hotels, or catered events. Their washable design saves you on the cost of replacing napkins. But as an alternative, linen-feel napkins are high quality disposable napkins, but not as upscale as traditional linen. They are soft, thick, and highly-absorbent.
Apart from the initial investment, reusable cloth napkins also involve additional costs. Whether you're interested in purchasing your own set of linen napkins or renting linens for an event, there are many hidden charges associated with reusable cloth napkins. For restaurant owners or full time caterers, purchasing linens might seem like a good idea, but there will be upkeep costs to keep in mind like utilities and detergents. Plus, you'll have to dedicate time and energy to washing, drying, and ironing your linens to keep them looking their best.
And if you decide to rent reusable cloth napkins for a wedding, large corporate party, or other one-time event, be prepared to see a long list of service fees added on to your total expense. While renting linens may save you some time and labor, the extra costs are certainly something to keep in mind when considering your budget.
Below is a simple calculator you can use to compare the cost of renting cloth linens for one year's worth of events compared to a linen-feel alternative. Whether you use 1000 napkins every week or you only need 100 for a few events throughout the year, simply plug-in your numbers to see the estimated savings you can expect from linen-feel napkins!
Linen vs. Linen-Feel Free Annual Savings Calculator
Different Napkin Fold Styles
Napkins are an essential component of place settings. A napkin's particular size and shape can dramatically change the look of your tabletop presentation and help to create a memorable first impression for your guests.

The four napkin fold styles below offer plenty of options for experimenting with your tabletop design - whether it's incorporating cutlery and place cards with a pocket fold napkin, creating your business's own custom fold with a flat pack napkin, or minimizing the napkin's presence to draw attention to other tabletop elements with a 1/8 fold napkin.
Linen-Feel Disposable Napkin Materials
Linen-feel napkins are commonly made of nonwoven fabrics for a soft, cloth texture with a textile-like drape. They can be made of air-laid or DRC paper, and are non-linting with no dust and no static. Both air-laid and DRC paper are cellulose-based products with a binder infused in them for stability and softness.
Air-laid Paper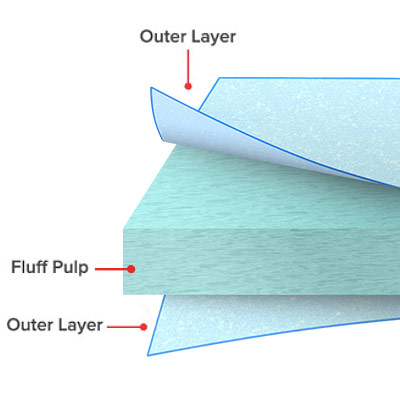 Air-laid paper offers an environmentally-friendly product, great for eco-conscious operators. It's made by converting soft, random-laid fibers made from wood pulp or synthetic fibers into a sturdy and absorbent web, using air instead of water to transfer the fibers. Synthetic resin bonding agents are then applied to the pulp web with a spray process. The air space created in manufacturing the web accounts for its light weight in comparison to its bulk.
Compared with normal wet-laid paper, air-laid paper is much softer, fluffier, and more porous. It can be dyed, printed, embossed, coated, and made solvent resistant, and it is very absorbent.
DRC Paper
DRC (double re-crepe) paper is made with a minimum of 45% recycled fiber, and also offers a non-abrasive, cloth-like feel with consistent quality and performance. It's made from wood fibers combined with a binder and then "double creped" to give the fabric unique stretch, softness, and wipe-dry properties.
DRC paper is thick yet cost-effective and features a three-layer design. The outer layer is smooth and soft enough to be used on the hands and face, whereas the inner layer is highly absorbent of solvents, oils, and lubricants. DRC paper is very durable in comparison to air-laid paper, and it is designed to stand up to tough work environments.