Pros and Cons of Microwave Cooking
Microwave cooking is a great way to prepare many food items with little wait time, making it ideal for use in an array of establishments. Because traditional commercial microwaves and many hybrid models do not require a ventilation hood, microwaves are a great way to expand menu options at small quick-serve kiosks, convenience stores, and cafes. They are also beneficial to larger operations, and are a good option for reheating food as well as cooking baked potatoes, steaming vegetables, and more!
Because microwaves work by heating a food's water molecules, it is easy to overcook product if not careful. Proper timing and container ventilation is important so food does not burst, become soggy, or develop a chewy texture. By choosing the best microwave for your needs and following proper temperature guidelines like with convection cooking, microwave cooking can produce many great meals.
Microwave Wattage & Cooking Times
The two most important factors to consider when shopping for a commercial microwave are microwave wattage and usage level. The two factors are closely related – the higher the wattage, the faster a microwave will cook. A dessert that takes 30 seconds to cook in a 1000 watt microwave might only need 12 to 15 seconds in a more powerful model. The table below shows the approximate cook times for a baked potato. Any microwave can do the job, but for best results select the wattage level that corresponds to your output level: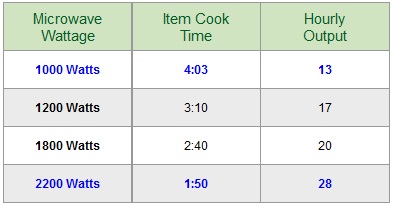 A light duty microwave may be suitable for coffee shops or restaurants that only occasionally use their microwave for small tasks like warming a muffin. For busier operations, a higher wattage model can save you and your employees a lot of time. If your restaurant is growing or you wish to increase output, selecting a new, more powerful microwave can have a dramatic impact on kitchen efficiency. If your menu includes a popular item that takes a little over a minute to cook in a 1000 watt microwave, you can reduce cook time and nearly double output every hour just by upgrading to an 1800 watt model!
Light Duty Commercial Microwaves (1000 watts)
A light duty commercial microwave is great for establishments that utilize microwave cooking 50 or fewer times a day. Businesses currently using a residential model microwave would be better suited to use a light duty commercial model due to the increased durability and quality construction. These types of microwaves are perfect for:
Wait stations occasionally warming desserts, rolls, soups, and beverages
C-stores: heating sandwiches, snacks, and prepackaged foods
Break rooms: reheating lunches, beverages, and frozen meals
Breakfast bars: heating muffins, oatmeal, and beverages
Medium Duty Commercial Microwaves (1200 watts - 2000 watts)
Medium duty commercial microwaves feature higher wattage to increase cooking speed, and can be used up to 150 times per day. They are well suited for places that were using a light duty model but have seen an increase in demand, like:
Wait stations regularly warming desserts, rolls, soups, and beverages
Higher volume C-stores: heating sandwiches, snacks, and prepackaged foods
Break rooms at larger companies: reheating lunches, beverages, and frozen meals
Coffee shops / breakfast bars: heating muffins, beverages, and lunchtime sandwiches
Kitchen / back of the house: warming soups, sauces, and appetizers
Heavy Duty Commercial Microwaves (2000 watts - 3000+ watts)
Heavy duty commercial microwaves are fast and durable, and can be used 200 times or more each day. This makes them perfect for:
Kitchens / back of the house: steaming lobster, shrimp, and vegetables; defrosting or quickly heating entrees like lasagna or macaroni; melting cheese
Quick- serve restaurants: high speed, high volume heating of entrees and portions where fast turnaround times are needed
Cafeterias: quickly heating large portions on-demand to reduce waste and continuous holding
Commercial Microwave Sizes
Another important factor to consider is a microwave's physical size. The interior cavity needs to be able to accommodate your dishes and food items. As microwave wattage increases, size will often increase as well. However, you can still get between 0.6 and 1.5 cubic feet in size when using a light duty, 1000 watt model.
0.6 cu. ft. interior
13" x 12" x 6 3/4"

0.9 cu. ft. interior
13" x 13 1/4" x 8"

1.6 cu. ft. interior
21" x 13" x 9 7/8"

Try using high temperature food pans in 1/4 and 1/6 sizes, or small ovenable china dishes.
Try using high temperature food pans in 1/3 and 1/2 sizes, or microwaveable plastic takeout containers.
Try using full size high temperature food pans or ovenable plastic muffin trays.
Push Button and Dial Microwaves
Once you've chosen your ideal wattage and perfect size, the next step is to decide whether a dial or push button control model is best for your needs and budget.
Dial microwaves are typically less expensive and ideal for the budget-conscious customer. The dials are clearly marked with time increments, and some models have a cook time guide printed directly on the unit for guidance. No times are able to be saved or pre-programmed.
Push button microwaves are generally more expensive than dial models, but offer additional features including the ability to program specific times into the unit so cooking is simple and foolproof, even for new employees.
How to Clean A Microwave
Because it can be important to allow certain dishes to vent as they cook in a microwave, splattering may occur at times, causing unsightly baked-on food residue. Microwaving a bowl of water by itself can help to create steam that loosens baked-on particles, allowing you to then remove them easily with a soft cloth or sponge and hot, soapy water.
Once food particles are removed from the microwave interior, it's important to follow up with a sanitizing solution like Noble Sani 512. This sanitizer is safe for food contact surfaces and can be easily sprayed onto the microwave and wiped off after ten minutes.
Microwave Tips and Best Uses
Never use metal pans, utensils, or tinfoil in the microwave unless you have a special hybrid unit that explicitly states it is compatible with metals. Most are not, and using metal may start a fire.
Spread food evenly across the plate or dish it is being microwaved on to distribute heat more uniformly throughout the product.
Use a fork to pierce potatoes, hot dogs, and other foods with skins before microwaving. This allows steam to escape and reduces the chance of the item bursting open.
Pause the microwave to stir and rotate food that is cooking or defrosting. This helps to eliminate cold spots and keep all food at a safe temperature. For large items, flipping them over partway through cooking can help to distribute heat evenly.
Loosely cover foods in the microwave. This allows steam to escape but limits splattering and keeps the interior of the unit cleaner.
Make sure that you are using microwave-safe containers. Not all plastic products can be heated in a microwave, and some will melt.
Hybrid Microwave Ovens
Advances in cooking technology have allowed manufacturers to combine several cooking technologies and make
hybrid microwaves
. The main advantage of these units is that they are able to greatly speed up the cooking process and deliver levels of quality that could previously only be achieved by using a conventional convection or combi oven. Plus, because many hybrid models come with a catalytic converter system that captures steam, grease, and smoke, they may be used without a hood in many places that do not have room for a traditional oven. This adds great versatility to menus at busy mall kiosks, bars, nightclubs, shops, and other small establishments.
| Hybrid Model | Features |
| --- | --- |
| | Amana Xpress AXP22 High Speed Commercial Combination Oven – this unit blends convection, radiant, and microwave cooking to toast, bake, and crisp foods rapidly. It features a compact footprint, does not require a ventilation hood, and can prepare many popular appetizers and bar foods much faster than traditional ovens. |
| | Merrychef eikon series – the eikon e3, e4, e5, and e6 are all high speed, powerful hybrid ovens that combine microwave power with convection or impingement cooking. They boast built in grease filters and air filters as well as a catalytic converter to be fully contained units. Operating 5 to 15 times faster than conventional ovens, the various eikon ovens have an array of features to suit different needs, including the eikon e6's ability to hold a metal pan during convection / microwave mode. |