What Restaurants Need to Know About New Refrigerant Regulations
It's important that every business owner who uses a refrigerator or freezer be knowledgeable of refrigerant rules and regulations. Because agencies like the Environmental Protection Agency (EPA) are concerned with protecting the environment and cutting down on pollution, regulations change frequently due to ever-evolving refrigerant technology. As class I and II refrigerants are slowly being phased out of use, hydrocarbon (R290) and flammable refrigerants are becoming more popular. To learn more about refrigerant regulations and how they will affect your business, check out the links and information below. There is a glossary of refrigerant terms and acronyms at the bottom of this page, should you need a reference.
What Are the Existing Refrigerant Regulations?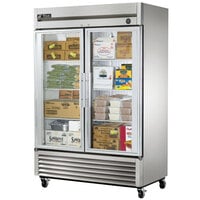 As of May 11, 2015, the EPA's Significant New Alternatives Policy (SNAP) program dictates that class I and II refrigerants used in the foodservice industry must be closely regulated. This includes refrigerants used in commercial kitchens, reach-in freezers, air conditioners, and many other products. The EPA has also approved additional refrigerant options with a low global warming potential (GWP) and altered some regulations concerning refrigerant disposal.
Ultimately, the EPA is phasing out class II refrigerants with the goal of making them illegal for commercial and residential use by 2030. Until that time, use of these substances is restricted, but there are a few exceptions. For example, you can use class II refrigerants if they are recycled or used in older refrigerators. The EPA has successfully phased out class I refrigerants in the past, as illustrated in the table below:
| | | | |
| --- | --- | --- | --- |
| Date | Carbon Tetrachloride | Methyl Chloroform | Other Class I Substances |
| 1991 | 100% | 100% | 85% |
| 1992 | 90% | 100% | 80% |
| 1993 | 80% | 90% | 75% |
| 1994 | 70% | 85% | 65% |
| 1995 | 15% | 70% | 50% |
| 1996 | 15% | 50% | 40% |
| 1997 | 15% | 50% | 15% |
| 1998 | 15% | 50% | 15% |
| 1999 | 15% | 50% | 15% |
| 2000 | 0% | 20% | 0% |
| 2001 | 0% | 20% | 0% |
Source: U.S. Code # 7671c
Why Are these Refrigerant Regulations in Place?
Refrigerant regulations are part of the government's Climate Action Plan, which encourages a reduction in use of any substances that produce greenhouse gases. Through the SNAP Program (part of the Clean Air Act (CAA), the EPA continues to evaluate all chemicals and substances that may deplete the ozone layer. This monitoring helps the EPA determine which refrigerants are safe for use based upon their potential to harm the atmosphere. Ozone-depletion potential is calculated through the substance's atmospheric lifetime, the molecular weight of any bromine or chlorine it might contain, and its ability to be photolytically disassociated. The higher the ozone-depletion number, the worse that refrigerant is for the environment. The table below illustrates how different refrigerants negatively impact the ozone layer:
| | |
| --- | --- |
| Substance | Ozone-Depletion Potential |
| Chlorofluorocarbon-11 (CFC-11) | 1.0 |
| Chlorofluorocarbon-12 (CFC-12) | 1.0 |
| Chlorofluorocarbon-13 (CFC-13) | 1.0 |
| Chlorofluorocarbon-111 (CFC-111) | 1.0 |
| Chlorofluorocarbon-112 (CFC-112) | 1.0 |
| Chlorofluorocarbon-113 (CFC-113) | 0.8 |
| Chlorofluorocarbon-114 (CFC-114) | 1.0 |
| Chlorofluorocarbon-115 (CFC-115) | 0.6 |
| Chlorofluorocarbon-211 (CFC-211) | 1.0 |
| Chlorofluorocarbon-212 (CFC-212) | 1.0 |
| Chlorofluorocarbon-213 (CFC-213) | 1.0 |
| Chlorofluorocarbon-214 (CFC-214) | 1.0 |
| Chlorofluorocarbon-215 (CFC-215) | 1.0 |
| Chlorofluorocarbon-216 (CFC-216) | 1.0 |
| Chlorofluorocarbon-217 (CFC-217) | 1.0 |
| Halon-1211 | 3.0 |
| Halon-1301 | 10.0 |
| Halon-2402 | 6.0 |
| Carbon Tetrachloride | 1.1 |
| Methyl Chloroform | 0.1 |
| Hydrochlorofluorocarbon-22 (HCFC-22) | 0.05 |
| Hydrochlorofluorocarbon-123 (HCFC-123) | 0.02 |
| Hydrochlorofluorocarbon-124 (HCFC-124) | 0.02 |
| Hydrochlorofluorocarbon-141(b) (HCFC-141(b)) | 0.1 |
| Hydrochlorofluorocarbon-142(b) (HCFC-142(b)) | 0.06 |
| Opteon XP10 (R-513A) | 0.0 |
Source: U.S. Code # 7671a and U.S. Code # 7671
What is R290 Refrigerant?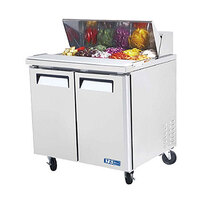 The EPA recommends foodservice businesses choose R290 (also known as hydrocarbon or HC) refrigerant, which is natural, non-toxic, and free of ozone-depleting properties. Approved in 2011, HC has a low GWP and is one of the most climate-friendly and cost-effective refrigerants available. R290 is also an excellent alternative to hydroflurocarbon (HFC) refrigerants R134a (used in refrigerators) and R404a (used in freezers). Using this refrigerant can also reduce overall energy costs by up to 28%.
HC refrigerants can be produced domestically and, unlike HFCs, are not harmful when exposed to skin or inhaled. R290 also has a higher purity level than standard propane. Additionally, its lower moisture content ensures it will not damage your refrigeration system and its components. Over 1.5 billion HC refrigerators and freezers are used in homes worldwide, and there are also 2 million commercial units in use.
While there was initially fear that these propane-operated refrigerators could pose an explosion risk, studies show that there is less than a .001% chance of this occurring, even in kitchens that cook with gas. In fact, most R290 units contain less propane than common products like lighters, air fresheners, and spray paint. R290 systems can also be vented into the atmosphere, which means the refrigerant doesn't need to be recovered. Please note that R290 can only be used on new equipment and cannot be retrofitted.
What are Flammable Refrigerants?
The EPA has also approved several flammable refrigerants over the past few years which, under certain circumstances, are acceptable substitutes for refrigerants with high GWP. These include difluromethane (HFC-32), ethane, isobutane, propane, and R441a, an HC blend. Other than HFC-32, all of these substances are exempt from the Clean Air Act's Section 608's restrictions on the ventilation, release, and disposal of refrigerants. Consequently, the EPA doesn't currently view HFC-32 as detrimental to the environment.
Flammable refrigerants are also more energy efficient than their HFC counterparts and can lower energy use by as much as 25%. This efficiency has led manufacturers to use flammable refrigerants in appliances other than refrigerators, freezers, and air conditioners; these other appliances include water heaters and clothes dryers.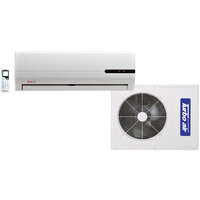 Flammable refrigerants are currently acceptable for use in the following products:
Window air conditioning units
Packaged terminal AC units and heat pumps
Portable room AC units
Stand-alone retail food refrigeration equipment
Household refrigerators and freezers
Very low temperature refrigerators and freezers
Thermosiphons (non-mechanical heat transfer equipment)
Vending machines
Many refrigeration equipment and air conditioning manufacturers have already switched to refrigerants like R290, so you shouldn't have a problem complying with these regulations if you plan to buy new equipment. Keep in mind that it is currently legal to use a class II refrigerant in appliances made before January 1, 2020. However, if you have a machine older than 10 years or so, you should check out the list of approved refrigerant substitutions to find one compatible with your model. If you'd like to learn more about your specific unit, talk to your manufacturer and request information on how their company plans to change their refrigerant use as a result of this ruling.
As commercial refrigerant regulations continue to evolve and change, business owners who use refrigerators and freezers should be sure to keep up with any new developments. The EPA is focused on incorporating more environmentally-friendly refrigerants (like R290), which means older refrigerants are slowly being phased out. Ultimately, reading about and understanding refrigerant regulations and how they affect your business will save your bottom line and the ozone layer.
Refrigerant-Related Acronyms
CAA: Clean Air Act
CFC: Chlorofluorocarbon, an unsafe refrigerant that depletes the ozone layer
EPA: Environmental Protection Agency
GWP: Global warming potential
HCFC: hydrochlorofluorocarbon, an unsafe refrigerant that depletes the ozone layer
HFC: hydrofluorocarbon, an unsafe refrigerant that depletes the ozone layer
HFC-32: difluoromethane, an environmentally-friendly refrigerant used in flammable refrigerants
R134a: used in refrigerators; an unsafe refrigerant that depletes the ozone layer
R290 (or HC): hydrocarbon, an environmentally-friendly refrigerant
R404a: used in freezers; an unsafe refrigerant that depletes the ozone layer
R441a: an environmentally-friendly HC blend used in flammable refrigerants: hydrofluorocarbon, an unsafe refrigerant that depletes the ozone layer
SNAP: the EPA's Significant New Alternatives Policy program: difluoromethane, an environmentally-friendly refrigerant used in flammable refrigerants

Posted in:
Foodservice Trends
|
Management & Operation
| By Nora Fulmer