How to Clean a Meat Slicer
Last updated on 6/8/2018
Meat slicers are used constantly in delis and grocery stores, however they can also be found in cafeterias, buffets, catering businesses, and other foodservice establishments. You can slice and chip meats, cheeses, and produce with your machine, making it extremely versatile. Since slicers are used so often for a variety of foods, it's important to understand how to clean them. Eventually, your slicer will wear out and you'll need to replace it with a new one. Until that point, you should learn basic meat slicer maintenance and ways to keep up your meat slicer blade. Read on for information on how to clean a meat slicer, blade maintenance, and more.
Shop All Meat Slicer Sanitizer
Why It's Important to Clean a Meat Slicer
Slicers are used for a variety of deli items and can even be used to slice produce. When you don't regularly clean your slicer, food residue can build up in parts of the machine, causing bacteria to grow. This bacteria can contaminate foods and cause foodborne illnesses, which can make customers very ill! In addition, a meat slicer can transfer flavors or small food particles onto items you slice later, altering the pure taste or texture of your products.
Specific Problem Areas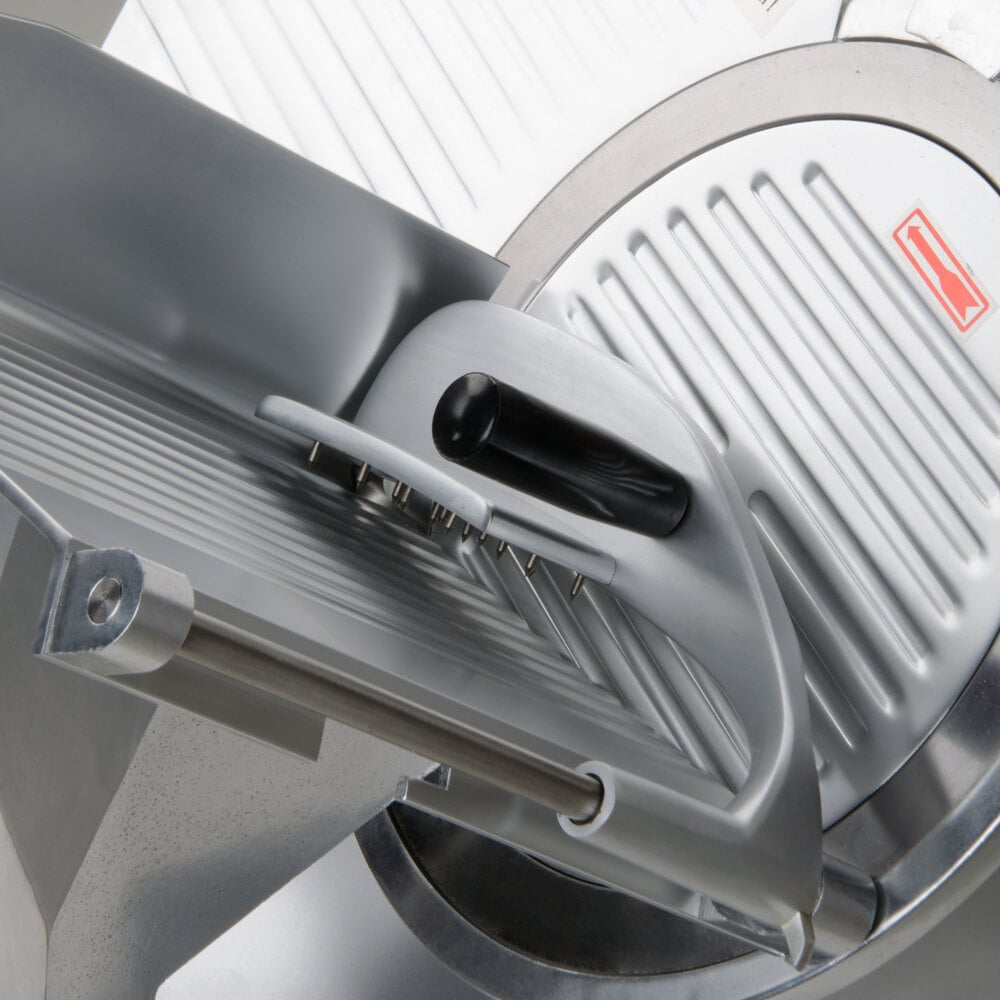 Carefully monitor the ring guard mount, blade guard, and slicer handle on your meat slicer for any cracks, broken, or missing or unattached components and replace them with new meat slicer parts as necessary. Food particles can accumulate at ring guard mounts, inside your blade guards, and under your slicer handle. When food collects, it can breed and harbor dangerous bacteria.
Make sure you regularly examine the seams, seals, and gaskets on your machine to see if they've worn away and created additional cracks and crevices where food and bacteria can accumulate. You should never use a slicer that has missing, broken, unattached, or defective seals, seams, or gaskets. Remove this slicer from service and repair it before using it, as there may be dangerous trapped bacteria.
When to Clean Meat Slicer
You should always wipe your slicer down when switching meats, cheeses, or produce. It's a good idea to fully clean your machine every day to prevent oils and solid food pieces from building up on your blade or faceplates and harboring potentially dangerous bacteria. The FDA recommends cleaning meat slicers every 4 hours if they're being used continuously, so you should clean your machine as frequently as possible.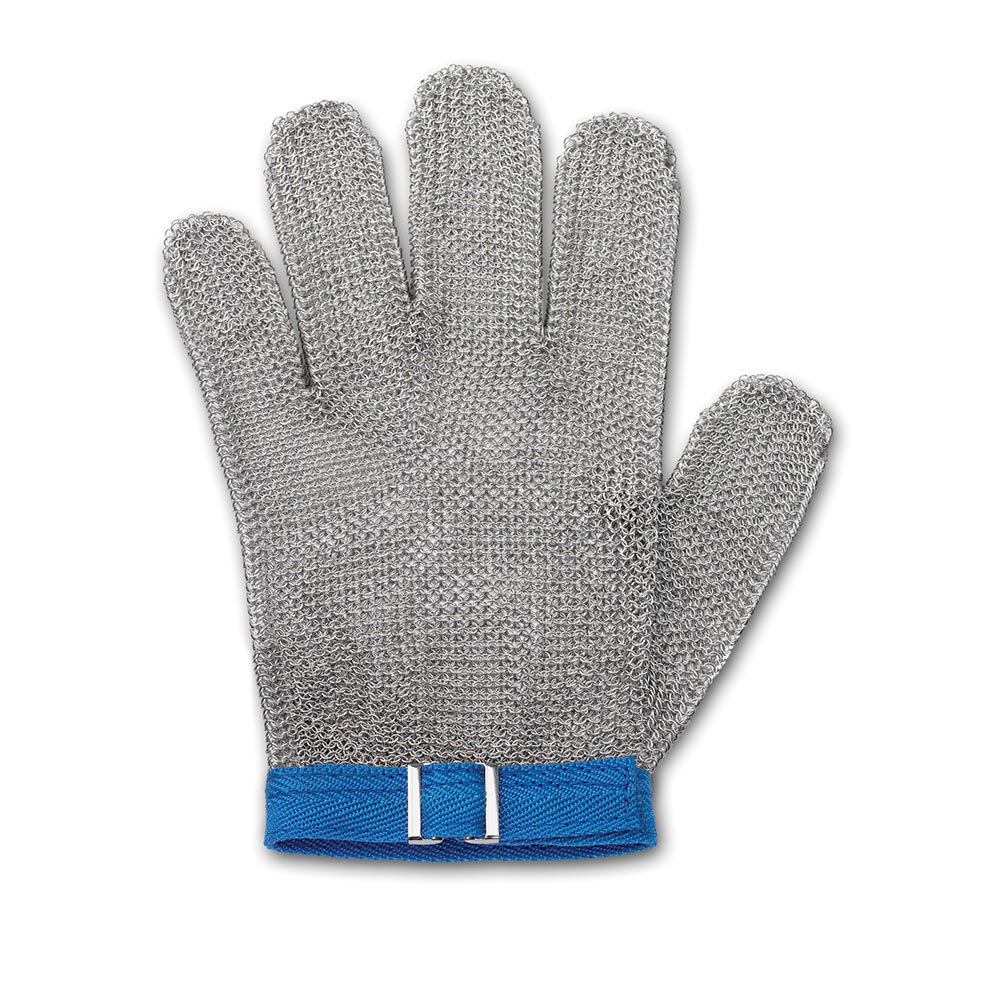 Tips Before Starting
Always wear protective gloves. Cut-resistant gloves like cut-proof metal gloves are the ideal option, especially when handling the blade.
Always follow the manufacturer's instructions exactly.
Never use steel wool because it can scratch the machine.
Never submerge the slicer completely. Your slicer's manual will specify which parts are dishwasher safe and how to care for others.

How to Clean a Meat Slicer
1.

Set your thickness to zero. Using a gentle scrub pad, wipe both sides of the blade as the slicer is in motion. Once you have removed any large food particles, turn off and unplug your slicer.

2.

Next, make sure the gauge plate is in the fully closed position and the sharpening stone is out of the way. Then, remove the product tray, slice deflector, and center plate. Wash, rinse, and sanitize these components and let them air dry.

3.

To clean the blade, you can either remove it or leave it in place. If you leave the blade in place, make sure to clean it thoroughly. Create a soapy solution with a 1:1 ratio of hot water and soap. Alternatively, you can use degreaser spray to clean the blade. Clean both the front and back of the blade while wiping from the center outward.

4.

Wipe down the exterior and all remaining pieces of the slicer. Then, rinse with hot water using a clean towel.

5.

Sanitize your appliance using meat slicer sanitizing spray. Use a spray bottle to coat the machine thoroughly and allow it to air dry.

6.

Lubricate the slide rods using a spray lubricant. Once the slicer is dry, replace the blade, faceplate, and product tray
If there are any areas on your slicer where water seems to accumulate, dry the areas with a non-linting towel, and lubricate them to prevent rust or corrosion. You may need to replace gaskets or other components if they're collecting water. This step-by-step how to clean a slicer video is a great resource, too!
Meat Slicer Blade Maintenance
With proper maintenance, you can lengthen the life of your meat slicer. Here are a few simple tips:
You should frequently clean your meat slicer blade and sharpen it with a sharpening stone for meat slicers.
Only sharpen a clean blade, and be sure to clean disinfect your blade after sharpening.
Follow the manufacturer's instructions.
Have your machine serviced routinely as recommended by the manufacturer.
Now that you know how to clean a meat slicer, you can keep the one in your deli, grocery store, or restaurant in premium condition. Be sure to regularly inspect your machine for any damaged components or food buildup. When you're consistent with meat slicer maintenance, you can increase the lifespan of your unit and reduce the chances of contaminating food.
---