Find the Best Food Processors for Your Business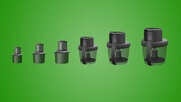 Prepping ingredients for your recipes is one of the most time-consuming activities that takes place in any commercial kitchen. Whether you're dicing, slicing, chopping, shredding, whipping, pureeing, or mixing, we've got a commercial food processor that will significantly decrease your prep time while increasing your efficiency and profits. From the convenient collection bowl of a batch bowl processor to the speed of a continuous feed processor, when it comes to prepping vegetables, mixing sauces, creating salsas, or even mixing dough and whipping fresh butter, these models can handle whatever you throw at them. For the ultimate in chopping and pureeing power, check out our buffalo choppers that are great for making sausages, deli salads, ground meat mixtures, pureed fruits and vegetables, and more. You can also choose an NSF Listed model that's easy to clean and won't accumulate grime or bacteria. To learn more about the differences between these products, explore the tabs above and the filters on the left side of the page.
Our commercial food processors come in a variety of different styles, configurations, and sizes, all of which are designed to make food prep more efficient. Whether you prefer using a batch bowl processor or a continuous feed processor, we have the option for you. Choose a stainless steel food processor in your desired capacity and style to suit your volume of orders. For other ways to increase kitchen efficiency, check out our commercial food processor parts and accessories, food processor slicer attachments and accessories, and meat slicers. If you're wondering where to buy commercial food processors, we have a large selection of commercial food processors for sale at the lowest prices.