Waring WFP16S 4 Qt. Clear Batch Bowl Food Processor with Vegetable Prep Lid Chute & 2 Discs - 2 hp
4 qt. batch bowl
S blade, slicing disc, shredding disc, and whipping disc included
Heavy duty die cast housing for outstanding durability
Powerful, commercial grade 2 hp motor handles the toughest jobs
LiquiLock seal system to prevent liquid from escaping the bowl
Automatic reset switch
720 watts of power support high-capacity food processing
120V
The Waring WFP16S food processor keeps up with high demand kitchens while offering unmatched precision and quality.
Looking for an efficient and economically priced food processor? This unit is your kitchen's solution for quickly chopping, mincing, pureeing, or liquefying! This food processor features a 2 hp motor with a 4 qt. sealed batch bowl so you can create soups, sauces, and a variety of other foods with ease. And thanks to the included pusher, you can easily press food into the blades for fast processing.
ETL Sanitation

This item meets the sanitation standards imposed by the ETL, a division of the Intertek Group.

ETL US

This item meets the electrical product safety standards imposed by the ETL, a division of the Intertek Group, for use in the United States.

5-15P

This unit comes with a NEMA 5-15P plug.
"Great food processor for the money! I use this thing daily to prepare a couple of our signature sides and it works great. I love the large capacity and the powerful motor never bogs down when trying to incorporate cold cream cheese. I've only used the slicing attachments a couple…"
Read More Reviews
LiquiLock Seal System
An innovative LiquiLock seal system holds liquids in the bowl while processing and keeps the S-blade in the bowl while pouring. Its sealed, clear-view 4 qt. batch bowl easily processes soups, sauces, and marinades without leaks.
Rugged Construction
The high-impact and scratch-resistant polycarbonate material lets you easily see the bowl's contents. This way, you'll be able to monitor your products as they are being processed. Plus, its heavy-duty die cast housing is designed for long-lasting durability.
Helpful Accessories
This food processor comes with a sealed S blade, adjustable slicing disc, reversible shredding disc, and sealed whipping disc for outstanding versatility so you can improve the efficiency of your kitchen.
Easy to Operate
There are three large push button controls: "On," "Off" and "Pulse." The food processor is set up with a safety interlock system, which prevents the unit from operating unless correctly assembled. To prevent the unit's motor from overheating, it also features an automatic reset switch. If your unit powers off during heavy use, simply turn the power switch off and unplug the power cord, allowing the unit to cool down for at least five minutes. Then, you can resume processing.
Food Processors
To learn about the different types of food processors and their various uses, check out this short video!
Waring WFP16S Food Processor
Watch this video to learn about all the unique features this Waring WFP16S food processor has over other processors in its class. From a 2 HP motor to a whipping disk, this Waring product takes a step above the rest.
Waring Food Processor with 4 Qt. Bowl
Use a Waring food processor in your business to dice, blend, and mix a variety of ingredients with ease. See all the different recipes this one unit will help you create to delight guests and customers!
Waring WFP16S Series LiquiLock Food Processors
Learn about all the features of Waring's WFP16 series of food processors, and watch them in action, processing a variety of foods with both the batch bowl and continuous feed attachments. Check out this video to find out more!
One of the hardest working electric machines in any restaurant kitchen is the food processor. From cutting butter into pastry dough to dicing tomatoes for salsa, these versatile machines are great labor-savers. But, which processor is right for your restaurant? The first thing to think about when selecting a food processor is what processing tasks you need to perform. If you're primarily chopping, kneading, and pureeing food, with occasional small batches of grating, slicing, and shredding, a batch bowl processor is what you'll need. If your main use is vegetable preparation, or shredding cheese, a continuous feed processor is what you'll want to purchase. And if you need maximum versatility, you can buy processors with both a batch bowl and a continuous feed head. Make sure you check into the blades and discs that come with your processor, or are available for purchase later. Some manufacturers have a broad range of discs to serve almost any processing need and others just have a few. When shopping for processors on our site, you'll find information on what blades come with a processor in the description, and you'll find other discs available in the companion items. The next thing you'll need to consider is how much you will be using the machine. Batch bowl processors come in sizes from 3/4 qt. all the way up to 20 qt., but even processors with similar batch bowl sizes can vary in utility. Check out the horsepower ratings and compare the build of the units. Units with higher horsepower and heavier-built units are preferred for long running times and more difficult tasks like shredding cheese. If salsa is your signature item and you're dicing vegetables several hours a day, a heavy base, high horsepower continuous feed machine is going to be your best choice. Also, when considering vegetable prep processors, consider the size of the chute. Some have smaller chutes and some larger units will allow you to shred entire heads of cabbage all at once. If you want an easy way to compare processors, check out our food processor buying guide. We have detailed comparisons of all of our units, an overview of various processing plates, and also printable charts showing the capacity of each machine. Thanks for watching, and if you have any questions, please use our live chat button!
The Waring WFP16S 4 quart food processor gives you power, versatility and some great features not found in other food processors in its class. The WFP16S features a 2 horsepower motor. It comes with a 4 quart batch bowl with a LiquiLock seal so that you can process soups sauces, dressings and other liquids without spilling. It comes with a sealed S-blade, an adjustable slicing disc, a reversible grating plate, and a whipping disc that will let you make your own whipped creams and butters in seconds! It also comes with a 2 year parts and labor warranty, and 5 year motor Warranty. If you have any questions, please use our Live Chat button!
Waring commercial presents the combination bowl cutter mixer and continuous-feed food processor. The 4 quart cutter mixer bowl has a patented LiquiLock seal system. The lid locks in place to fully seal the bowl. The S-blade locks in place to process and pour a full 4 quarts of liquid mixes. Make tomato basil soup. Thermal protection prevents overheating, and the safety interlock prevents operation without proper assembly. It has a clear view to see the blending process. It has a 2 peak hp commercial motor which is surrounded by die-cast housing. Standard discs are included. The patented S-blade that seals for easy and safe pouring lets you make mussels with jalapeno pesto, chickpea fritters with cucumber raita, and pear tart. The exclusive whipping disc lets you make artisanal creams and butters so you can make waffles with cognac cream and honey butter. The patented adjustable slicing disc has 16 options in one disc so you can make Asian cucumber salad or beef tartare with potato chips. The double-sided shredding disc is used for fine and coarse shreds so you can make bahn mi sandwich with meatballs. The dicing assembly and continuous-feed hopper produces up to 1,000 lb. of product per hour so you can make a butternut squash hash with poached egg or kalua pork with pineapple fried rice. Optional accessories are the dicing assembly, julienne discs, and the grating discs.
WFP16S series sealed LiquiLock food processors. Die-cast motor housing. Safety interlock. S-Blade. Liquilock seal system. Reversible shredding disc. Medium shred. Fine shred. Adjustable slicing blade. 16 thickness options. 6 mm. 1 mm. Whipping disc. LiquiLock seal system. Fresh whipped cream, or continue mixing to create fresh herb butter. Continuous feed chute and dicing assembly. Slinger. 3/8" dicing grid. 3/8" slicing disc. Dices 1000 lbs. / hr. Slices 1185 lbs. / hr. Shreds 430 lbs. / hr. Cleaning the dicing grid.
Overall Dimensions:
Width:

9 Inches

Depth:

14 Inches

Height:

19 Inches
Resources and Downloads for
Waring WFP16S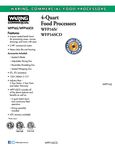 Specsheet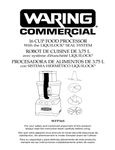 Manual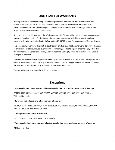 Warranty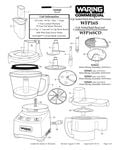 Diagram
A PDF viewer is required to view this product's information. Download Adobe Acrobat software
Warranty Info
Parts are subject to a 90 day warranty. All warranty claims are subject to manufacturer discretion. Warranty is not valid on any product leaving the U.S.
Customer Reviews
People Talk About:

food

processor

processors

bowl

Motor

unit

blades

great

blade

heavy

1

out

of 1 found this

review

helpful

When we acquired our bakery, they had one of these food processors in the kitchen. We ordered another one to make things go faster. The base is super super heavy. The cord has gotten stuck a feel times and I've dropped it on the floor a count times. It seems to be working just fine after dropping it twice now. We use it to make our vegan cheesecakes, chickpea peanut butter blondies, and gf black bean brownies.

This thing performs amazingly for a fraction of the cost of that other big brand, and the 4qt bowl size is great! Everything snaps directly down, so you dont have to awkwardly twist to lock into place. Heavy duty and well worth the price.

As a catering business, we have a lot that we need to do very quickly, having such a great processor makes our lives so much easier!

This thing is an absolute BEAST to put together the first few times - you have to shove and jam things together with enough strength that I'm always afraid I'm going to break something. But once you get it going, it's powerful as all get-out.

this food processor is great! good size and powerful, we had one of the exact same model previously but it just burned out so we replace with the same one! can't go wrong!

This is one powerful food processor with a size to match. For the price there are some faults which I will discuss however, do not take them highly as they are fairly minor. The Motor Housing: First this is quite large. Its almost two 4Qt Containers(2144SFSPP ) in size. The casing is metal and quite solid feeling. There are rubber feet on the bottom to limit movement, but it can still slide depending on the countertop type. Three buttons are covered to prevent water from damaging the unit. The motor without any blade is extremely silent. My only complaint for the housing is that the safety feature does not reset the button to Off. What I mean is that if you press the On Button prior to use, it will be set to ON(Unit will still be Off). When you put the container and Lid together, it will immediately turn on rather than

having to hit the On switch. This may be a good or bad thing for some people. Blades: I think the blades are all well made, with the blades being rather sharp and using high quality plastic(Seems like glass fiber and nylon). The Plastic is quite heavy gauged and surprisingly heavy. The thickness of the shredder/slicer/whipping are fairly decent. Not overly thick and not thin. Only issue with the blade are that they are rather unbalanced. This seems to be the cause of a lot of the sound due to the blades wobbling. Since the RPM is rather low, this isn't much of a concern. You can actually try this out by not using any blade and turning on the unit. It is beautifully silent without a blade. But Silence, isn't the purpose of this food processor. It is it's ability to process food items which this does extremely well. Container: Seems sturdy enough. The Container is fairly easy to clean albeit a bit more complicated than non-sealed versions as you will need to remove the seal for proper cleaning. My only concern is the safety system of the bowl itself. I'm worried over time if not careful that it may get gunked up with food preventing the safety switch from working properly. Now even though, I did make some critical comments regarding this, it was the only real faults I could find of the unit. It's very well made, it's reasonably quite, and it goes through food with no hesitation as some lower powered units. Would I buy again? If it ever breaks down I definitely will. Why did I rate it 5 out of 5. Like I said, they are fairly minor issues with probably the top issue being the possibility of the safety latch not engaging if the handle gets gunked up with food but that issue would occur through misuse. The unbalanced blades would have been of real concern IF this was designed to go much faster than 1780 RPMS. It just increases the noise of the unit as well as vibration. Finally cleaning the unit bowl while being slightly harder is the downside of having the liquid seal system in place and most food processors are a bit of a chore to do anyway. Read Less Read More

The base is sturdy and heavy and the bowl is large! Its great for large batches. It is sometimes quite loud- we will see long term if this indicates a problem.

I was very happy with this food processor when it first arrived, however it's been giving some trouble lately. Initially, when we first turned it on, there was a grinding sound being made that went away quickly when it was under a heavy load. A few months later, the sound was persistent but the machine was working perfectly. I discovered online that it was fairly normal so we ignored it. Fast-forward almost two years and the machine gets extremely hot, vibrates to the point where it moves and started cutting out. Not sure what happened but we are looking for a replacement unit. Also, the finish doesn't hold up too well.

WARING WFP16S. I'm a retail purchaser and home user of food processors and I have purchased and used a popular brand food processors for over 30 years. I started with inexpensive food processors which didn't last me 4 months and moved on to the top of the line consumer food processors; first the 11 cup and, when they became available, the 14 cup models. Due to burned out motors, I've had to replace or repair them every 3 years or so except for my first two which had lifetime warranties on the motors…from which they cut me off after the third or fourth motor replacement on each. I use my food processor constantly and it is always on my counter. I LOVE this food processor!!! The speed, the power, the ease of use…once you learn how to put the parts together so the motor engages lol!!! But that learning curve

exists with any new appliance. Using this machine is now a breeze. And it's so easy to clean. And the blade never falls out! And I can shave and slice meats and cheeses again without burning out the motor. The base and parts are high quality and should last not just years but generations under home use. The blades are super sharp. The bowl and lid seem indestructible to one that has dropped the bowl a couple of times on the floor already. Given the price of top of the line consumer brand food processors, the price of the Waring WFP16S seems very reasonable in comparison and especially so considering the larger capacity and more than double powder. I especially love that it's sealed and can handle liquids and thin batters without leaking and creating a mess as occurred with my old food processors. No longer do I have to finish my recipe off in a bowl using a mixer, or a stick or regular blender. No longer do I have to make my recipes in batches due to capacity constraints or to prevent overheating and stopping the motor. Its 2 HP motor and 16 cup capacity handle my largest recipes and the thickest batters or bread and cookie doughs. The machine is sturdy and powerful. I think this baby could handle anything! I highly recommend this product. I didn't purchase the continuous feed/batch version of this processor, the WFP16SCD, because I no longer process for canning or feed large crowds of people but given the performance of the batch model I would recommend the combination batch/continuous feed model to anyone who cans or caters. Read Less Read More

Great food processor for the money! I use this thing daily to prepare a couple of our signature sides and it works great. I love the large capacity and the powerful motor never bogs down when trying to incorporate cold cream cheese. I've only used the slicing attachments a couple of times so it is hard to speak for them, but I do like the fact that the s blade stays locked in place so you don't have to remove it before pouring contents out of the bowl. I had considered buying a much more expensive unit, but for the money it would be hard to beat this one.

We upgraded to this to make our hummus, salsa and other "bar food" items. Keeps up with our volume perfectly and has not tired out at all. Kitchen likes the volume it can do at 1 time and also the ease of cleaning and storage on the back shelves. Great value.
Leave a review of this product!
If you've used this product, log in and leave a review to tell us and other customers what you thought about it.
Login or Register