Few things are able to draw a crowd quite like delicious ice cream, but choosing the right machine for your business can be a daunting task. Whether you run an ice cream parlor, local diner, or concession stand, our vast selection of
commercial ice cream machines
ensures there's a perfect fit for your unique business.
What is Soft Serve, Frozen Yogurt, Gelato, and Hard Ice Cream?
Creating delicious soft serve, frozen yogurt, and hard ice cream is a simpler process than most might believe! These products are considered to have high overrun and are essentially just ice cream or milk mixed with air. The "overrun," or amount of air added to the cream, is typically kept within 35% - 45% to maintain the taste and consistency while also creating a light and creamy texture. The less overrun there is, the firmer the final product will be. Higher overrun may cause a lack in taste and a consistency that won't hold its shape. In the case of hard ice cream, while air is incorporated into the mixture, it is churned at a faster and colder rate, which separates it from its softer counterpart.
On the other hand, gelato is considered to be a low overrun dessert.
Gelato
is slow-churned in a batch freezer for a silkier texture and served at a slightly warmer temperature to preserve its flavor and composition. It has about 25%-30% overrun, making it more dense than soft serve.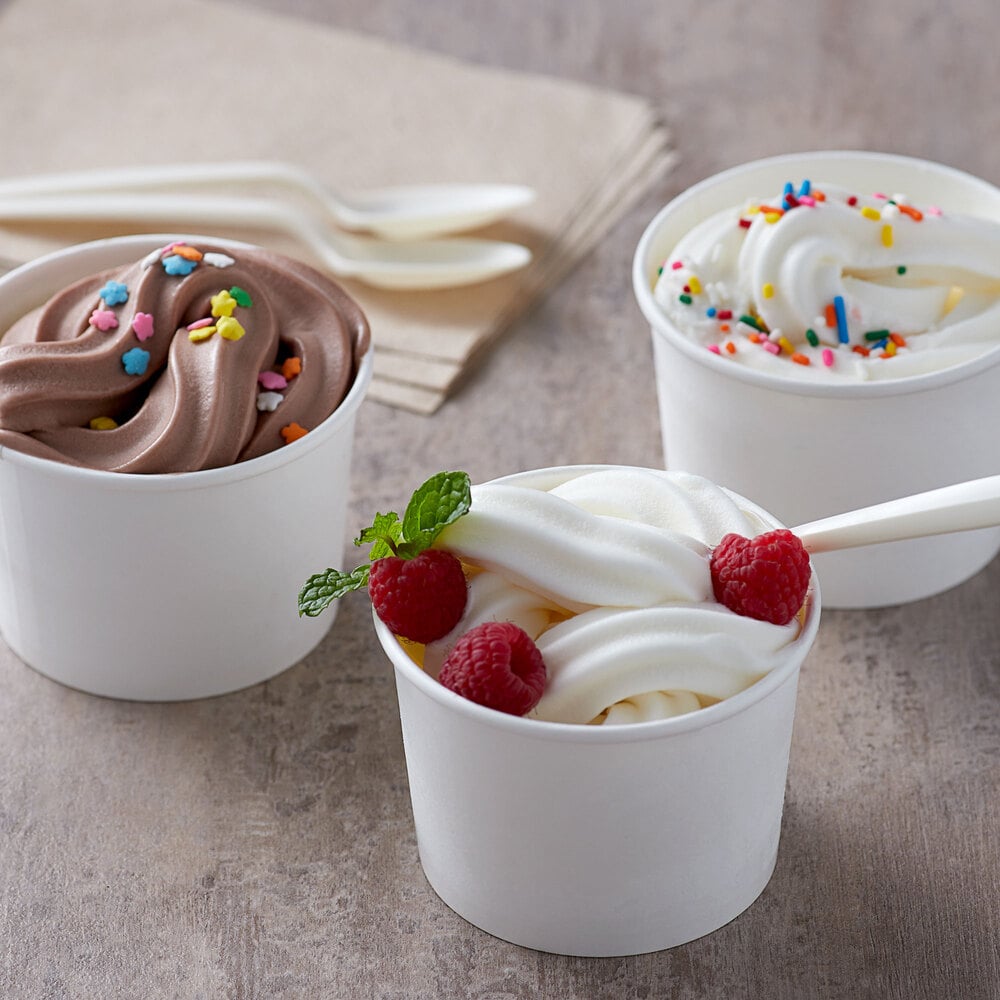 How to Make Hard and Soft Service Ice Cream
Traditional soft serve starts with just two ingredients: cold water and soft serve ice cream mix, while hard ice cream can be made with cream, mix, and flavoring, such as vanilla extract. For both soft serve and hard ice cream, air is either mixed with the liquid mix through constant stirring in a machine just before it's frozen or it's controllably forced into the liquid with a pressurized air pump. For soft serve, once the liquid mix freezes, the result is a lighter, smoother-textured form of ice cream that has been a favorite treat for decades.
Ice Cream Machine Output

Arguably the most essential factor to consider in the soft serve or batch freezer shopping process, the application of your machine and the appropriate volume capacity dictates what options are available for the size, style, number of hoppers, and special features. Typically, volume capacities of machines will be measured in either gallons per hour, servings per hour, or servings per minute (for a more precise assessment). Based on the scale of your operation and how many customers you expect to serve, certain machines may be more suitable for your output needs than others.
Ice Cream Machine Special Features

Many machines come equipped with a variety of additional features to improve the quality of your hard and soft serve ice cream and make the production process even easier. Understanding the function of each feature will help you decide which ones are best to include in your ideal machine.

Hopper Agitator
Available as an option on some high-end models, a hopper agitator slowly stirs the product in the hopper to improve product consistency and prevent product separation. The product must still be mixed prior to pouring into the hopper, but the agitator eliminates the need to manually stir the product over the course of the day.
Gravity vs. Pressure Fed for Hard and Soft Serve Ice Cream
These functions denote how the liquid mix is fed from the hopper into the freezing cylinder of your machine. As their names indicate, gravity fed machines simply rely on the natural pull of gravity to transfer mix to the cylinder, while pressure fed machines utilize a pump to resupply the cylinder with more mix. While gravity-fed machines are easier on the wallet and simpler to clean and maintain, pressure-fed machines allow you to add a higher, controlled percentage of air for a higher-quality product, and also help maintain constant pressure in the freezing cylinder for consistency.
Pasteurizers
A pasteurizer works within a batch freezer to heat the liquid dairy mix before making hard ice cream. By pasteurizing the mix, it reaches a temperature that not only removes any harmful bacteria, but makes it safe to eat. Many batch freezers feature a 2-in-1, where the mix is heated and pasteurized in one cylinder and then frozen in another. This eliminates the need for two separate machines and allows for faster production of hard ice cream.



Air Pump for Soft Serve and Frozen Yogurt
An air pump is essential to producing light, creamy soft serve treats. The air pump adds air to the ice cream mix prior to freezing, resulting in the smoother, lighter soft serve product that we all know and love. These pumps are typically adjustable, allowing you to alter the amount of overrun in the end product and resultantly, how light or dense you want it to be. This feature also carries the benefit of requiring less mix per serving, effectively reducing the cost per serving. These pumps aren't necessary, of course, if you're serving frozen yogurt or if you'd simply prefer offering a richer, denser product. Keep in mind machines with pumps will also require a little extra time to properly assemble, clean, and maintain.
Water Cooled vs. Air Cooled
Your machine will produce plenty of heat under heavy operation, so make sure you understand how your machine keeps itself cool. Air-cooled machines are the cheaper, simpler option, requiring just a power connection and ample wall clearance (approximately 6") around the machine for exhaust ventilation. While this opens up the flexibility to place the machine just about anywhere you want, air-cooled units perform best in cool, air conditioned environments and tend to be less effective than their water-cooled counterparts.
As the name implies, water-cooled machines cool the refrigeration components with water instead of air. Water-cooled machines operate quietly, are more effective in removing heat, operate efficiently in both warm and cool environments, and do not require clearance space around the exterior. However, they do require a water line connection in order to operate, limiting placement options to wherever this is available. Additionally, these machines and their installation requirements will impose higher upfront costs, but may save you a bit of money if your water utility costs are less than your electricity costs.