Toilet Paper Dispenser Capacity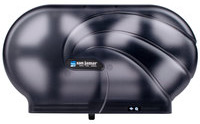 The number of rolls a dispenser holds directly impacts the amount of maintenance the dispenser will require. Commercial toilet paper holders are available in single roll, double roll, or quad roll capacities. The more rolls, the less maintenance, however; the more rolls, the more space it will require.
Stub Roll Section
It used to be that when toilet paper rolls ran low, operators had to decide between throwing away the low (stub) roll, or risk running out of toilet paper in the affected dispenser. Not any more. Many multiple roll dispensers are now designed to protect additional rolls of toilet paper until the first roll is completely used, thereby eliminating the risks of stub roll waste and the unfortunate occurrence of paper running out. Sliding panels can be moved over to reveal the next roll (in horizontally-aligned models), or the next roll can simply drop into place (vertically-aligned models) once the stub roll is exhaused.
How San Jamar Toilet Paper Holders with Stub Roll Sections Work
Load a fresh roll of jumbo toilet paper into the main compartment.
Once that roll has been used down to a 5" or 6" stub roll (depending on the model), move it into the stub section.
The new roll will become accessible only when the stub roll is finished so that you can now use every last sheet on each and every roll without worrying about your toilet paper holder going empty.
Toilet Paper Dispenser Materials
Toilet paper dispensers are available in plastic or metal models. Both materials ensure longevity, and each has their own set of advantages in commercial settings.
Plastic Toilet Paper Dispensers
Easy to clean
Come in a variety of colors
Resist scratching for a professional look
Often made of durable polypropylene or ABS plastic material
Many are available with translucent surfaces so your staff can quickly see when refills are needed
Metal Toilet Paper Dispensers
Extremely durable
Naturally blend in with most decor
Can be polished to perfection with the right chemicals and cloths
Come in 20 or 22 gauge stainless steel, chrome-plated metal or steel, or cast aluminum options
Locking/Vandal-Resistant Toilet Paper Dispensers
Locking or vandal-resistant toilet paper dispenser prevent theft and misuse with added guards against vandalism and theft. These dispensers typically require a lock-and-key operation to open and close the dispenser during maintenance, and may feature concealed brake or tension springs to provide controlled delivery of toilet paper, stopping the roll from spinning freely. Locking toilet paper holders are perfect for highly-trafficked areas such as public restrooms, rest stops, and gas stations.
How to Open a Toilet Paper Dispenser
To open an enclosed, locking toilet paper dispenser, follow these simple steps:
Retrieve key.
Unlock dispenser.
Remove stub roll/core.
Place new roll in the dispenser.
Close dispenser.
Return key to storage hook.
Feminine Hygiene Dispensers and Receptacles
Keeping your restroom stocked with essential feminine hygiene products is easy when you have the right feminine hygiene dispenser for the job. But how do you determine what's "right" for you? We're here to help.
Where will the feminine product dispenser be installed?
Feminine product dispensers come in recessed, semi-recessed, and wall mount options. Determining which style will work in your establishment is priority number one. Do you have space behind the wall for the unit to be recessed (or semi-recessed) into the wall? If so, you have the benefit of out-of-the-way operation with this type of unit. Should the unit need to be mounted to the wall, a wall mount dispenser is the way to go for easy installation in virtually any restroom.
How many products do you wish to offer?
Once you know how your dispenser will be mounted, it's time to decide how many products you'll be vending. We carry dispensers that vend two or three products at a time, with varying capacities per chamber.
Single Coin, Double Coin, or No Coin?
Profitability is the next consideration when determining the feminine product dispenser that's right for your business. We carry single coin, double coin, and no coin options for just this purpose. Many dispensers are field-convertible to allow for single, double, or no coin operation, and most come pre-set on one of these settings.
Sanitary Napkin Receptacles
Other vital components in any commercial restroom are sanitary napkin receptacles. Sanitary napkin receptacles are available in floor, recessed, or wall mount options, and can be plastic or stainless steel in composition. These receptacles make it easy to safely and sanitarily dispose of feminine hygiene products in a discreet fashion that your patrons will appreciate.
Sanitary Napkin Disposal Bags
It's a good idea to line your sanitary napkin receptacles with sanitary napkin disposal bags to increase sanitation and convenience for restroom users, while providing a clean and easy method of receptacle emptying for your staff. Sanitary disposal bags come in a variety of sizes to fit most common dispensers, and most are made of dry wax paper to prevent leaks. Feminine hygiene disposal bags often feature an undercut lip to enable easy opening, for proper, discreet disposal of feminine hygiene products.