Commercial Blender Purchasing Considerations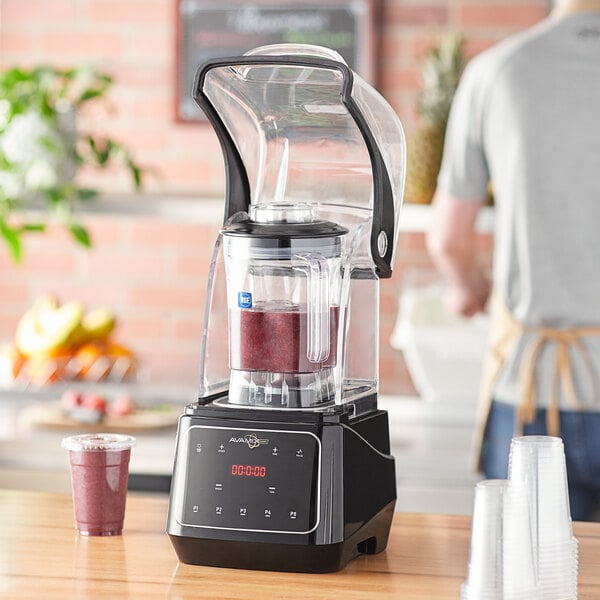 When choosing the best blender for your business, you will need to consider what it will be used for, the minimum amount of horsepower it needs, its control type, how quiet it needs to be, and its ease of cleaning.
Blender Application
The type of blender that you need depends heavily on the environment where it will be used. For instance, making smoothies all day will require a completely different blender than making only a few margaritas per night.
First off, consider the type of business you run. What foods will you use the blender for? Will you be using it to puree creamy soups, or will you be making tantalizing smoothies? Then, think about how often you'll be using the blender. Some blenders are designed for lighter-duty use and wouldn't last in an environment where they are used to make dozens of drinks every day.
Also, some blenders have features like programmable controls or timers that make them more efficient for use in high-volume kitchens and bars. If you are going to be making the same recipe over and over, or you want to set the blender for a specific time and perform other tasks while it does its job, some of these features can make up for the higher price tag by saving you hours of time and labor.
Blender Noise Level
To help keep the noise down in your establishment, you can choose a blender that has a sound enclosure. This feature is a polycarbonate shield that surrounds your blender during use to reduce the amount of noise produced by the unit. It may reduce the immediate accessibility of the jar and controls, but if noise is a problem for your business, choosing a unit with an enclosure may be your best choice in the long run.
Blender Horsepower
More horsepower isn't always better. Once again, it all comes down to your application. If you will be making thick smoothies or milkshakes all day, you'll definitely need a unit with more power. But if all you need is a blender to turn out a couple of margaritas every night you can save some money by going with a smaller, less powerful one.
| Common HP Ratings | Ideal Applications |
| --- | --- |
| 1/2 HP | Light food preparation, no more than 50 servings per day. |
| 1-1 1/2 HP | Medium food preparation, up to 75 servings per day. |
| 2 HP | Medium to heavy food preparation, between 75 - 100 servings per day. |
| 3 1/2 HP | Heavy food and beverage preparation, more than 100 servings per day. |


Keep in mind that power isn't the only indicator of performance. You'll want to make sure that the power rating you choose is paired with an aggressive blade assembly for the best results.
Blender Controls
There are three types of blender controls: toggle / paddle, electronic, and programmable controls. Each type has its own benefits and an application where it works best.
Cleaning Your Blender
At the end of the day, there are plenty of things you would rather be doing than cleaning your equipment for the next day. To make life easier on yourself, consider some of these features that are designed to make cleaning a blender easier and more efficient.
Removable jar pads: Some models have removable jar pads to catch spills or splatters so they don't accumulate on your blender's base. At the end of the day, you can just carry the jar pad to the sink rather than scrubbing your blender in place.
Removable blade assemblies: On many models, you can remove the blade assembly from the base of the blender jar for more thorough cleaning. This way, no food is left in the crevices of the jar and gaskets.
Removable shafts: On immersion blenders, you'll want to consider a dishwasher safe, removable shaft. This way, you won't need to worry about getting the blender's motor wet during washing. Plus, they eliminate the need to clean the area around the blades by hand.