WebstaurantStore / Food Service Resources / Blog
Choosing and Organizing Your Restaurant Booth Seating
Booths are a popular seating option that keep guests comfortable. As you go about organizing your dining room, be sure to incorporate strategic restaurant booth spacing while also keeping your overall restaurant layout dimensions in mind. The suggestions below will help you select the right booths for your business.
Why Choose Booth Seating for Your Restaurant?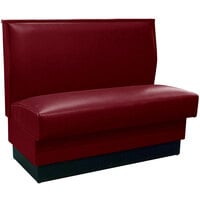 Booths are a great choice for any bar or restaurant for a variety of reasons.
Give guests privacy and comfort
Creates less traffic
Makes serving easier and more efficient for waitstaff by cutting out walking
Adds a touch of warmth to your front-of-house
Despite their higher initial cost, in the long run, booths provide one of the most cost- and space-efficient layouts you can choose for your dining room.
Restaurant Booth Dimensions and Layout
When designing a booth layout for your business, considering restaurant booth seating dimensions is obviously very important. You should always make sure to factor dining room table sizes into your calculations, as well. Ultimately, an awareness of booth dimensions for restaurant seating is one of the easiest ways to maximize the amount of guests you can serve, which will increase your business's profits.
For reference, here are the most common restaurant booth size standards, all of which are incorporated in the chart below:
| | | |
| --- | --- | --- |
| Booth Type | Booth Length | Booth Width |
| Single | 46" | 23" |
| Double | 46" | 44" |
| Wall Bench | Customizable | 23" |
| 1/2 Circle | 46" | 88" |
| 3/4 Circle | 88" | 88" |
Selecting the Perfect Booths
With the wide variety of dining room booths to choose from, you're sure to find the perfect combination of colors, patterns, and styles to match your restaurant or bar's interior color choices and design. Choose from the following types of booths:
Single
Double
Wall bench
1/2 circle
3/4 circle
You can also purchase booths that offer types in many different lengths, widths, and heights. Additionally, you can select from a variety of booth back configurations like:
Welt cord
Head roll
Top cap
End cap
Outside
You might also consider pairing a wall bench with small tables, which allows for easy conversation among couples, but can be quickly transformed into a larger table for big groups.
Restaurant Seating Chart Example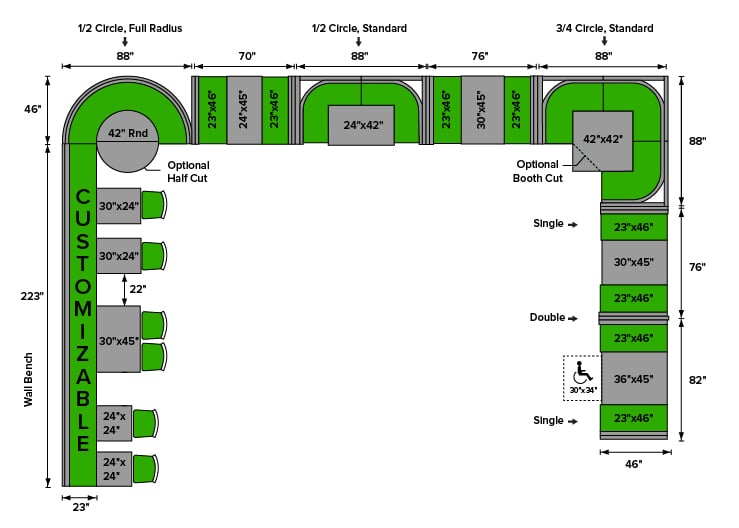 Choosing and organizing restaurant booths for your dining room is an important aspect of keeping guests satisfied, comfortable, and coming back again and again. Whether you choose an upholstered button tufted booth for your diner or a wooden model for your upscale bistro, these items are also an aesthetically-pleasing addition to any space. Ultimately, booths are space-efficient, cost-effective, and the perfect addition to any foodservice business.
Posted in:
Facility Design & Decor
| By Angalena Malavenda