WebstaurantStore / Food Service Resources / Blog
Types and Sizes of Corrugated Boxes
Many years ago in England, corrugated paper, the ridged and grooved part of shipping and packaging boxes, was used as a liner for English top hats. However it wasn't until 1871 that it was patented by Albert Jones of New York City for packaging purposes. Since then, corrugated paper has evolved from top hat liners into various cardboard box types, like pizza, bakery, and take-out boxes. Cardboard fluting is also used in some eco-friendly disposables, deli trays, paper plates, and disposable bakeware.
What are the benefits of corrugated boxes?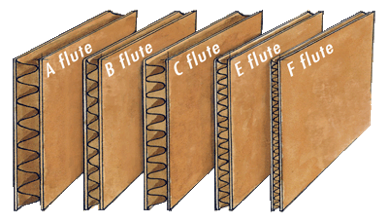 Sandwiched between two pieces of cardboard, the ridged flutes of these products are designed to support a great deal of weight. Not only is this beneficial for shipping purposes, but it also plays an important part in supporting the weight of food in the corrugated disposables mentioned above. This cardboard fluting construction also plays an integral role in protecting items during transportation. The curved arches created by these flutes make boards durable and resist pressure applied from any angle. The empty space located between the flutes and under the arches even provides cushioning, as well as insulation in the event of extreme temperature changes.
What do the flute letter designations mean?
Different types of corrugated boxes are designated by the letters A, B, C, E, or F, with flutes A – E being the most common types. C flute corrugation is the most frequently used, with 80% of boards and boxes making up this designation. However, the alphabetical designations of the flutes don't correspond to the sizes of corrugated boxes, but rather to the order in which the flutes were invented.
If you're still curious (or confused) by the differences between the types of corrugated cardboard, then check out the table below for an outline of their sizes, qualities, and uses.
| | | | | |
| --- | --- | --- | --- | --- |
| Flute Designation | # of Flutes / Linear Foot | Flute Height | Qualities | Common Uses |
| A | 36 | 1/4" | Excellent compression and cushioning; good stacking strength | Packaging fragile items; used for its structural strength |
| B | 49 | 1/8" | Excellent crush resistance and printing surface; good puncture resistance | Inner packaging, like pads and partitions |
| C | 41 | 11/64" | Good printing surface, compression, and crush resistance | Most common flute used for shipping boxes; used for its structural strength; used for glass, furniture, food, etc. |
| E | 90 | 1/16" | Excellent crush resistance; exceptional printing surface; thin construciton helps to reduce storage space | Consumer goods packaging, like boxes for cosmetics, glass, and ceramics; used for displays, ballot boxes, and pizza boxes |
| F | 128 | 1/32" | Outstanding printing surface; excellent crush resistance; thin construction allows for stiffer boxes with less fiber | Consumer goods packaging, like boxes for cosmetics, jewelry, and shoes; used for software packaging and fastfood clamshells |
Note: These measurements are approximations. Manufacturers produce corrugated flutes which may vary slightly in size.

Posted in:
Product Spotlights
| By WebstaurantStore