Why Do I Need a Chef Base?
Designed to hold equipment on top, chef bases house the food you're waiting to prepare right underneath. They're most often used to briefly store burgers, chicken, steak, and other products prior to cooking.
While they're rated NSF-7 for open food, it's worth noting that refrigerated chef bases are not recommended for long-term storage. They're usually designated for cold storage of immediate-use products on the cooking line.
You'll often find griddles and grills on top of these bases. With ingredients or prepared meals close to your cooking station, you can make your food prep more efficient than ever!
---
1.) Saves Space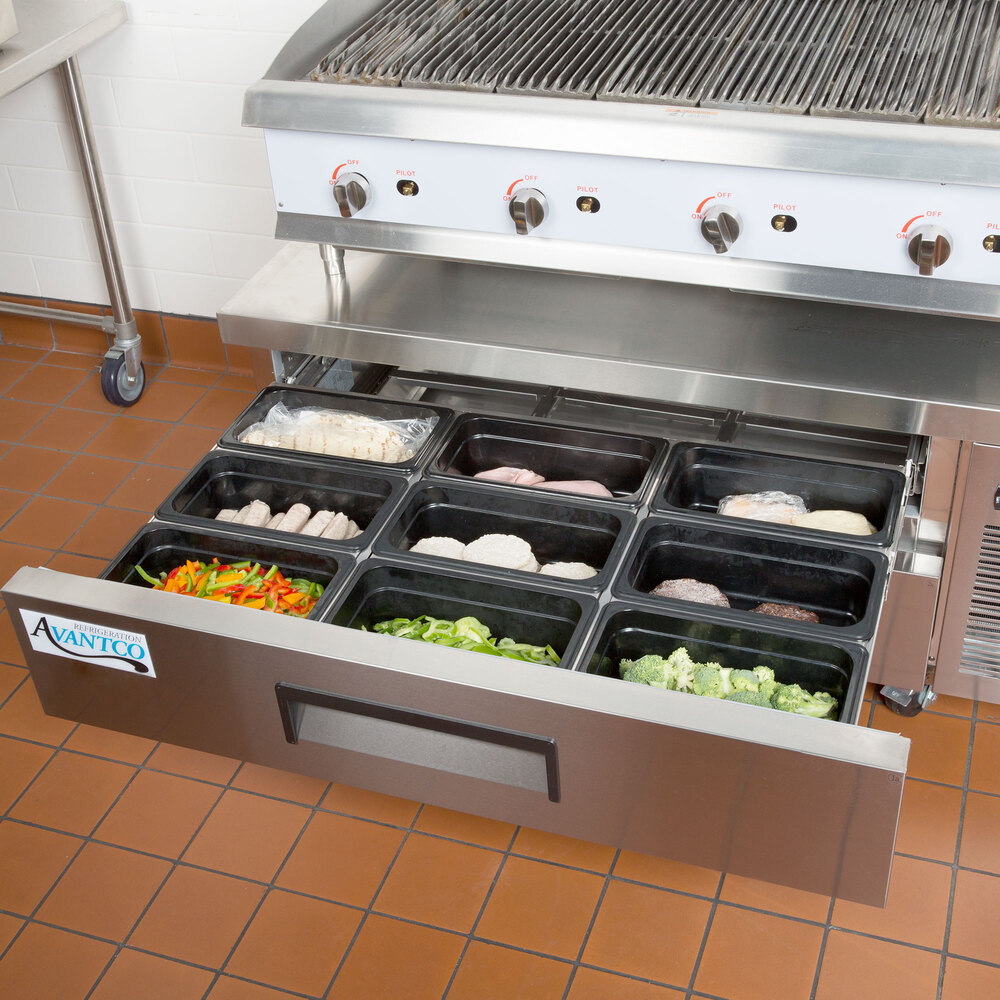 Thanks to the two-in-one design, each chef base offers a durable work top and refrigerator or freezer drawers below. Chef bases allow you to maximize the space in your establishment to make the most of your valuable kitchen space. They come in various lengths to accommodate various kitchen types and equipment.
2.) Efficient and Convenient
A great way to save time and ensure that your staff is working quickly and efficiently, chef bases make it easy to reach for ingredients without having to leave your work station. Because chef bases can accommodate a variety of cooking equipment, you can arrange meats, cheeses, and vegetables in the drawers so you have everything you need to prepare cheese steaks, hamburgers, and breakfast sandwiches!
---
Equipment Stand vs. Chef Base
To maximize the space in your kitchen, chef bases can be used to replace equipment stands in order to utilize the otherwise limited space below stands and tables. While an equipment stand is great for creating work prep stations, it doesn't provide convenient access to fresh ingredients the same way that a chef base does.
Equipment Stand:
Provides shelf space for pots, pans, and cooking utensils. Typically includes a stainless steel top.
Chef Base:
Available in 2, 4, or 6 drawer options, you can store ingredients close at hand in the refrigerator or freezer drawers. Each drawer can hold various configurations of food pans and these units typically feature a stainless steel top.
Spec Line / Institutional / Heavy-Duty Chef Bases
To fit every need, we also have a selection of Spec Line / Institutional / Heavy-Duty Chef Bases. When durability and strength are key, choose one of these refrigerated chef bases to add efficiency to your kitchen. Specification Line chef bases offer more precise controls, premium features and construction, and the ability to customize configurations more than standard models.
Thanks to their sturdy stainless steel construction and a variety of drawer numbers and capacities to choose from, these chef bases stand up to the rigors of a busy commercial kitchen.
Chef Base Purchasing Considerations
Several factors should go into deciding what base is right for your circumstances. Some aspects that you'll need to look closer at include:
---
Size
Refrigerated bases are typically categorized by length. With multiple options available, you can mold your ideal cooking station as necessary. The most common widths go from 36" all the way up to 120", which means that you can accommodate single induction burners or a large breakfast griddle.
Alone, heights typically range between 21" and 30", but the equipment on top can push the total height between 30" and 40" depending on what you have. Depths range from 32" to 34".
---
Environment
Refrigerated chef bases do vary in build and durability, and that will be crucial to remember when considering different models. Examine your applications and the expected frequency of use.
Heavy-duty models usually fit in with high-volume, fast-paced kitchens, while smaller, more intimate locations typically need only a standard model.
You'll need to worry about the amount of equipment you want to place on top as well.
---
Ventilation / Exhaust Hood Requirements
Since these units exhaust warm air like all refrigerators and freezers, be sure to account for this when calculating the CFM (cubic feet per minute).
Examine the manufacturer's recommendations on air flow, as each unit will vary in its needs.
You'll want to make sure that you have enough airflow for safe and efficient operation of both the cooking equipment and the chef base's condenser.
Maintaining accessibility for compressor cleaning and maintenance is also vital, as dirty/blocked equipment can significantly affect how your base performs.
---
Weight Limits
To ensure a safe workplace, carefully examine and make note of how much weight you plan to place on top of the base.
Check the specsheets of the chef base, as well as the equipment you plan on putting on top of it, to make sure you don't exceed the weight limit of the base. Some bases hold about 700 lb., while others can hold more than 1000.
---
Marine Edge vs. Flat Edge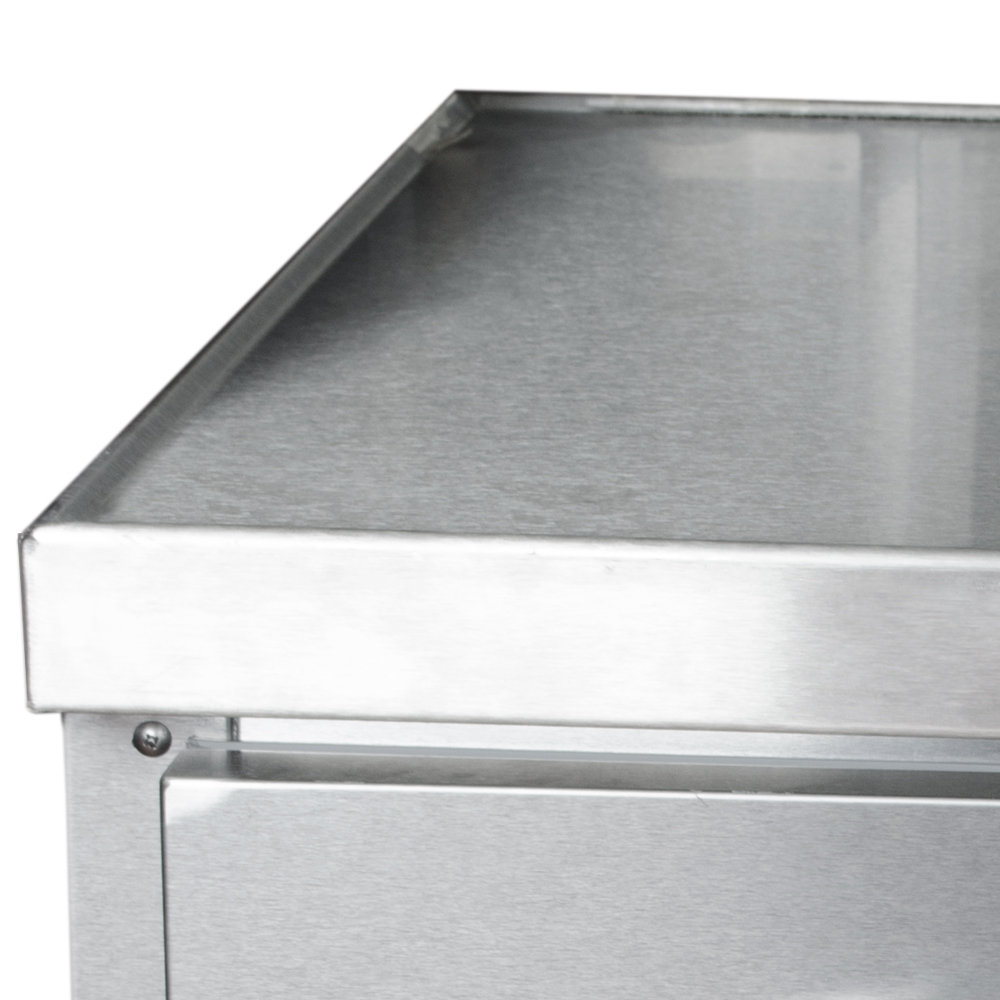 Most bases have surfaces that can be classified as either a flat edge or a marine edge -- also known as a raised edge. Differences include:
Marine Edge
A Marine Edge on top on a chef base helps contain drips and spills. It also discourages items and equipment from slipping off the table, which increases safety.
It also reduces the overall usable dimensions of the top fractionally.
Flat Edge
If you're tight on space and need to maximize your available dimensions, a flat edge would likely be best as it has its entire top section open for use.
Some options have edges that allow for larger equipment while still discouraging drips and spills, so you can find the best of both worlds if the other requirements line up.
---
Regardless of which type you choose, be sure to look carefully at the specsheets of both the chef base and the equipment you plan on placing on top to make sure that the latter's legs will still sit correctly on the top.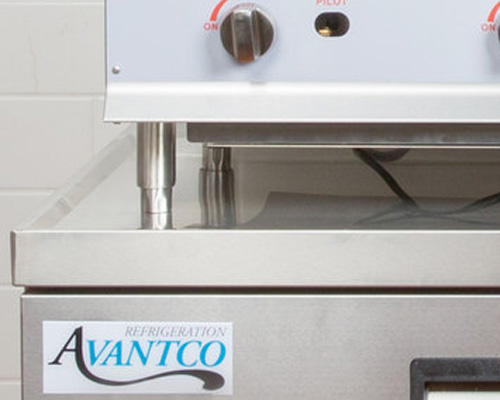 With that in mind, also remember that any piece of equipment must have
legs
that provide 4" or more of clearance. Without proper space for airflow, heat from your griddles, grills, and other equipment can actually melt the insulation in the top of the base, severely affecting the internal temperatures and causing multiple issues.
A
heat shield
on top of the chef base can deflect some of the heat from the cooking equipment away from the refrigerated cavity of the chef base. It's important to follow the manufacturer's guidelines to maintain food safe holding temperatures and prolong the unit's life.
---
Legs or Casters
Deciding how your base is mounted will play a significant role in the purchasing process, too.
Casters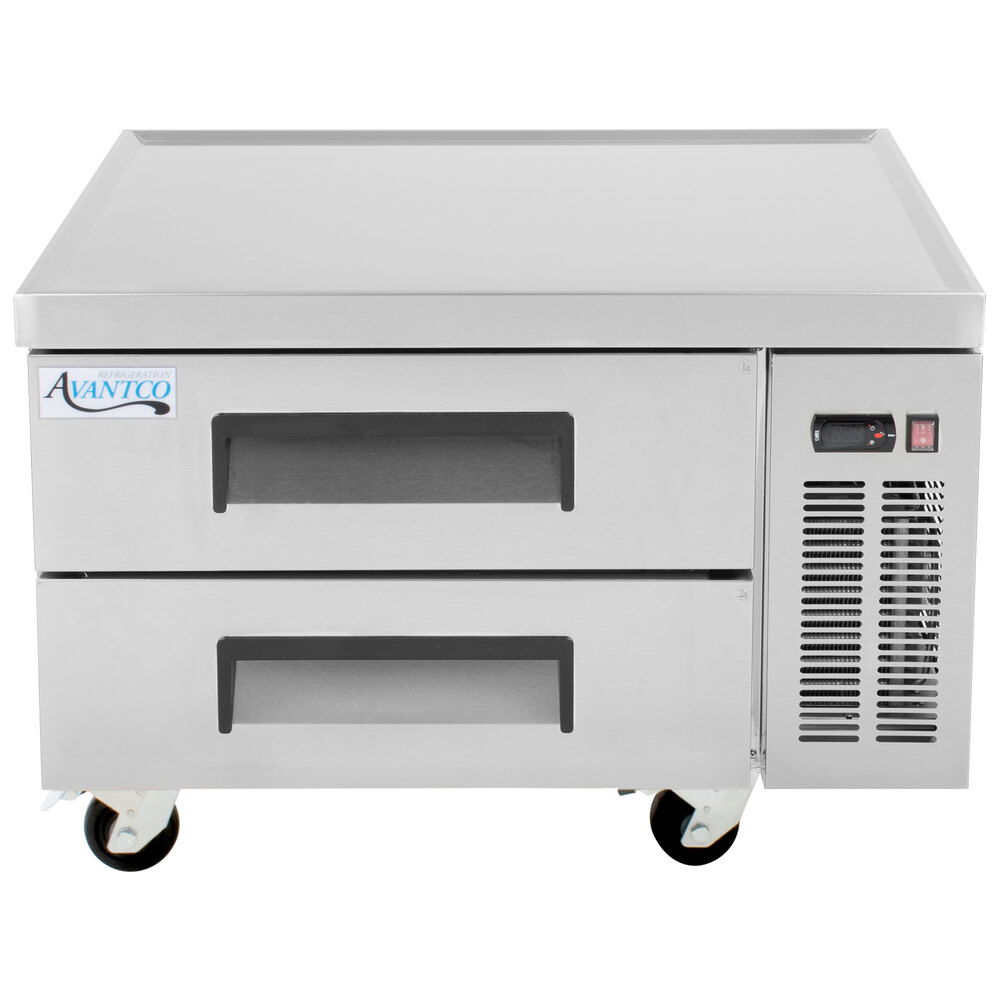 With wheels attached, you'll be able to move your base around for much easier cleaning and maintenance, as you won't have to remove the equipment first.
Casters also provide versatility in your layout, as you can configure your bases to fit in appropriate spots or accommodate the installation of new equipment.
Mobile bases do need flexible gas hoses with quick disconnect or longer electrical cords.
Legs
If you use high-heat cooking equipment or hot liquids on the base, having a sturdy, level platform may be more beneficial for your kitchen.
Legs can typically support more weight than casters.
You will be less likely to need extensions for hoses, wires, and power cords.
Chef Base Cleaning and Maintenance
As flexible as chef bases are, greater variety often requires more upkeep. To optimize your unit's service life, keep an eye on the following parts of operation:
Ventilation
Poor ventilation will cause the fridge to fail when rejecting heat into the ambient, which will cause higher operation conditions. These circumstances will force the compressor to work at excessive levels to maintain the desired cabinet temperatures, thus possibly compromising the service life.
Always ensure that you maintain a minimum distance of 6" between the base and the wall.
Also check frequently for rags, pans, food wrapping, and other materials that might have fallen behind the base. These materials can interfere with airflow.
---
Drawer Gaskets
The refrigeration process needs completely closed spaces to work effectively, and defective gasket seals can jeopardize the air-tight seal.
Regularly inspect the drawer gaskets for any signs of damage or wear. Look for gaps, tears, and detachments.
If you find no problems with the gaskets themselves but find the drawers do not seal properly, check the door slides for any obstructions and clean them.
---
Condenser
If the condenser becomes too dirty, its performance will be hampered and you'll notice a decrease in cabinet temperature, which can adversely affect your food.
Check the base's owner manual to see their recommended cleaning procedure for the condenser coils. Some recommend to bring in a professional for all related issues, while others will lay out a step-by-step plan and provide tips for doing it yourself.
If you notice that the fins are blocked with heavy grease deposits or other grime, a commercial chemical may be necessary to eliminate the blockage.
---
Stainless Steel Surface
Frequently care for the surface to avoid minor rust and pitting, as well as localized corrosion, that will affect its sanitary appearance.
Do not allow water pooling anywhere on the base. Any moisture with an acidic nature will quickly enable corrosion.
After rubbing the surface with mild, soapy water, use a stainless steel cleaner.
Do not use scrapers, abrasive cloths or chemicals, or acidic/chlorine-based cleaners and solvents. They can all accelerate the corrosion process.
---
Establishing a Cleaning and Maintenance Protocol
Always read the manufacturer's manuals, which often provide useful tips and tricks when cleaning equipment.
Take the time to thoroughly clean the condenser coil using a brush and/or specialized chemical cleaner.

Thoroughly wipe down the condenser fan to rid it of dust and grime. Clean the inside coil and then wipe down the fan blades.
Check all of the fans to ensure they're running properly.
Proceed to flush all of the drain pans and pipes with water.
Examine the refrigeration system and its fan motors for signs of excess dirt or dysfunction.
While looking around, inspect the compressor electrical system for excessive vibration or noise.