Gauges / Types of Stainless Steel
18 Gauge stainless steel kitchen tables are often referred to as budget work tables or economy work tables because 18 gauge stainless steel is lighter and less expensive than other types. But depending on what you plan on using the worktable for, an 18 gauge model might be just fine! These kitchen work tables are great for sandwich or salad preparation, sorting items, or just for use as general work space! They are more susceptible to dents and dings, so keep that in mind if you're going to be tossing heavy items onto them or will be doing a lot of pounding and chopping.
16 Gauge commercial work tables are an excellent solution for food service professionals seeking both quality and affordability when adding a stainless steel kitchen table to their operation. Combining a higher level of durability over an 18 gauge model with a price that won't break your budget, these tables are a great all-around option. You'll find that many of our Regency brand tables are made of 16 gauge stainless steel, offering a perfect upgrade from an 18 gauge budget design.
14 Gauge stainless steel kitchen work tables, like the Spec Line Series from Regency or Advance Tabco, are the closest you can get to custom fabrication in terms of durability and quality. 14 gauge tables are often the table of choice for a butcher since they can withstand the repeated heavy blows of a cleaver or meat tenderizer without denting.
Type 304 is one of the most common types of stainless steel used for commercial work tables due to its high resistance to corrosion and rust. With its low carbon content and high levels of chromium and nickel, this type of stainless steel offers superior durability that can withstand the rigors of daily use in any commercial environment. It's also easy to sanitize, making it ideal for busy kitchens.
Type 430 stainless steel is a lower grade of steel that contains chromium and iron, making it less resistant to corrosion than type 304 stainless steel, yet still ideal for environments with mild corrosion susceptibility. A low cost alternative to type 304 work tables, type 430 work tables are perfect for performing basic tasks such as preparing fruits and vegetables, mixing ingredients, and plating meals.
Gauge to Inches Conversion Chart
| Gauge (ga) | Standard Steel (inches) | Galvanized Steel (inches) |
| --- | --- | --- |
| 18 | 0.0478 | 0.0516 |
| 16 | 0.0598 | 0.0635 |
| 14 | 0.0747 | 0.0785 |
Undershelves
Once you've settled on a gauge, you'll see there are still a lot of options to consider! Let's look at some of the most common commercial work table options.
Open Base or with Undershelf?
Whether you want an open base work table or one with an undershelf depends on your specific needs. For example, open base commercial work tables are nice if you'd like to keep a rolling ingredient bin or two close at hand since they'll roll right under the table. A work table with an undershelf provides a convenient place for small appliances or food storage boxes. Some of our worktables with undershelves also come with a backsplash. Our Regency commercial work tables are available in all of these styles.

---
Galvanized Undershelf or All Stainless Steel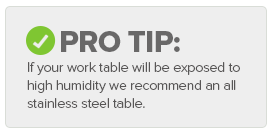 If you're looking for a work table with undershelf, you can choose between a galvanized steel undershelf or stainless steel undershelf.
Tables with galvanized undershelves usually also come with galvanized steel legs and plastic bullet feet, and are more popular mainly because they cost a bit less than an all stainless steel table.
Backsplash & Edge Types
Backsplash
If you plan on positioning your commercial work table up against a wall, it's a good idea to choose one with a backsplash to protect the wall from drips and splashes, making cleanup easier. More economical work tables might come with a 1½" high backsplash, while higher end, heavier duty tables are available with a 5" or even 10" high backsplash.
Edge Types
Square / Flat Edge: Some commercial work tables, like our Regency models, have squared-off edges on all four sides. This makes it easy to place several work tables right next to each other.
Rounded Edge / Bullnose Edge: Many of our Advance Tabco work tables have a rounded front and rear edge, with square side edges. The rounded front edge is easier to clean while the square sides still allow easy side-by-side placement.
Countertop / Marine Edge: Some of our premium Spec Line Advance Tabco tables feature a countertop (sometimes called marine) edge, which places a drip-containing ridge around the perimeter of the work surface.
Table Tops
Poly Top Work Tables: A poly topped work table is a good choice for butcher shops, bakeries, meat counters, food processing plants, and delis since the top doubles as a cutting board!
Wood Top Work Tables: Bakers often choose wood work table tops for their bakery. Many wood top baker's tables feature 4" high "risers" to help keep flour and other ingredients on the table when preparing dough or other baked goods. Coved (rounded) corners enable easier cleanup.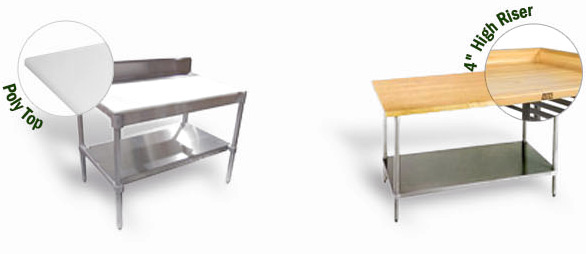 Accessories
We offer all sorts of work table accessories to help you get the most out of your purchase! Some of the most popular are:
Table Mounted Shelving:
Available in single and double-deck configurations, as well as adjustable height and fully welded, table mounted shelves can add a lot of versatility to your work table.
---
Casters:
Casters for your work table will make it easy to move for cleaning. If you'd like to add casters to your table, keep in mind that you'll be raising the counter height unless you shorten the the work table legs. If you decide to cut the legs down, it's a better idea to cut the legs from the top rather than the bottom. It will look nicer (and won't catch employees' pant legs), plus it will be easier to insert the casters since you won't have to de-burr the inside of the legs!
---
Welded-In Hand Sink:
Several of our Advance Tabco work tables come with a
stainless steel sink
welded right into the table top, adding convenience to your work station.
---
Drawers:
Adding a drawer or two under a work table can help you keep frequently used tools like knives, labels, gloves and cutting boards close at hand. Most tables over 8' long come with 6 legs for stability and that's something to keep in mind when you're thinking about adding drawers.
---
Undershelves:
Undershelves are a convenient and easy way to help increase the productivity of your kitchen. A great place for extra equipment, consumables, smallwares, and more, an undershelf is an ideal addition to any busy kitchen.
---
Cutting Boards:
Cutting boards are simple, yet effective, kitchen accessories that help you maintain the same level of consistency and efficiency without the risk of scratching or tarnishing your worktop. Adding a cutting board to your work table can be incredibly useful and help your employees prepare food safely and quickly.
---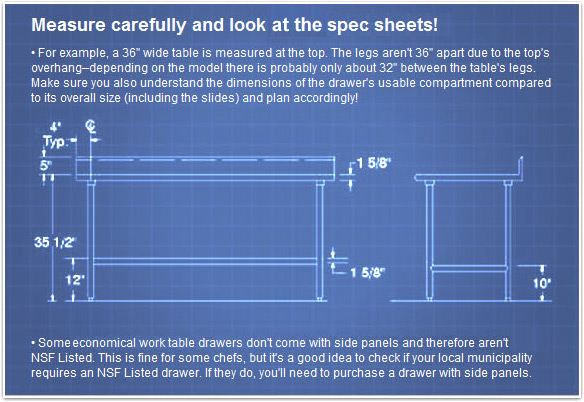 ---
Work Table Cut Down Service
If you want to add casters to your work table yet maintain the same working height, or have some shorter staff members where a lower table would help them work more comfortably, we can help! For an extra fee when ordering any of our in-stock work tables, our warehouse workers will cut the table legs down to help you achieve the exact height you are looking for.