Find the Best Commercial Panini Grills for Your Business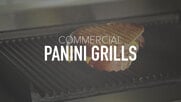 Whether you're making grilled sandwiches and quesadillas or grilling meats and fish, a commercial panini grill is a convenient and versatile piece of equipment for your kitchen. With dozens of options to select from, you'll find sandwich grills intended for a variety of different applications. Choose from medium duty styles for small delis and concession stands, or go with a heavy duty model for continuous, high volume use. Our grills come in a variety of plate materials, too, ranging from aluminum and non-stick for fast heat up times, to cast iron for long lasting heat and durability. If you're looking for a particular plate configuration, we also offer products with grooved tops and bottoms or items with flat tops and bottoms for the ultimate in sandwich customization. Depending upon the specific needs of your establishment, you can also choose from grills with manual or electronic temperature control. Regardless of the type of business you run, a commercial panini grill is a multipurpose item you're sure to use on a daily basis. To learn more about the differences between these products, explore the tabs above and the filters on the left side of the page.
With dozens of options from a variety of trusted manufacturers, you're sure to find a durable and functional commercial panini grill that can help boost your restaurant's profits. All these models are compact in size, without sacrificing power and efficiency, so you can place them directly on countertops without taking up too much space. When customers place their orders, these panini grills will ensure sandwiches are cooked to perfection in the shortest amount of time possible. To make the food prep process more efficient, and to make delicious sandwiches, check out these turners and sandwich spreaders. And, to keep your commercial sandwich grill clean and in top operating condition, be sure to invest in our grill cleaners and scrapers! If you're wondering where to buy commercial panini grills, we have a large selection of commercial panini grills for sale at the lowest prices.