12" Fine / Medium Grain Sharpening Stone
Top-grade carbonized silicon
Perfect for reshaping and sharpening hand tools and cutlery
Easily removes nicks or chips in knife blades
Dual grit design allows for both fine as well as more abrasive sharpening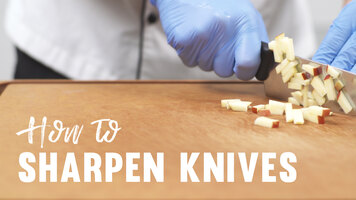 Follow these quick and easy steps to properly sharpen your knives. Place a damp towel on a cutting board to keep the stone in place. Then lubricate the stone with oil or water. Before you begin, you'll need to find the optimal 22.5 degree sharpening angle. To do this, hold the knife at a 90 degree angle. Then, half the angle to 45 degrees, and then half it again to 22.5 degrees. Next, pull the knife heel to toe, following the proper angle about 5 to 10 times. Then flip the knife and repeat. This time push the knife toe to heel about 5 to 10 times, being sure to maintain the angle. Then flip the knife and repeat. To use a sharpening steel, start again with a damp towel on a cutting board to keep the steel in place. Then find your 22.5 degree angle. Pull the knife heel to toe, alternating sides around 5 to 10 times. Wipe down the blade with a damp towel, and you'll have a sharp knife ready to tackle all of your daily prep work!
Keep your knives sharp and performing at a high level with regular sharpening and maintenance! Watch this video to learn the proper techniques to sharpening with a stone, and how regular maintenance will extend the life of your knives!
Specs
Length
12 Inches
Width
2 1/2 Inches
Height
1 1/2 Inches
Grit Type
Fine

Medium
Material
Carbonized Silicon
Type
Sharpening Stones
Details
This 12" sharpening stone is made of the finest quality carbonized silicon stone for general sharpening of hand tools and cutlery. The stone features different grit sizes on each side. One is 120 grit, the other is 280 grit. The dual grit design of the stone allows you to do both fine as well as more abrasive sharpening with the same tool.

Overall Dimensions:
Length: 12"
Width: 2 1/2"
Height: 1 1/2"
Customer Reviews
People Talk About:

stone

knives

Sharpening

great

price

sharp

sharpen

knife

definitely

grit

1

out

of 1 found this

review

helpful

I'd like to address 2 common complaints in reviews about this Sharpening Stone 1. Its a rough grit stone. That is correct, it is a 120 and 240 Combo stone. This is not for daily/weekly/monthly use, but for knives who need some serious work as it will remove a lot of metal. 2. Chipping or Broken stone - This is not really the fault of the product but due to shipping conditions. Webstaurantstore staff are very quick to resolve these types of issues and they are great for reaching out to customers post review. The price is really good for a stone. I don't think I've ever seen it priced so low anywhere else. The company that makes it is Update International. They make commercial products that are fairly decent to outstanding. My only gripe, is that if it were not for the description there is no way of knowing besides feel (they both

feel the same to me) what the grit is. To combat this, I used a pencil to write the grit on the sides of the stone. Pencil markings will stay on for a long time when submerged in water. An alternative is using a lacquer or similar paint to write the grit. Read Less Read More

This is a great sharpening stone. It is a great value for its quality and works as expected. It is course enough to put a new edge on a knife, and fine enough to just do regular maintenance sharpening.

I take out this stone when I need to do some repair or heavy duty sharpening. Otherwise i just stick to my sharpening rod. This has two sides which is good for removing more metal if needed.

The 12" fine / medium grain sharpening stone is great for sharpening your knives. We use it in our restaurant and I would highly recommend it.

This stone will last forever. We use it on a daily basis and haven't needed to replace it yet. Definitely recommend this product to anyone

Ive used this a few times for sharpening my knives and I've had very good success with this sharpening stone. I would definitely recommend it

la piedra es perfecta para dar filo a mis cuchillos de sierra y a mis cuchillos normales brindando un filo exelente lo recomiendo para todo .

Decent sharpening stone. It has two sides and is great for starting the process on a dull blade. need to pair with a fine stone as well for finishing edge.

I have been sharpening my knives on this 12 inch stone for about a year and it still works great! Can't beat the price either!

We use this sharpening stone when our knives have had some use and need to cut like they're brand new. Can't argue with that price!

I cannot believe this thing is so cheap. It's big enough to last a long time and does what it should. It's nice to sharpen knives this way, does a better job in my opinion.

This stone does a pretty good job at sharpening my kitchen knives. It's a little too rough for my expensive knives, but for cheap knives it's great.

This stone is well made and an effective way to sharpen your knives. It is a little difficult to use if you are a beginner. It will some take some practice for it to be an effective tool.

You get what you pay for, HOWEVER, in this case, it's a good thing. Sharpening stone works for what it is intended to do. Affordable option for our low usage facility. We purchased 2 and we are pleased with this product.

Keep knives in pristine shape with this sharpening stone. An excellent choice to pair with durable good knives. This one comes in a 12" length

This stone is very handy. It is very durable and works great. If you know what your doing, you will get really sharp knives as a result

This is a very good quality sharpening stone. It does a great job of sharpening all of your knives. I would recommend it for home use.

This is a very nice basic 12" Sharpening Stone. Great for residential uses. It is not the fanciest, but you get more than what you pay for.

I wasn't expecting too much from this sharpening stone since it's so cheap, but it's fine as a basic sharpening stone. Will help keep your knives sharp if you don't have any other sharpening stones.

It is high quality and serves me well. It is very convenient and easy to use. I am pleased that I bought it. It definitely lasts for a long time!
Leave a review of this product!
If you've used this product, log in and leave a review to tell us and other customers what you thought about it.
Login or Register