Find the Best Kitchen Shears for Your Business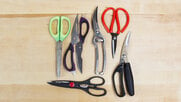 Whether you're chopping vegetables, cutting through small bones, or removing fins from fish, kitchen shears are useful tools for any foodservice business. These scissors also provide more leverage when handling heavy-duty tasks because the dual blades cut from both sides to provide a clean cut. Our all-purpose kitchen scissors are great for everyday applications like trimming fat off of meat, while poultry shears are best for cutting through duck, turkey, and chicken bones. You can also use fish shears to remove fins, and herb scissors are specially designed to chiffonade large amounts of herbs at a time. These products are available in both serrated and straight edge styles, and you can also choose from shears with different handle colors for easy color coding. No matter the kitchen task, we have items to suit your business's unique needs. To learn more about the differences between these products, explore the tabs above and the filters on the left side of the page.
We carry commercial kitchen shears specifically for fish, poultry, and herbs. No task is too tough for these kitchen scissors thanks to their heavy-duty design and features like no-slip grip. These shears come with options like joined blades, separable blades, straight or serrated-edge blades, and colored handles. Use these shears to cut meat, trim vegetables, chop herbs, and more. Check out our vegetable cutters, chicken slicers, and food processors for kitchen tools that also help to reduce prep time. If you're wondering where to buy kitchen shears, we have a large selection of kitchen shears for sale at the lowest prices.