Backyard Pro Weekend Series BP30-SSKIT All Stainless Steel 30 Qt. Turkey Fryer Kit / Steamer Kit - 55,000 BTU
32 quart stainless steel stockpot w/ vented lid
1 oz. trial seasoning injector, 3-piece skewer set
Perforated rack w/ grab hook
55,000 BTU cast iron outdoor range burner; liquid propane only
Perforated steam / boil basket, 12" thermometer
36" rubber hose & 5 PSI adjustable regulator
Quality Rating: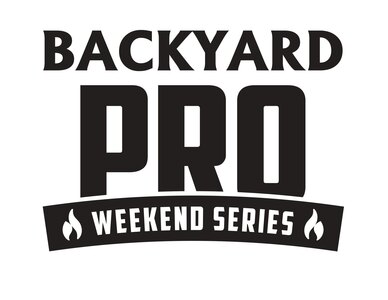 View all Backyard Pro Weekend Series Outdoor Steamers and Outdoor Fryers
Backyard Pro Weekend Series
The Backyard Pro 30 qt. all stainless steel turkey fryer kit / steamer kit offers unbeatable value and versatility.
Made of durable, easy-to-clean stainless steel, this kit is built to last! The 30 qt. stock pot can accommodate turkeys up to 20 lb. Thanks to an included steamer basket, you can steam seafood, vegetables, and more at all of your outdoor events!
Portable LP Tank Connection

This unit uses a hose assembly that connects directly to a standard portable propane tank.
"Sturdy set up. Nice accessories. This thing will be around for years. Will use it for all kinds frying, steaming or boiling large bathes of foods. Highly recommend."
Read More Reviews
Benefits of Frying Your Turkey
Deep frying a turkey is the best way to seal in all of the natural juices without making the bird greasy or fatty. You get the best of both worlds with the juicy succulence of frying without the extra grease and fat. You'll be able to bring out flavors in your poultry that you just can't get with traditional cooking methods. If you've never had a fried turkey on Thanksgiving, it's definitely worth a try!
12" Probe Thermometer
The probe thermometer measures from 100-750 degrees Fahrenheit and comes with a clip so you can secure it to the side of the pot and monitor oil temperature.
3-Piece Skewer Set
Three metal skewers are included with hand screws to secure them to the poultry rack, allowing you to fry up a wide variety of foods!
1 oz. Marinade Injector
A 1 oz. marinade injector allows you to impart your signature flavors. Simply mix up your marinade, draw it into the injector, and distribute evenly throughout the turkey.
Durable Stand
A heavy-duty stainless steel stand provides stability for your stock pot to make sure the boiling contents stay inside where they belong. Stainless steel also resists corrosion, making it a great option for outdoor use.
Perforated Poultry Rack
The included poultry rack holds your bird in place to ensure even oil distribution for a perfectly fried finish.
Power and Fuel Hookups
A 55,000 BTU cast iron burner powers this kit. It's controlled by a 5 PSI liquid propane regulator with a 36" rubber hose.
30 Qt. Steamer Basket
Thanks to the included 30 qt. steamer basket, this turkey fryer can be transformed into a steamer or boiler for seafood and vegetables! Simply use water instead of oil to explore all of the cooking possibilities available with this versatile kit.
Stainless Steel Construction
The 24 gauge stainless steel construction of this 30 qt. fryer pot ensures long-lasting performance and safer operation. High quality welds and sturdy handles on the pot and matching lid are perfect for frequent use.
Fryer Safety
Working with hot oil always adds risk to your standard cooking tasks, but the included lift hook makes removing your freshly fried turkey as safe as possible. Remember to always wear your protective gear when using a fryer. Avoid bare skin exposure and exercise caution at all times.
Customer Q&A Ask a Question
My business is at a high elevation; does this change anything when I order gas cooking equipment?
Many gas equipment manufacturers need to make adjustments to the equipment so it operates correctly at elevations over 2,000 feet. Sometimes we can special order from the manufacturer and have your cooking equipment delivered ready-to-go, but in cases where your unit is in stock and waiting to ship, you'll need to have a qualified service technician come to your location and alter your unit at the time of installation so that it is compatible with a higher elevation. Contact our Special Orders team prior to placing your order, and we will let you know what will work best for the equipment you are planning to purchase.
How do I use the steamer basket included with this turkey fryer kit?
To use your 30 qt. steamer basket, simply fill your large stockpot with 1-2 inches of water and place your basket inside. If needed, the poultry rack can sit inside your basket to lift crabs, lobster, or clams out of the water. Place the lid on the pot and bring to a boil. The steam will rise and cook your seafood. Steaming times will vary.
What regulators are available for use with this product?
This model comes standard with a 5 PSI regulator. If you need a replacement regulator or if you would like a 10 PSI regulator to increase burner performance, those items can be found by clicking the "Looking for Replacements" banner on this product page.
Why would the paint on my burner/range come off after the first use?
This is normal for painted outdoor ranges, During initial start-up and first use, you may experience some burn-in of the range that includes unpleasant fumes and discoloration of the burner. This process is typical, and after 10-15 minutes the unit will be ready for use.
How to Deep Fry Ham
Deep frying a ham provides a delicious flavor and crispy texture that you and your guests will love! Learn how to deep fry a ham with this step-by-step guide.
How To Deep Fry A Turkey
Safely deep fry your holiday bird with these easy-to-follow and steps, and be sure to check out our step-by-step directions for more tips on How to Deep Fry a Turkey.
A lot of people deep fry turkeys around the holidays, but what about a ham? Deep frying a ham provides a delicious flavor and crispy texture that you and your guests will love! To begin, mix together 2 teaspoons of onion powder, 1 teaspoon of garlic powder, 2 tablespoons of dark brown sugar, 1 tablespoon of Coleman's English mustard, and 8 ounces of apple cider until dissolved. Using a marinade injector, add the prepared mixture to the inside of your ham, injecting it in different areas to provide an even distribution of flavor. After injecting as much of the mixture as possible, use a lint-free towel to thoroughly dry the outside of the ham. It's important to dry the ham as much as possible to keep the oil from boiling over. Next, carefully cut a slit through the ham and slide the ham over the poultry rack to keep it in place. Once your fryer is prepped and the oil is heated to 375 degrees Fahrenheit, slowly lower the ham into the fryer while ensuring the oil does not overflow. Cook the ham for about 7 minutes per pound and until the internal temperature is 160 degrees Fahrenheit. Carefully, pull the ham out of the fryer and give it a few minutes to cool and drain off excess oil. The flavorful ham is now ready to be carved and served!
Frying a turkey is a fast, fun, and tasty way to make your Thanksgiving bird! It can also be potentially dangerous. In this video, we'll show you how to fry your turkey safely. There's two questions when it comes to oil when you're frying a turkey, and that's what kind and how much. As far as what kind, I recommend peanut oil. Peanut oil has a high smug point, so it's going to last longer. It's also not going to give your turkey any off flavors. As far as how much oil to use, the nice thing about this turkey fryer pot is it does have a max fill line. The most important thing is to know you need enough oil to cover your turkey, but not so much that it spills over and creates a fire. One way to be extra sure you've got the right amount of oil is to take your turkey before you cook it and place it in the fryer pot. Fill it with water until it covers the turkey, take the turkey out, and take note of where that water comes up to. That's how much oil that you need. With the particular turkey that I have today, I know I'm going to fill it to the max fill line. Once you've filled your pot with oil, you'll want to put it on your burner. Make sure you already have your burner set up according to the manufacturer's directions. I typically have the flame very low at this point when I put this on the burner, and then turn it up. You can adjust the air intake to get as blue of a flame as possible. On a windy day like today, it's not uncommon to have some yellow flame. Now, I'm going to go ahead and take my oil thermometer and place it on the side of the pot. Make sure the tip is covered in oil and also not touching the side of the pot. We're going to want that oil to get up between 325 and 350 degrees. One of the most important things when you're frying a turkey is to make sure you're frying a completely thawed bird. Make sure your turkey is completely unfrozen or your could have an oil boil-over. That's the last thing you want because that'll start a fire. The other thing you want to do is make sure that your turkey is completely dry. Again, oil and water don't mix, they tend to bubble up, and they can cause a boil-over. Next thing I'll do is cut off any excess fat that's on this turkey. You'll also want to make sure there's a hole in the top here where the neck was to make sure you can get your lifter through it. The next thing I'll do is cut a slit in front of each leg and that'll allow any excess oil to drip out when I pull the turkey out of the oil. The next thing you'll want to do is season your bird. I'm using salt and pepper and Regal Spice's Cajun spice and skillet seasoning. In addition, I'm going to use cajun Injector creole butter recipe as the marinade. When you're injecting your turkey, you just want to hit it in several places in the thick parts of the meat. Now, we're going to put it on the lifter and then wait for our oil to get up to temperature. Just like so, you can see how that will work. As you can see, I'm wearing heavy-duty fryer gloves. Safety equipment is very important. You'll see why when I start dropping the bird into this fryer oil. In addition, a fire extinguisher is always a good idea. I'm going to take the thermometer out while I load the turkey into the fryer. When I'm done, I'll replace the thermometer. Now, when you're putting the turkey into the fryer, the slower you go, the better. This will help prevent a boil-over. It should take a full minute for you to dunk this turkey into the fryer. I generally let the turkey fry for about three and a half to four minutes per pound. Next, I'm going to go ahead an put that thermometer back in there so I can keep an eye on the oil temperature. Okay, I've fried this turkey for about three and a half minutes a pound. I'm going to go ahead and take it out. First thing is I'm going to take out the thermometer so I don't knock it out and I'm going to gently lift this out of the fryer. Remember, you have that cavity that's going to hold a lot of oil and you'll want that to seep out before you bring it out over the flame. Oh, look at that crispy skin! Now we just want to check the temperature of the turkey. We want it to be at least 165 degrees. There we go!
Compare to Other Products
Components:
30 qt. stainless steel pot:

1

30 qt. steamer basket:

1

Perforated poultry rack:

1

55,000 BTU cast iron burner:

1

5 PSI adjustable regulator:

1
Also Included:
Metal Skewer:

3

Stainless steel lid:

1

1 oz. marinade injector:

1

12" probe thermometer:

1

Lifting hook:

1

36" rubber hose:

1
Pot Dimensions:
Diameter:

12 1/2 Inches

Height:

15 1/2 Inches
Stand Dimensions:
Width:

16 Inches

Depth:

16 Inches
Resources and Downloads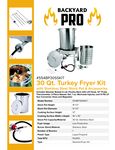 Specsheet
Manual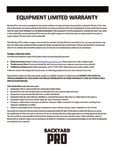 Warranty
A PDF viewer is required to view this product's information. Download Adobe Acrobat software
Frequently Purchased Together
Customer Reviews
People Talk About:

turkey

fryer

burner

pot

stainless

Steel

great

buy

quality

unit

2

out

of 2 found this

review

helpful

Bought this item 3wks ago in preparation for Thanksgiving. Have used it 2 times so far. Build quality is good. I read some comments about concerns with the 5lb regulator but it works fine. Blue flame and plenty of power. I wrapped the threads with teflon tape before I screwed the hose into the burner. I live at 1300 feet elevation and cooked at 45 degrees, and this weekend at 21 degrees. I live in the northeast where we seem to be real proud of our cold. No issues at all. Everything works as expected and I'm ready for the main event. It does take a little getting used to if you've never deep fried before. I found cooking at 300-325 and adding 1 minute per pound the birds come out perfect. Pot cleaned up fine, no black soot on the bottom as some others have experiences, no issues with anything.

1

out

of 1 found this

review

helpful

We received this set last weekend and put it together without any trouble! My husband is familiar with metals and welds and is very impressed with the quality of this product! ! And ALL stainless steel....should withstand our ocean breezes! Great Buy! If you are in the market for a great outdoor cooker with burner at a terrific price, this is the one!!

1

out

of 2 found this

review

helpful

I just received this fryer today from Webseraunt. It was delivered free of charge, which is a nice touch, and although they were back ordered, I had no problem with that after seeing the product. It must be popular and difficult to keep on stock. This is a quality item, all stainless steel with a welded burner stand. It is indeed, 100% stainless, except for the burner, of course, which must be cast iron. I have burned through three aluminium pot and cheep steel units in ten years costing the equivalent, if not a bit cheaper each time, than this unit. I am confident that this unit will last for years, from my experience with the big box store aluminium/steel models. The only concern that I have is that It comes with a 5 psi gas valve. It has been my experience that these units need 10 psi. Therefore, I

will simply install one of my old 10 psi valves instead. I have read that people love this fryer but are not happy with the time it takes to come up to 350 deg. and the inability to increase the temp. rapidly as you put a cold turkey into the oil. This I attribute to the 5 psi valve and feel it should have come with a 10 psi instead. Overall, I would recommend this product. Read Less Read More

1

out

of 3 found this

review

helpful

The fryer/steamer appears to be of good quality and build except for a couple minor problems. First, the predrilled holes for the burner bracket are on the wrong side and 2 new holes will have to be drilled to accommodate the burner bracket legs. Second, one of the legs on the cooker assembly is only spot welded on the outside, the other 3 legs are spot welded on the outside as well as welded on both sides of each leg on the inside. The one leg may need a bolt through it to ensure it doesn't come loose thus creating a hazard of the assembly tipping. (Spot weld not very strong) Other than these issues it seems to be a nice unit.. Thank you David Reed

Thank you for the review! We're sorry that this steamer kit has some issues. A Customer Solutions Representative will be contacting you to ensure that you are fully satisfied.

Bought this as a father's day gift and my dad loved it. It comes with tons of accessories and works great! I love it! Would definitely recommend.

I was very impressed with this purchase! I use this setup all the time for my business! The burner works great! No issues so far! I bought 5!

This is a great fryer that we used for thanksgiving time to help make a delicious Thanksgiving turkey. All the tools it comes with work great!

I looked at the hardware store and big box store fryers, none looked very sturdy. This one was just a few dollars more and is much sturdier, no worries about a slight breeze tipping it over. Mine arrived with no assembly instructions, but looking at photos of it assembled and it was together in short order. Even came with a "wrench", but I suggest you use actual tools to put it together. Planning on low country boil and fried turkey soon.

Backyard pro all stainless steel turkey fryer/steamer kit is AWESOME. Love it!! Have been wanting to do a shrimp boil for some time but had no idea what pot to buy. Can't go wrong with setup. If you're on the fence buy it. Everything you need and shipping is fast. Received my order in two days. Other reviews mentioned 5lbs regular, I'm @1,200 feet elevation no problems boiling 20 quarts of water (around 12 minutes). After 3 uses so glad I purchased this one

My husband decided this year we needed a turkey fryer of our own. He has been frying our Thanksgiving turkeys for a couple years now at a friends, but he wanted his own fryer so I thought going with the more pricey one with something like this is important and it was well worth the money. He was so happy with it and said it was so nice to work with and much better than the one he has been using.

What a killer deal for such a great product! We have used this steamer pot to steam oysters and then also to fry our turkey this year. Perfect size too!

we love this fryer i have used it many times to fry turkey and i have fried a whole chuck roast in it and its a nice set up

we use this at this time a year for outdoor shrimp boils and it works great. We steamed lobsters and vegetables. The burner is good and the stainless base and pot have lasted with little rust. For the cost its seems a good vakue

Save your money. I order this and used it exactly 4 times and small holes developed long the seams on the bottom of the pot. Maybe ok if you use is once a year and then you'll have it for awhile but if you plan to use it weekly buy something better in quality.

We appreciate your review, Joan. We wish this Backyard Pro All Stainless Steel 30 Qt. Turkey Fryer Kit / Steamer Kit - 55,000 BTU would have worked out for you. Our Customer Solutions team will remain in contact with you about this.

this kit is incredible, it is perfect, all of stainless steel, I love it very much, I would recommend it to all who buy it and check its excellent quality

AMAZING! Used this fryer to fry our birds for Thanksgiving. Fried 3 turkeys (one for the neighbor) and we also do a whole fried chicken at our house. We fried all of these consecutively and it held up great. Nice easy setup and everything was included, just had to pick up some oil! Highly recommended.

I purchased this nice looking turkey fryer and have used it twice. It heated the oil fast and cooked myg turkey to perfection. Thank you and will buy again.

This all stainless steel turkey fryer is fantastic I'm very impressed with the fact that the pot the stand everything is stainless steel well worth the money I paid for it I ordered another one for my friend

After doing quite a bit of web surfing for a turkey fryer/seafood boiler I came across the Backyard Pro Stainless set. To be honest I thought the price was too good to be true and was hesitant to purchase. I rolled the dice and came out on top. Base is made from reasonably thick steel sheet metal. Thicker than I expected. I weigh 250 and stood on top of it and it didn't budge. The four Point footing is a huge plus. This design in my opinion beats any other base I have seen. Stable on concrete, grass, or sand. The quality of the pot and accessories is great. I wanted stainless for a reason, and I am glad I passed up aluminum. First boil was smooth. No problems. There are concerns with the 5 PSI regulater that I have read in other reviews. I did not find this to

be an issue. Was planning to swap for a 10 PSI but after the first boil I quickly abandoned that idea as it is not needed. The stainless cleaned up very easily. No real scrubbing was needed. No black soot on the bottom of the pot either. Low price for this set was the best investment I could have made. Oh, no timer too which is awesome! I initially thought if I bought one wth a timer it would be no big deal. I would rather set it and let it go and have a cold one rather than have to be a vulture over a timer. Read Less Read More

Have been looking for a good stainless steel pot and this was it. Easy to clean pot. Only wish it would come with a steamer stand for the pot. Burner is easy to put together and works great when frying a turkey. I am glad I bought it.

0

out

of 1 found this

review

helpful

For the money I have nothing to complain about, you get a lot for a little out of pocket. I'm not sorry for the purchase and I'd recommend this to others with understanding, but not to just anyone! Other thoughts: Made in China just as all other American goods. Reasonably thick materials but poorly fitted! I'm @ 323 ft above sea level and this burner still needs more air then I can provide, I'm thinking about drilling holes since the air damper wide open still is not enough for a proper blue flame at night! This burner has some serious power though, I've managed to destroy 40 lbs of tomatoes by burning the sauce. Keep stirring whatever you cook with this and never leave it's side! The threaded nipple/bung that screws into the manifold leaves much to be desired. It's not about being tight, but rather the jet sliding forwards and back within the

nipple/bung. It's almost 1/8" of free play and that makes a difference when adjusting the flame. But this comes back to fitment which I mentioned previously. I'm sure winter will be different when air is more dense and therefore more abundant, but right now in the heat of summer I cannot get a good clean burn and I've noticed that if I pull on the black gas line towards me (propane tank) taking up that 1/8" free play from the jet to the tip of the bung, that makes a difference. It literally changes the point of gas injection, by a whole 1/8" but it's enough to make a difference. Heat is not a problem, getting a clean burn is a potential issue however. I'm a welder and a weekend cook, I can work with this being uneven, I can weld adjustable feet onto the legs, you might not have that option if your base is uneven. Some assembly with force may be required since the holes didn't line up on my unit. Still, all in all, this is what we've come to expect from China and I was not disappointed. Sum it up: Would I buy this for my grand mother? - Hell no! Would I buy this for my friend Bob? - Hell yes! It took me a bit to figure out what to do with those skewers, but there is only one part of this system they will fit and I don't want to ruin the surprise for the rest of you, so I'll leave it at that. Read Less Read More

You can't beat this entire kit for the price. It comes with everything you need to fry a turkey. I use it for boiling beans and anything else that you can think of in need of a strainer.

Awesome Turkey Fryer! The Back yard pro all stainless steel 30 QT turkey fryer kit is great. The price was awesome and it wasn't even on sale! I will be purchasing a few more.

Both the stainless pot and stand are made of thick, sturdy metal making the unit very stable. The burner element is also made of a heavy cast iron. The numerous accessories are high quality as well. It is very easy I set up and get cooking. My only issue is that I have not been able to get enough oxygen into the mixture to create a balanced flame. I haven't ruled out user error as the issue, but it would be nice to produce a smaller, hotter flame instead of a larger, cooler, sootier one.

This was a disappointment. There is a rivet missing on one of the handles. The max fill line is clear on the outside of the pot but not on the inside so it's hard to know how much oil to use. The outside of the pot got totally covered with soot while the flame was in use and it's impossible to get the black soot off.

Thank you for your review, Elizabeth. We are sorry this kit was missing some of the rivets when it arrived. A Customer Solutions Representative will contact you shortly to make sure this is taken care of.

I ordered this for two reasons. First my 5 year old fryer with a paper thin aluminum pot is burnout on the bottom. second, I can buy this whole kit for the same price as a 30 quart stainless steel pot else-ware. I bought the whole kit so i had the extra burner and got another basket and burner. I was pleased with the thickness of the steel and quality of the welds.

I ordered this Turkey Fryer to replace a 8 year old Aluminum one that started to leak at Thanksgiving. Everything was packed well, and was complete. I first used it on Christmas Eve to Steam Tamales. It held all tamales in 2 stacks, worked great. Christmas Day I used it to cook a Deep Fried Cajun Turkey. I set it all up, and fired up the gas. I noticed that the gas was not coming from the fire unit very well. I adjusted using the Air Intake sliders, and there was no change. The oil was taking significantly longer to heat than my old gas and Aluminium unit. So I got out my old gas frie stand, and hooked it up. The oil came to temperature very quickly. In my opinion the Gas burner unit included in this set is total junk! My 8 year old one works so much better.

Other than that I like the unit, I fried a 18 pound turkey and it was great. I gave this 3 stars because if you buy this unit and it's your only one, you will need to buy a different burner for the unit. Read Less Read More

I got this kit for a hobby sized brewing operation. When brewing a 5 gallon batch of beer, the 30 Quart (7.5 gallon) volume allows for enough space when brewing to avoid boil-over. Trying to find a large Stainless Steel kettle at this price is difficult, and on top of that it comes with many other useful items. The burner stand is sturdy and is larger than the base of the kettle, which can accommodate the larger based pots that I own. The cast iron burner is sturdy and has easy adjustment for flame control. Assembly of the base was simple and only requires a small adjustable wrench and a screw driver. I would recommend this to any friends who wants to get an affordable kit to fry a turkey, or brew a batch of beer.

I use this not as a fryer but as a boiler. I take it to big events I food vend at and boil hot dogs in it. That's right Hot Dogs!! This baby can boil a hundred hot dogs easy in 7 to 10 minutes easy. Really allows me to keep up with the demand of the customers. This thing is a life saver. Well built and dependable.

I purchased this item and they processed my order and had it shipped the next day. Two days later it was at my doorstep. The first thing I noticed was the quality. The base where you put the pan on is wide and SOLID! No comparison to the small, cheap bases that I saw at the popular "home improvement" stores. You are going to be standing next to a pot of boiling oil pay a little more and make sure it's on a wide and strong stand!

real geat. couldnt ask for better. comes in handy. it really help me to can my speg. sauce. thank you it maded me real happy

Sturdy set up. Nice accessories. This thing will be around for years. Will use it for all kinds frying, steaming or boiling large bathes of foods. Highly recommend.

I got this item the day after I ordered it - the customer service was excellent! Haven't tried using it yet, but it is an excellent quality turkey fryer and I can't wait to use it!
Leave a review of this product!
If you've used this product, log in and leave a review to tell us and other customers what you thought about it.
Login or Register