Backyard Pro BP-12KIT Weekend Series 30 Qt. Turkey Fryer Kit with Aluminum Stock Pot and Accessories - 55,000 BTU
Sturdy steel base with a powerful 55,000 BTU burner
Large 30 qt. pot is perfect for frying turkeys up to 20 lb.
Ready-to-use kit includes 12" probe thermometer
360 degree wind guard ensures a strong flame and even cooking
5 PSI adjustable regulator for full user control
Quality Rating: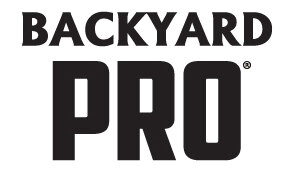 View all Backyard Pro Outdoor Gas Stoves and Burners
Backyard Pro
The Backyard Pro 30 qt. turkey fryer kit comes with everything you need to fry up a large turkey!
This Backyard Pro 30 qt. turkey fryer kit features a stock pot made of durable aluminum for optimum heat conduction. An included 5 PSI adjustable regulator and rubber hose make it easy to hook the burner up to your existing propane tank and start frying turkeys up to 20 lb.!
Portable LP Tank Connection

This unit uses a hose assembly that connects directly to a standard portable propane tank.
"Just in one word: GREAT!!! Perfect for outdoor cooking. This item is perfect for Thanksgiving. This kit includes everything that you need for a perfect Thanksgiving dinner. :)"
Read More Reviews
Frying Your Turkey
Deep frying your turkey is the best way to seal in all of the natural juices without making the bird greasy or fatty. Plus, it makes for a great atmosphere at barbecues, fairs, and other outdoor events!
Solid Foundation
A solid foundation for your stock pot is important when you're frying outside. This kit features a round, black painted steel stand to make sure the hot contents stay inside where they belong.
Hose and Regulator
A 5 PSI adjustable regulator and rubber hose ensure steady fuel flow from your existing liquid propane tank to your burner for efficient, consistent results at your outdoor events.
Accessories
The long, 12" probe thermometer measures from 100-750 degrees Fahrenheit, and it comes with a clip to secure it to the side of the pot.
Poultry Rack
The included poultry rack holds your bird in place to ensure even oil distribution for a perfectly fried finish every time. The top of the rack has a convenient loop which accepts the lift hook when you're ready to remove your bird from the hot oil.
Fryer Safety Tips
Working with hot oil always adds risk to your standard cooking tasks, but the included lift hook makes removing your freshly fried turkey as safe as possible. Remember to always wear your protective gear when using a fryer. Avoid bare skin exposure and exercise caution at all times.
Customer Q&A Ask a Question
What regulators are available for use with this product?
This model comes standard with a 5 PSI regulator. If you need a replacement regulator or if you would like a 10 PSI regulator to increase burner performance, those items can be found by clicking the "Looking for Replacements" banner on this product page.
Why would the paint on my burner/range come off after the first use?
This is normal for painted outdoor ranges, During initial start-up and first use, you may experience some burn-in of the range that includes unpleasant fumes and discoloration of the burner. This process is typical, and after 10-15 minutes the unit will be ready for use.
How To Deep Fry A Turkey
Safely deep fry your holiday bird with these easy-to-follow and steps, and be sure to check out our step-by-step directions for more tips on How to Deep Fry a Turkey.
How to Deep Fry Ham
Deep frying a ham provides a delicious flavor and crispy texture that you and your guests will love! Learn how to deep fry a ham with this step-by-step guide.
Frying a turkey is a fast, fun, and tasty way to make your Thanksgiving bird! It can also be potentially dangerous. In this video, we'll show you how to fry your turkey safely. There's two questions when it comes to oil when you're frying a turkey, and that's what kind and how much. As far as what kind, I recommend peanut oil. Peanut oil has a high smug point, so it's going to last longer. It's also not going to give your turkey any off flavors. As far as how much oil to use, the nice thing about this turkey fryer pot is it does have a max fill line. The most important thing is to know you need enough oil to cover your turkey, but not so much that it spills over and creates a fire. One way to be extra sure you've got the right amount of oil is to take your turkey before you cook it and place it in the fryer pot. Fill it with water until it covers the turkey, take the turkey out, and take note of where that water comes up to. That's how much oil that you need. With the particular turkey that I have today, I know I'm going to fill it to the max fill line. Once you've filled your pot with oil, you'll want to put it on your burner. Make sure you already have your burner set up according to the manufacturer's directions. I typically have the flame very low at this point when I put this on the burner, and then turn it up. You can adjust the air intake to get as blue of a flame as possible. On a windy day like today, it's not uncommon to have some yellow flame. Now, I'm going to go ahead and take my oil thermometer and place it on the side of the pot. Make sure the tip is covered in oil and also not touching the side of the pot. We're going to want that oil to get up between 325 and 350 degrees. One of the most important things when you're frying a turkey is to make sure you're frying a completely thawed bird. Make sure your turkey is completely unfrozen or your could have an oil boil-over. That's the last thing you want because that'll start a fire. The other thing you want to do is make sure that your turkey is completely dry. Again, oil and water don't mix, they tend to bubble up, and they can cause a boil-over. Next thing I'll do is cut off any excess fat that's on this turkey. You'll also want to make sure there's a hole in the top here where the neck was to make sure you can get your lifter through it. The next thing I'll do is cut a slit in front of each leg and that'll allow any excess oil to drip out when I pull the turkey out of the oil. The next thing you'll want to do is season your bird. I'm using salt and pepper and Regal Spice's Cajun spice and skillet seasoning. In addition, I'm going to use cajun Injector creole butter recipe as the marinade. When you're injecting your turkey, you just want to hit it in several places in the thick parts of the meat. Now, we're going to put it on the lifter and then wait for our oil to get up to temperature. Just like so, you can see how that will work. As you can see, I'm wearing heavy-duty fryer gloves. Safety equipment is very important. You'll see why when I start dropping the bird into this fryer oil. In addition, a fire extinguisher is always a good idea. I'm going to take the thermometer out while I load the turkey into the fryer. When I'm done, I'll replace the thermometer. Now, when you're putting the turkey into the fryer, the slower you go, the better. This will help prevent a boil-over. It should take a full minute for you to dunk this turkey into the fryer. I generally let the turkey fry for about three and a half to four minutes per pound. Next, I'm going to go ahead an put that thermometer back in there so I can keep an eye on the oil temperature. Okay, I've fried this turkey for about three and a half minutes a pound. I'm going to go ahead and take it out. First thing is I'm going to take out the thermometer so I don't knock it out and I'm going to gently lift this out of the fryer. Remember, you have that cavity that's going to hold a lot of oil and you'll want that to seep out before you bring it out over the flame. Oh, look at that crispy skin! Now we just want to check the temperature of the turkey. We want it to be at least 165 degrees. There we go!
A lot of people deep fry turkeys around the holidays, but what about a ham? Deep frying a ham provides a delicious flavor and crispy texture that you and your guests will love! To begin, mix together 2 teaspoons of onion powder, 1 teaspoon of garlic powder, 2 tablespoons of dark brown sugar, 1 tablespoon of Coleman's English mustard, and 8 ounces of apple cider until dissolved. Using a marinade injector, add the prepared mixture to the inside of your ham, injecting it in different areas to provide an even distribution of flavor. After injecting as much of the mixture as possible, use a lint-free towel to thoroughly dry the outside of the ham. It's important to dry the ham as much as possible to keep the oil from boiling over. Next, carefully cut a slit through the ham and slide the ham over the poultry rack to keep it in place. Once your fryer is prepped and the oil is heated to 375 degrees Fahrenheit, slowly lower the ham into the fryer while ensuring the oil does not overflow. Cook the ham for about 7 minutes per pound and until the internal temperature is 160 degrees Fahrenheit. Carefully, pull the ham out of the fryer and give it a few minutes to cool and drain off excess oil. The flavorful ham is now ready to be carved and served!
Pot Dimensions:
Diameter:

12 1/2 Inches

Height:

15 1/2 Inches

Capacity per Fry Pot:

30 qt.
Cooking Surface Dimensions:
Diameter:

13 Inches

Height:

12 1/2 Inches
Resources and Downloads
Specsheet
Manual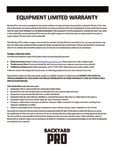 Warranty
A PDF viewer is required to view this product's information. Download Adobe Acrobat software
Customer Reviews
People Talk About:

turkey

kit

fryer

perfect

price

everything

website

fry

great

pot

great product, great price cooks even clean easy great for cooking turkeys as well as fried chicken, fish and any other fried food need great if you lose power in our wonderful Florida weather

This turkey fryer was very easy to set up and it does the job. It is very well made and sturdy. very good price with all of the extras that come with it.

Awesome product!! Assembly took less than 15 minutes. Hooked up a propane tank, and had a turkey frying two hours after opening the box (including 1/2 hour trip to buy turkey and oil). Rinsed the turkey in the pot and used the water to determine the oil level after the bird was removed. MAKE SURE TO DRY THE POT BEFORE ADDING OIL!!! Best turkey ever!

Best bang for your buck. Everything was great except when I received my order, the box was ripped and the pot and lid was bent. Contacted customer service and a replacement was shipped out the next day and arrived in time.

I've only used this once since purchasing it, but it worked great. I cooked a bunch of turkey legs and thighs and they were perfect. Also, the price for this fryer can't be beat.

Just in one word: GREAT!!! Perfect for outdoor cooking. This item is perfect for Thanksgiving. This kit includes everything that you need for a perfect Thanksgiving dinner. :)

perfect with that quality and that price will not find elsewhere is safe and very comfortable, if you are thinking of cooking turkey this team is simple but ideal.

Ordered on a Monday and received on Tuesday all in good shape +1. Easy to put together the burner from just the photo on the box but it came with directions and all the parts were there +2. Hooked it up to my propane tank and fired it up. Big hot flame and only a minor adjustment to the air mix +3. I may never use this item to fry a Turkey but all the required equipment is there to do it +4. If I had purchased a 55K BTU stove and 30 Qt pot from one of the beer brewing equipment suppliers I would have spent 3 or 4 time the cost of this kit. Beer brewers and Turkey cooks... take a look!

I give this a 4 star everything that i habe gotten from here has been awesome to us. I would keep using there product's again...

For the price this kit keeps your wallet happy! I order the kit and it showed up very fast 2 day. Un Boxing, I found that the top of my pot had a nice dent in it. Over all build quality of the kit is good for the price! I would not call this high end or Heavy duty but it is well made. I see it holding up for many years and many turkeys. Costumer service was good when I contacted them about the dent. I had a few options but just went with refund on my card as the pot can still be used. Someone who is just looking to fry a few birds from time to time, this should fit the build and not brake the bank!

I love this backyard pro 30 quart turkey fryer it looks fantastic next to my backyard progress and it comes with everything you need it comes with a hawk to pull the turkey out and it's the monitor and a 30 quart bucket

I am very pleased with this purchase. I was on another website and was not happy with their selections of turkey fryers. I scrolled down and saw an advertisement for a complete turkey fryer kit for a great price... I clicked the advertisement and came upon this website and immediately bought my turkey fryer... I could not believe that I would get the whole kit with everything I needed to successfully fry a turkey. I loved it so much I told my neighbor and gave them the website address to your website because they too were also looking to purchase their own turkey fryer. Your site also has a lot of items I plan to purchase in near future. Thank you ever so much for this OUTSTANDING deal on this turkey fryer complete kit.
Leave a review of this product!
If you've used this product, log in and leave a review to tell us and other customers what you thought about it.
Login or Register