Nemco 55200AN 1/16" - 1/2" Adjustable Easy Slicer Fruit / Vegetable Cutter
Slice fruit or vegetables in seconds
Easily adjustable from 1/16" to 1/2" thickness
Trough measures 6" x 3 1/2"
Razor-sharp stainless steel blades
Creates uniform slices of fresh produce
Quality Rating:

Perfect slices are a flick of the wrist away with the Nemco 55200AN 1/16" - 1/2" adjustable Easy Slicer fruit/vegetable cutter!
This manually controlled unit requires no electricity for operation, allowing you to slice ingredients anywhere in your kitchen, while its simple engineering and efficient operation allows any establishment to quickly prepare fruits and vegetables for salads, soups, recipes and pizza toppings.
NSF Listed

This item meets the standards imposed by NSF International, which focuses on public safety, health, and the environment.

Made in America

This item was made in the United States of America.

Nemco Original

This is a manufacturer original product and is backed by the Nemco quality guarantee.

Food Recommendation

This unit has been tested to consistently cut high volumes of lemons, lettuce, mushrooms, onions, cucumbers, green bell peppers, radishes, red bell peppers, red cabbage, strawberries, tomatoes, and zucchinis.
"Not sure why it took me so long to replace the old one! But I'm very glad I did! It cuts vegetables very uniformly and cuts down on labor. This definitely helps the bottom line. Very reasonable priced and excellent quality."
Read More Reviews
Stainless Steel Blade
The stainless steel blade can adjust from 1/16" to 1/2" slices, which results in a beautifully sliced product with each use. It is also non-corrosive for long lasting durability.
Easy to Clean
Its simple construction allows for easy disassembly and cleaning, while the cast aluminum body ensures years of reliable performance.
Simple Mounting Nut
The nut at the base is ergonomic and easy to tighten for a secure foothold, and simple to loosen for quick breakdown, cleaning, and storage of the unit.
Customer Q&A Ask a Question
Can this unit be modified to a fixed size or shredder cut?
Yes! Below are the accessories you will need to convert this unit to the given shredder or fixed size cuts.

1/8" Fixed Cut: 55261-4N Blade Assembly
3/16" Fixed Cut: 55261-6N Blade Assembly
1/4" Fixed Cut: 55261-8N Blade Assembly
3/16" Shredder: 55263-1 Blade Assembly
5/16" Shredder: 55263-2 Blade Assembly
5/32" Fixed Cut: 55261-5N Blade Assembly
7/32" Fixed Cut: 55261-7N Blade Assembly
7/64" Fixed Cut: 55261-MN Blade Assembly
Nemco Easy Slicer
This Nemco Easy Slicer is ideal for slicing fruits and vegetables. It easily mounts to countertops or other flat surfaces, and can be removed in seconds for cleaning or storage.
The Easy Slicer from Nemco is the one slicer you need to make fast, easy work of most fruits and vegetables. In seconds you can produce mounds of uniformly sliced fresh vegetables for salad bars, sandwiches, pizza toppings, and more, all with minimal training and big savings in time and labor. Its adjustable stainless steel blade provides a full range of slicing options from 1/16" to 1/2" in thickness for maximum versatility and convenience.
This instructional video is not intended to take the place of the supplied written instructions. Please take the time to read through the instructions thoroughly and become familiar with the operating and maintenance procedures.
We will be using the standard mounting base that comes with each unit. It is attached to the work table with the screws provided in the mounting kit. Also available is the Nemco easy mounting board, a handy optional accessory. The NSF-approved mounting board is held firmly to any smooth surface with heavy duty suction cup feet. It is easily removed for cleaning or storage with a simple effort-free tug on each cup's pull tab.
Now, we will begin the demonstration by sliding the Easy Slicer into the mounting base and tightening the locking screw to secure the machine. Check the slice thickness setting. Remove the adjustable slicing unit by turning the shaft lock to the left and pulling on the handle. The slice thickness is easily adjusted by holding the handle stationary and by turning the adjusting screw at the end of the adjusting shaft assembly. The thickness of the slice is indicated by the alignment of the pin in the slot and the lines on the recessed portion of the main shaft. These lines are 1/16" apart, so two lines equals 2/16", or 1/8". Three lines equals 3/16", et cetera, up to 1/2". Simply turn the thumb screw to lock in your setting on the easy-to-read calibrated gauge.
Now pull out the pusher handle, raise the cover plate, and place your produce into the trough. Close the cover plate, and gently push on the pusher handle knob while turning the handle on the rotary cutting unit in a clockwise direction. You may want to turn your handle about a quarter turn counter-clockwise before turning in the cutting direction. This will permit a running start as the blade makes its first cut. Maintain uniform pressure on the pusher handle. Heavy pressure is unnecessary and will not improve the slicing or shredding action. As you can see, it is very fast and easy to achieve very uniform slices with clean-cut edges.
The Easy Slicer was designed for easy disassembly for cleaning as follows. Turn the shaft lock assembly to the left and pull the rotary slicing unit out of the trough and leg assembly. Lift the guard off the trough and leg assembly. Loosen the locking screw and remove the trough and leg assembly from the mounting base. After cleaning, return the trough and leg assembly to the mounting base and tighten the locking screw. Slide the guard onto the trough and leg assembly, and then slide the rotary slicing unit into the leg assembly. Turn the shaft lock assembly clockwise, to the right, to lock the rotary slicing assembly into the trough and leg assembly. You will want to periodically clean the shaft lock bore with the brass brush provided with the Easy Slicer to assure that the shaft lock assembly turns freely.
To remove the shaft lock for cleaning, rotate the shaft lock assembly to the left to release the rotary slicing assembly. Slide the rotary slicing assembly out of the trough and leg assembly. Remove the guard. Pull the shaft lock pin to release the shaft lock. Pull the shaft lock out of the trough and leg assembly. Use the supplied brush to clean the shaft lock channel. (For a written version of these instructions, please refer to the cleaning instructions available online or in the literature provided with each new machine.) Replace the shaft lock into the trough and leg assembly. Return the shaft lock pin through the trough and leg assembly and shaft lock. Be certain that the shaft lock is fully seated into the channel, and then rotate it to the right, or clockwise.
To prolong the sharpness of your blades, they can be honed as follows. Remove the rotary slicing unit from the trough and leg assembly. Adjust to the maximum slice width, 1/2". Use a fine honing stone on the beveled side of the blade. Move the stone parallel to the blade's grain, and work along the curve of the blade. Be sure to maintain the original sharpening angles on the beveled side of the blade. If needed, use the hone on the flat side of the blade to remove burns. A honing stone is available from Nemco for this purpose.
In order to replace the slicer blades, remove the rotary slicing unit from the machine, as for cleaning, and secure it in a vise. Using a screwdriver, remove the flathead screws, releasing the blades. We highly recommend using cut resistant gloves during this procedure - these blades are extremely sharp.
Some of you may only require a single size cut, and an adjustable unit may not be required. Nemco offers fixed cut machines available in widths of 1/8", 3/16", and 1/4". There are also two shredder blades available in widths of 3/16" and 5/16".
Control your portions, save time, reduce your labor costs, and maximize your menu capabilities with the versatility of the Easy Slicer from Nemco. For more information about this or our other fine Nemco products, contact us at Nemco Food Equipment, or visit us online at www.nemcofoodequip.com.
Compare to Other Products
Overall Dimensions:
Width:

21"

Depth:

10 3/4"

Height:

16"

Slice Size:

1/16" - 1/2"
Resources and Downloads for
Nemco 55200AN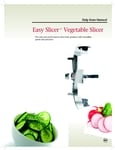 Specsheet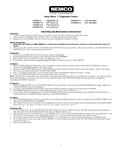 Manual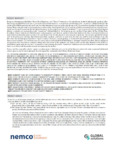 Warranty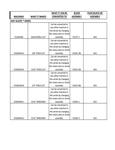 Easy Slicer Conversion Chart
A PDF viewer is required to view this product's information. Download Adobe Acrobat software
Customer Reviews
People Talk About:

slicer

Easy

cutting

prep

base

best

clean

slice

adjustable

blade

This machine is great for slicing hard products. We use it for solid onions and it slices them no trouble. The blade will stay sharp fr years. Its also nice that this version is adjustable on thickness cut

I use this to cut and slice any of my vegetables. It streamlines the process more and makes it easier to do batches. It's good to have replacement parts around.

I bought this cutter mainly to slice beets for my pickled beet product. It is a very sharp cutter and easily cuts through the toughest of vegetables. It cleans easily and is very sturdy. Adjust-ability is good and once you set your slice thickness, it stays where you set it. The blade stays sharp for a long time. The mount is very sturdy once you bolt it down to the table. You will need to do trip to the hardware store to find the right bolts to mount it to your table thickness. The main problem I have had is that with slippery items like peeled beets, they tend to turn as you slice them. Because of this, the beets you are cutting does not stay parallel to the cutting blade. By loading the hopper with multiple beets at a time, there is less tendency for the beets to turn while cutting. Even with this shortcoming, the cutter has saved me much time over slicing by hand.

worth every penny! is a time saver machine, easy to use, easy to clean, super sharp, good quality, you can get different plates for slices or shredder, i don't know why i didn't get before!

it is very useful and time saver. I liked it very much. just one thing, i would rather it slice thinner. It d be perfect.

It is worth every penny and the storage space it takes. I've sliced navel oranges, mandarins, apples, raw cranberries, cucumbers, and limes to dehydrate. The only suggestion I have is to remove the big seeds before slicing. The seeds nick the cutting blade. This is far superior to cutting with a food processor. It is easier to load than a food processor, it is easier to unload, it is easier to keep veggies or fruits from falling over and being cut the wrong direction. If you want to save time and have evenly sliced items, buy this

The nice thing about this is you don't have to burn your eyes anymore, and less wasted product. cuts onions, green peppers and other produce like breeze. best purchase.

Very durable Have had this for almost a year and just now had to replace blades. We slice tomatoes, peppers, onions with it great that it is adjustable to the size you need

Amazing! This slicer has been wonderful and has saved us so much prep time. I wish it cleaned easier but other than that this slicer is worth ever penny!

We had an old one of these that lasted almost 20 years and replaced with this same Nemco unit. The only reason why we knocked a star off is cause it seems to move around slightly more than the old one we had. We would still get this again if we needed too.

Best food slicer on the market i my opinion. Keep my fruit and veggies consistent. Just be sure to keep the blade sharp so it slices instead of juicing! Use it daily and everything stays the same. Great kitchen addition.

We love this slicer so much. It's one of the best investments we've made. It's saved so much time on prepping and the clean up is a snap. Make sure you get the portable base as well!

This nemco product works great on all items, not just veggies, which is what it is really good for. Highly recommend this product for all restaurants.

0

out

of 1 found this

review

helpful

Not sure why it took me so long to replace the old one! But I'm very glad I did! It cuts vegetables very uniformly and cuts down on labor. This definitely helps the bottom line. Very reasonable priced and excellent quality.

Love the fact that is is adjustable and is for soft fruits and hard veggies. I have a small kitchen and this slicer save me room. I do not need to have more equipment then wanted.

I purchased this along with the portable base. Definitely recommend the adjustable slicer to adjust for all vegetables. Webstaurantstore had the best prices on both.

Should have bought one of these slicers a long time ago. Makes prep work go so much faster and you can just throw it in dishwasher to clean.

This is a fantastic product. It was easy to install and is a tremendous time saver when prepping vegetables...it has paid for itself within the first month just on the prep time time savings alone. The blade is very easy to adjust. I also had my prep staff watch the short video for proper cleaning and use.

Ansolutely LOVE this! A lot easier to use, set up & clean than what I thought. Easy to keep the blade sharpened too! I wish I would have bought this a lot sooner.

Amazing slicer and a snap to clean! This is fast becoming the workhorse of our salad prep cutting table and has already replaced our other one. Unless you have the budget and space for a larger one, just get this Nemco slicer. You'll find that using this manual Nemco slicer for vegetable prep will take even less time than setting up, using, and cleaning any small purpose electric food slicer. I highly recommend the Nemco 55816 Portable Base for Easy Slicer but it's great just mounted to our cutting table. A must have for any kitchen!

This slicer has it all - we are able to blast thru all the prep items in consistent size in minutes - the staff loves it - this made everyone's day

This slicer saved us hundreds of hours on cutting veggies. The adjustable blade is a must have. We purchased this in combination with the "portable base" cutting board, also a must have!! Webstaurant had the best price on this and shipped it out super quick as usual. Best part of this slicer is how easy it is to clean, and the entire construction. It is also made in the USA I believe, which is always a plus. Will never use another slicer again as long as they keep making this one, I'll buy it for every restaurant I own!

I love this but you have to have a dedicated work station for this item so that the crew will use it. Great to setup next to a sink.

Slices thin enough compare to the push down style slicers. Slices fast and cleans very easy. You need to find the place to fix the base mount, or buy an additional base board to install the base mount. In my case, I drilled holes on one of my stainless steel work table(Not easy) and installed the base mount on it. Once installed very easy to put on and take off.

I highly recommend this slicer to anyone with a sandwich shop or anything that they need to slice any onions, cucumbers, or peppers. Not nearly as time consuming as having to cut by hand!

Nemco Adjustable Easy Slicer Vegetable Cutter is very durable , heavy duty. I use for onion, carrot, zucchini, green pepper, and even more. for my stuff love this one. easy to use, easy to clean, save time, save money.

Nemco adjustable easy slicer fruit vegetable cutter is the best for making quick work for prep work . this is the only way to go . buy one today...

This is a time saver and great equipment to have at any restaurant I don't care how big or how small, this Slicer is awesome

This Slicer saves us a lot of time and money. You can slice through pounds of vegetable in minutes. It also comes apart in seconds so it's very easy to clean.

This is the best labor saving device I have ever bought for my catering prep work. In fact, I have it my personal kitchen whenever I'm not at the other kitchen. It's fully adjustable slice width makes quick work of any vegetable or fruit I've thrown at it. Works ok with firm cheeses too.

I worked in numerous foodservice jobs over the years (in colleges, hospitals, restaurants, etc) and I would highly recommend this time saving equipment. I haven't found a fruit or vegetable that couldn't be cut smoothly and easily with this.
Leave a review of this product!
If you've used this product, log in and leave a review to tell us and other customers what you thought about it.
Login or Register