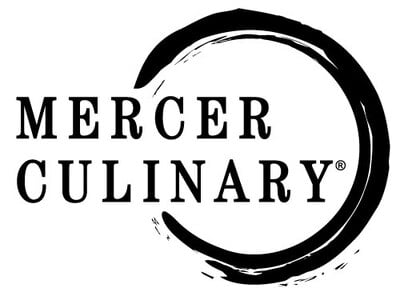 Mercer Culinary Restaurant Supplies and Equipment
Quality, Durable Cutlery at Affordable Prices
For over 30 years, Mercer Culinary has supplied North American businesses with the premium cutlery they require every day. Mercer knives are used in 90% of North American culinary academies because of their reliable quality and durability, making them one of the most recognized names in the industry. Read more
Mercer Culinary offers an extensive catalog of knives, shears, sharpeners, and kitchen utensils designed for easy and long-lasting use. They also offer knife racks and holders, specialty knives for Asian restaurants, and multiple lines of cooking tools that are designed for specific cooking techniques.

Mercer Culinary Chef Knives
Be prepared for a variety of kitchen prep tasks with a chef knife from Mercer Culinary. These products come in a variety of colors for kitchens that utilize a color-coding system.

Mercer Culinary Cookie and Pastry Cutters
Use Mercer Culinary cookie and pastry cutters to slice hot pizzas and portion out cookie, croissant, and danish dough in your pizzeria, restaurant, or bakery.