WebstaurantStore / Food Service Resources / Blog
Attracting Customers to Your Bar in the Winter
We've just about made it to the final month of winter. February is fast approaching, and for many of us, the winter blues is settling in. If you're a bar or restaurant owner, you've probably noticed a decline in customers over the past few months, because it's simply too bitter for people to want to go outside anymore than they have to. However, you have the power to defeat old Jack Frost with a single glass of Winter Jack. So, get out your notepad, and start jotting down ideas for attracting customers to your bar this winter!
No Winter Allowed!
First and foremost, if your customers are daring enough to brave the cold, snow, blistery winds, and other wintery threats, make sure once they're inside your bar, winter stays out. Is your establishment properly insulated? Do you have proper heating? If so, crank it up to a temperature comfortable enough for guests to take off their jackets and stay awhile! Maybe even consider investing in commercial patio heaters if you find it difficult for your venue to retain heat!
Hot Cocktails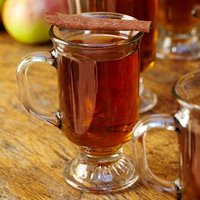 Have a set drink menu featuring warm, spiked beverages and cocktails. Whether people are looking for a drink to warm up with after shoveling the driveway, shoppers need a happy hour in between mall stops, or co-workers need an excuse for a Monday night happy hour (because, let's face it: the weekend isn't long enough), everyone deserves a tasty beverage! Consider some of these tried and true winter concoctions that are sure to get your bar filled up with thirsty patrons:
Spiked hot chocolate
Mulled spiced cider or wine
Hot Toddy
Butterbeer
Irish coffee
Tempt Them with Social Media
What are you typically doing on a snow day? Many of us remain bundled up on the couch scrolling through Facebook, liking posts of kids building snowmen, and teachers excited about delays and closings. It's easy to forget about the outside world when we're in the comfort of our own homes. It's your goal to prevent the brain freezes and warm your customers up to the idea of trekking out for a drink with friends. Why not upload tempting pictures of your staff cozied up by the fire with one of your cocktails or a craft beer? Make a post telling your followers they deserve a drink after taking the kids sledding! Offer specials and deals to encourage and give customers a reason to take off the footy pajamas and leave their toasty living rooms.
Weekly Events and Themed Nights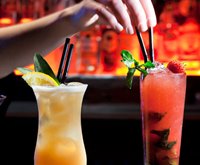 Many people appreciate routine. Start a winter trivia league that occurs every Wednesday night, or pick a night of the week your bar has the lowest attendance to get people to fill your bar stools. Be sure to offer prizes and rewards. By offering gift cards or merchandise advertising your establishment, you'll give customers an incentive to participate and spend money on drinks at your place! Another option similar to this is to make it a ritual to show the new episode of a hot new TV show every week. Create a special menu or drink that's unique to that show. And, if you're looking to catch a large weekend crowd, you could plan a summer inspired theme party on a Saturday night, and serve up fun, tropical summery drinks. Encourage attendees to wear their goggles and flippers. Why not? Once the snow melts it turns into a pool of water anyway! The ideas are truly endless. You can check out this article for even more bar marketing ideas to attract customers to your venue.
It's Game Time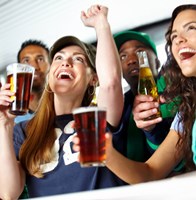 It's definitely a smart marketing choice to always have the big game on, whether it's football, basketball, or hockey, but have interactive activities, too. This encourages socializing in your bar, so customers know they always have a place to go to see old pals, make new friends, or have someone to catch the game with. Invest in a pool table, foosball table, or dart board. You can even host weekend tournaments and post the details to your social media account. Give out a free drink to the first ten teams to sign up! If you want your bar to focus on sports, we have even more ideas for you to capitalize on sports bar marketing.
Just because it's 5 degrees out, and the sidewalks are covered with salt, doesn't mean customers can't warm up in your bar, pub, or restaurant. By providing incentives, specials, and fun activities, you can start keeping the chill out and bringing customers in!