WebstaurantStore / Food Service Resources / Blog
How to Host a Mother's Day Brunch at Your Restaurant
Taking Mom out for brunch on Mother's Day is a beloved tradition for many families across the U.S.; one that's becoming more popular each year. Mother's Day is a great opportunity to show your mom (or any female role model in your life) just how much you appreciate everything she's done to help you grow into the person you've become. And if you own a restaurant, the chance to celebrate this holiday extends to include more than just your own mom, but many mothers in your community as well. It's important to plan ahead and prepare your business for a busy day of showing moms how much you care.
Why is Mother's Day Important for My Restaurant?
Mother's Day is the busiest restaurant day of the year, according to the National Restaurant Association. With more than half the country's population planning to dine out on Mother's Day, it's important for restaurants to go all out and make a fuss over moms. If your business typically only opens for lunch and dinner, consider opening a little earlier on Mother's Day to take advantage of the number of diners who will be searching for a great place to eat in the early afternoon.
Brunch items cost very little to make because many basic ingredients (like oats and eggs) can be purchased for pennies a piece. By preparing delicious brunch specials with raw ingredients, you can offer dishes at a price that's affordable for customers, while still making a decent profit for your business. So, by choosing to make a brunch rather than a lunch or dinner, there's a greater opportunity to earn more money, which is of course vital to the success of any business.
How Should I Prepare My Restaurant for Mother's Day?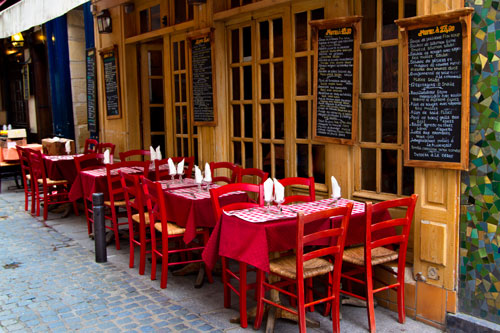 It's important for your business to prepare for the increase in traffic by purchasing more ingredients than you normally would, so there are ample supplies to last all day. Similarly, you'll want to make sure you have enough staff coverage to maintain a smooth service. It should be all hands on deck for the busiest day of the year.
Planning a special menu for the day is one way to strike up a buzz, while simplifying the process for kitchen staff, too. Choose recipes that can be mostly prepped ahead of time, so you'll only need to spend a few minutes completing each dish as orders come in. You can even opt to set up a buffet to simplify things even more.
If you have any extra space that isn't ordinarily used for seating (like a patio), you may want to purchase some folding tables to set out for the day and then store them away once your customer volume returns to normal. While folding tables may not look impressive on their own, you can easily dress them up with table cloths, vases of fresh cut flowers, and even unscented candles to create a beautiful presentation that makes the day feel even more special for your guests.
Another idea to consider is purchasing small gifts for all the moms who visit your business throughout the day. It doesn't have to be anything fancy. Even something as simple as a carnation can go a long way towards showing your appreciation to your patrons.
How Should I Promote Mother's Day in My Restaurant?
So, you have your plan in place of all the ways to make this Mother's Day great. Now how can you tell people about it?
Social media is obviously a great tool for reaching customers, on Mother's Day and every day. If you have a sizable number of followers, posting announcements on Facebook, Instagram, and Twitter is an effective way to get the word out about any events you may be planning at your restaurant. You can even create a Facebook event so that customers can easily see all the details, including your location and hours of operation.
Don't worry if you haven't built up a big social media following. Good old fashioned word of mouth and flyers can work just as well. Have your servers build hype in the weeks leading up to Mother's Day by encouraging customers to come back for your special brunch. Print out flyers and hang them in a visible place inside your restaurant. If you have a good relationship with any local community groups, ask if you can post your flyers on their bulletin boards. If you have a customizable sign outside your business, post an announcement there for passersby. Every little bit helps.
What Should I Include on My Mother's Day Menu?
Anything that can be mostly prepared ahead of time is great for keeping up with the fast pace of your busiest day of the year. As you're coming up with ideas for items to include on your menu, it's also important to think of options that will help to make the day feel more special than an ordinary day. Additionally, all your menu items should have a cohesive tone overall. For example, if your restaurant has a liquor license, offer special prices on brunch cocktails like mimosas and bloody marys. Other great Mother's Day menu ideas include:
Baked French toast- This dish is quicker than making pieces of French toast individually because it can be assembled in big pans. It can even be reheated to order. Fresh berries and cream cheese baked right in make this a sweet choice that's a twist on traditional brunch faire.
Frittata- Quicker than quiche, frittatas can be prepared with many different ingredients to satisfy customers' cravings for savory foods. Additionally, you can get creative with your toppings, offering anything from salmon and dill to tomato and cheddar. Almost anything tastes great when baked into fluffy eggs. And, similar to the French toast idea, frittatas are often easier to execute than single omelets.
Moroccan poached eggs- Offering something a little different can help set your brunch apart from all the rest. This North African dish, also called shakshuka, is a nod to the up-and-coming trend of ethnic cuisine taking center stage and will entice your more adventurous moms. Make the robust sauce ahead of time and gently cook your eggs directly in a single portion of sauce as it simmers. Served with a simple flatbread, this dish is a showstopper.
Parfait- A lighter option of yogurt, berries, and granola is a healthy choice that's as pretty as it is delicious. Parfaits also make a great side dish or dessert that's perfect as an add-on item.
No matter how you choose to celebrate Mother's Day this year, make sure you don't lose sight of the most important part: celebrating moms! Encourage your staff to take the time to wish a happy Mother's Day to all the moms who visit your business and do your best to maintain an energy of thankfulness as your service goes on. By going all out for your Mother's Day brunch, you can can get the most profits out of the busiest restaurant day of the year. But through all the hustle and bustle, make sure you find the time for your own mom, too.

Posted in:
Holidays
| By Jessica Wieser