Find the Best Gas Steam Tables for Your Business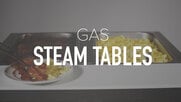 A gas steam table is a great choice for your buffet, cafeteria, or banquet hall. These products are designed to keep food warm for long periods of time, allowing you to place large amounts of self-serve entrees and dishes out for customers without needing your employees to constantly tend the buffet line. When choosing a steam table for your business, it's important to consider which types of dishes you'll be offering. If you plan on serving fried or crispy foods, an open well table that offers dry heat holding is what you need. However, if you're looking for a unit for that uses moist heat to hold steamed vegetables, pasta, and other entrees, a sealed well table is the perfect choice. You can also choose between tables with an open undershelf or an enclosed base for extra storage. To learn more about the differences between these products, explore the tabs above and the filters on the left side of the page.
Whether you're running a large-scale catered event or including some hot food options at your small buffet, we have the steam table for you. Choose your table based on its size, number of compartments, storage potential, and total BTUs. We also have options that come with cutting boards, so you can cut up some last minute ingredients or rest food pans there as you fill your table. Each well is also independently controlled for maximum versatility. Check out our spillage pans, stainless steel food pans and accessories, and sneeze guards for more essential supplies. If you're wondering where to buy gas steam tables, we have a large selection of gas steam tables for sale at the lowest prices.