What Is Ruby Chocolate?
Ruby chocolate is one of the four types of chocolate and is made from ruby cacao beans. Belgian chocolate company Barry Callebaut developed ruby chocolate in 2004 and launched it in its market-perfected form in 2017. Ruby chocolate's unique color and taste are beloved by pastry chefs everywhere who want to bring a new element to their confectionaries.
Shop All Ruby Chocolate
Ruby Chocolate Taste
Ruby chocolate's flavor profile has an intense fruitiness, specifically with a fresh berry taste and a hint of sour smoothness.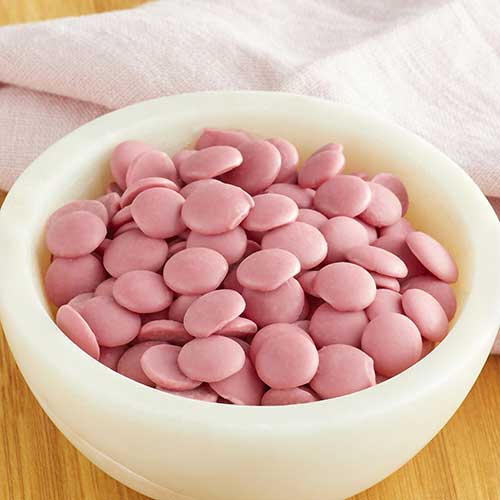 Where to Buy Ruby Chocolate
You can buy ruby chocolate from online stores, select grocery stores, or pre-made recipes using ruby chocolate from chocolate shops!
How Is Ruby Chocolate Made?
Ruby chocolate goes through an extensive bean-to-bar process:
The ruby cacao beans are grown and harvested in the Ivory Coast, Ghana, and Ecuador.
Once harvested, ruby cacao beans are fermented, sun-dried, selected, and are shipped to the Barry Callebaut facility in Belgium.
Once they arrive at the facility, the ruby cacao beans undergo quality checks and begin the process of becoming couverture (high-quality chocolate).
The beans now undergo whole bean roasting, which means they are roasted in the shell. This practice helps to preserve and develop the delicate flavors and aromas of cocoa beans.
After roasting, the cocoa nibs are separated from the shell. They are then ground into a fine cocoa liquor, where it is then mixed with the other ingredients to create a couverture dough.
The dough is refined and then conched (agitated by surface scraping) to develop the dough into a liquid as well as unify and balance the flavors.
Finally, the couverture is tempered and molded into the Callets™ and ready for packaging.
Ruby Chocolate Ingredients
Below are the ingredients in ruby chocolate:
Sugar
Cocoa butter
Non-fat dry milk
Whole milk powder
Unsweetened chocolate
Soy lecithin
Natural vanilla flavor
How to Use Ruby Chocolate
Because ruby chocolate has a medium flow and viscosity, it can be used in a ton of different recipes. Here are some ways you can use ruby chocolate:
Chocolate work
Mousses
Pastry cream
Ice cream
Cheesecakes
Dessert sauces
Icings
It's recommended to use ruby chocolate as purely as possible to really let the chocolate shine on its own, meaning that tempering and using it for chocolate work is best. Something to note: when baking with ruby chocolate, the vibrant pink color tends to fade a bit, but you can use natural food colorings like beetroot powder to bring back the pink hue.
For ruby chocolate recipes, check out Callebaut's website for traditional and unique ruby chocolate recipes to make.
What to Pair with Ruby Chocolate
Because ruby chocolate's taste is so unique yet universal, ingredient pairing can range from traditional flavors like different types of vanilla to unexpected flavors like global cheeses or different tropical fruits. Here are ingredient pairing ideas for ruby chocolate:
Almonds
Pistachios
Strawberries
Raspberries
Stone fruits
Passion fruit
Currants
Cherries
Rose
Dessert wines
Champagne
Beers
Caviar
Goat cheese
Camembert
Honey
Vanilla
Basil
Mint
How to Store Ruby Chocolate
Chocolate is sensitive to air, light, humidity, and can soak up other strong smells that are nearby. To avoid all of these mishaps, store your ruby chocolate in an air-tight container that is not see-through, or at the very least opaque. The chocolates should be kept in a cool, dark corner away from light. Never store chocolate in the refrigerator. If not stored properly, ruby chocolate can turn to a grayish color.
Is Ruby Chocolate Vegan?
No, ruby chocolate is not vegan. However, ruby chocolate is vegetarian-friendly!
Is Ruby Chocolate Gluten-Free?
Yes, ruby chocolate is gluten-free. It is processed in a facility that does not have gluten or wheat present.
As the fourth type of chocolate after dark, milk, and white, ruby chocolate has a lot to live up to. Between its brilliant color and unique flavor, ruby chocolate creates a whole new confectionary experience for pastry chefs. It also makes a great gift for bakers who want to try this chocolate for the first time, or simply can't get enough!
Posted in:
Product Spotlights
|
Bakeries
| By Val Goodrich