What is Fondant Icing?
You may have seen fondant-covered cakes on popular baking shows or at weddings you've attended. If used properly, fondant gives cakes a smooth, seamless covering that makes the perfect blank canvas for further decoration. While similar in purpose to buttercream and traditional European marzipan, fondant has little flavor and may even be removed from baked goods before eating. Below, we explain what fondant icing is, what it's made out of, and what else it's used for.
Shop All Fondant
What is Fondant?
Fondant is an icing that is used to coat cakes and other baked goods. Typically, it is rolled into thin sheets and then draped over the cake's surface in order to create a smooth presentation. This coating is prized for its ability to withstand temperature changes better than buttercream and also for the blank canvas it creates when it comes to decoration.
Fondant can also be sculpted to create three-dimensional decorations. Sometimes it is used with molds or rolled to make flowers. Plus, fondant comes in several colors and flavors, and plain fondant can easily be customized with food coloring and flavoring. As a result, many bakers choose this icing for its versatility.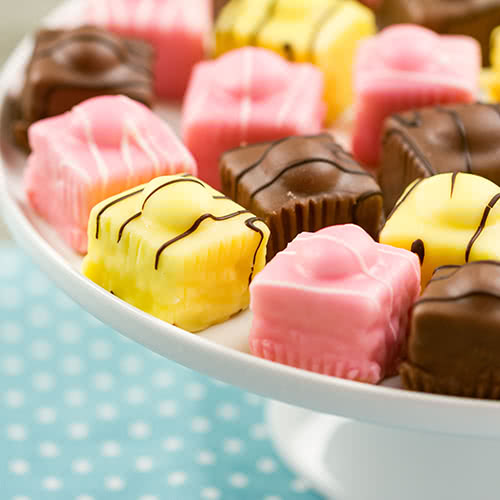 What is Poured Fondant?
Poured fondant is a liquid icing that is poured over baked goods to give them a smooth finish. It is made similarly to rolled fondant, but it contains a higher ratio of liquid in order to thin it out. After pouring, it requires time to dry and set to prevent smudging. This type of fondant can also be thickened and used to fill candies and pastries. Many chocolatiers use flavored fondants to fill their chocolates, and you may also find it inside eclairs as an alternative to pastry cream.
What is in Fondant?
Fondant is made of sugar, water, and corn syrup. More structured fondant for sculpting usually contains gelatin as well. Some bakers also choose to use marshmallow fondant on their cakes, which is made from melted marshmallows, powdered sugar, and water.
Is Fondant Edible?
Yes, fondant is 100% edible. In the media, you will sometimes see fondant being removed from a baked good before it is eaten, but this is simply because some people don't like the flavor or texture of this icing.
What is Fondant Cake?
Sometimes, the term "fondant" is used to refer to certain types of baked goods themselves. Especially in the UK and France, the term "fondant" can be associated with a type of chocolate cake that is molten in the middle, like what Americans call chocolate lava cakes. Fondant fancies, or small cakes that are coated in poured fondant, are also popular in parts of Europe. In the US, though, "fondant cake" generally denotes a cake that has been coated in fondant rather than buttercream or another icing.
If you want your cakes to have a seamless and professional look, fondant is a great finishing touch. This sugar, water, and corn syrup mixture can be manipulated into three-dimensional shapes and even thinned to a liquid for dipping and pouring. Overall, this versatile coating allows bakers to express a lot of creativity with their confections.

Posted in:
Bakeries
| By Christine Potts