British Desserts You Can Add to Your Menu
There's a lot to be said for American bakery classics like the humble jelly donut or the beloved chocolate chip cookie, but there's a world of bakery items out there waiting to be discovered. Thanks to the popularity of the TV show The Great British Bake Off, or The Great British Baking Show as it's known in the States, Americans are now being exposed to traditional British desserts.
Have you ever wanted to add classic British bakery items to your dessert menu or bakery case? Whether you're opening a new bakery or revamping your current offerings, read on to learn about some of the most popular Great British Baking Show recipes and how you can incorporate them into your menu.
Desserts From the Great British Baking Show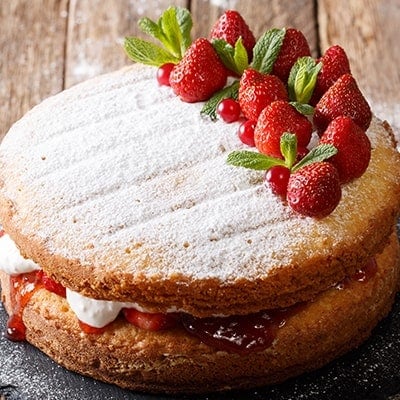 We've made a list of the most iconic British bakes from your favorite show:
1. Victoria Sponge Cake
The Victoria Sponge sandwich cake is the quintessential British dessert. It consists of a layer of whipped double cream and a layer of raspberry or strawberry jam, sandwiched between two feather-light vanilla cakes.
In order to bake the perfect sponge, you must ensure that the cake mixture is light and full of air. To retain air in your batter, use room temperature ingredients and fresh eggs. Make sure to sift your dry ingredients and don't overmix the batter.
---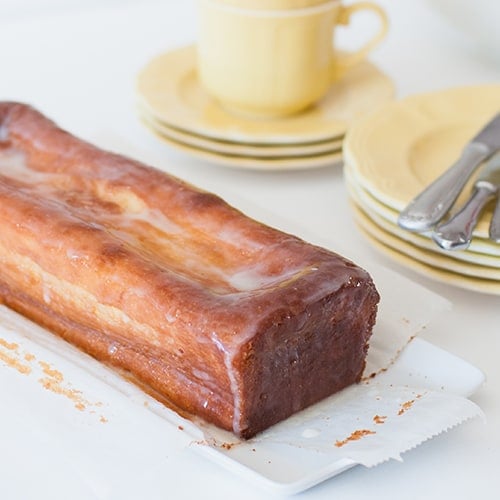 2. Lemon Drizzle Cake
A British tea time favorite, lemon drizzle cake doesn't take a lot of time to prepare, so it's a great dessert for beginners to test their baking skills. First bake a lemon sponge in a lined loaf bread tin. Then, while the cake is still warm, prick the surface all over with a fork.
Drizzle a mixture of caster sugar and fresh lemon juice all over the top of the cake. The glaze moistens the cake and forms a crunchy topping as it cools. This lemony-sweet cake will keep in an airtight container for 3-4 days.
---
3. Chelsea Buns
The Chelsea bun is made with yeasted dough and shaped into a swirl pattern, which makes it look very similar to a cinnamon bun. A major difference between the two is that the Chelsea bun gets a generous helping of dried fruit like currants, raisins, apples, or apricots before the dough is rolled and cut into individual buns. The key to fluffy buns is to let the dough rise once after kneading and a second time after shaping.
Chelsea buns were considered a hot item when they were invented by the Chelsea Bun House in the early 1700s.This traditional spiced fruit bun has seen a resurgence thanks to being highlighted on the Great British Baking Show.
---
4. Sticky Toffee Pudding
This classic British dessert consists of a dense cake made with dates and drenched in a rich toffee sauce, usually served with cream or custard. Traditional recipes call for Demerara sugar, a partially-raw brown sugar with large crystals and a subtle molasses flavor.
If you don't have Demerara on hand, you can substitute Turbinado or light brown sugar. Use a muffin pan to produce single servings of pudding for your guests.
---
5. Bakewell Tarts
There is some debate over how to make the perfect Bakewell tart. Should it be iced or not? The traditional Bakewell tart begins with a shortcrust pastry shell, a layer of jam, followed by frangipane filling. It's then sprinkled with flaked almonds and a dusting of confectioner's sugar. The addition of icing and a candied cherry changes the dessert from a traditional Bakewell tart into a Cherry Bakewell, according to supporters of the traditional recipe.
Fans of the Great British Baking Show may remember the infamous episode where contestants were tasked with making a Bakewell Tart topped with icing instead of almonds. Former host, Mary Berry, makes her version of the tart with feathered icing for a unique presentation.
---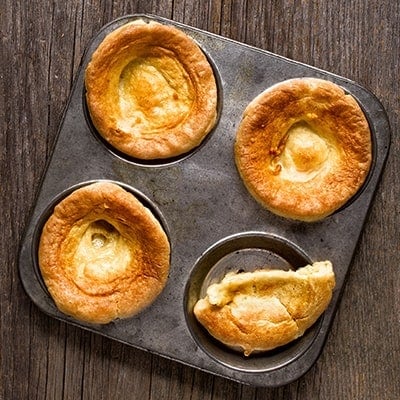 6. Yorkshire Pudding
Possibly one of the most mysterious British baked goods, Yorkshire puddings are neither a pudding or a dessert. The signature "Yorkie" is a puffy roll with a cup-like shape, perfect for holding gravy. It's usually served alongside a dinner of roast beef.
There are many theories about how best to achieve the signature shape of the Yorkshire pudding, including letting your batter rest before baking and using a hot pan. It might take some experimentation before you get the perfect pudding but the results will be worth the effort!
---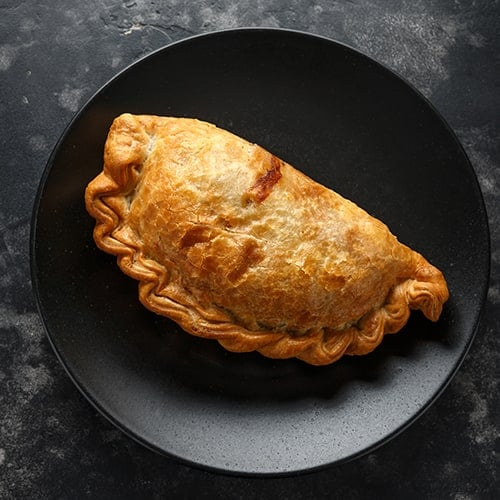 7. Cornish Pasties
A pasty (pronounced past-ee) is a hand pie made of shortcrust pastry and sweet or savory fillings. The dough is shaped into a semi-circle, crimped on the side, and baked. Unlike other pastries that require a delicate, flaky shortcrust, the pasty needs a sturdy crust that will hold its shape. Kneading the shortcrust ensures it will be strong enough to support the heavy filling inside.
The traditional Cornish pasty filling is made of beef, potatoes, onion, and rutabaga. To be considered a Cornish pasty, the handpie must contain these exact ingredients in the correct ratio. The strict guidelines for making this authentic hand pie are due to its protected designation of origin. If the recipe isn't followed exactly, it cannot be labeled as a Cornish pasty.
---
8. Millionaires Shortbread
Millionaires shortbread is made with a shortbread base, followed by a layer of caramel filling, and a thick topping of chocolate ganache. When all the layers have set, the dessert is cut into squares or bars.
This layered dessert actually comes from Australia, where it's known as caramel shortbread or caramel slice. The nickname "millionaires shortbread" was adopted in Scotland, presumably because the dessert is so rich.
---
Glossary of British Baking Terminology
These are words that you may have read in a British recipe or heard on The Great British Baking Show. Before you get started with baking your first Victoria Sponge or Swiss Roll, familiarize yourself with these terms so you can follow the recipe successfully.
Bicarbonate of Soda - Bicarbonate of soda, or bicarb soda, is the same thing as baking soda. It's a leavening agent used to make your baked goods rise.
Biscuit - British biscuits are what Americans refer to as cookies or crackers. They are small, firm baked goods that can be sweet or savory. Digestive biscuits are similar to a graham cracker and are served with tea.
Caster Sugar - Caster sugar has a finer consistency than granulated sugar but it's not as powdery as confectioner's sugar. It's a common ingredient in the UK but not widely available in the US.
Creme Pat - The full name for this classic vanilla-flavored custard is creme patissiere. It's commonly used as a filling for pastries, cakes, or tarts.
Choux Pastry - Choux pastry, pronounced shoe pastry, is a light dough that relies on steam to rise. The high moisture content of the dough evaporates as it bakes, creating air pockets that can be piped with fillings.
Icing Sugar - Icing sugar is finely ground sugar with a powdery consistency. In the US, we call it confectioner's sugar or powdered sugar.
Prove - To prove your dough is to let it rise. Proving or proofing is the period when the dough becomes aerated by the activated yeast, causing it to grow in size.
Pudding - In America the word pudding refers to custard, but the British meaning is not so clearly defined. Most commonly when the word pudding is used by itself, it's a generic term for dessert. It's also used to denote a sweet or savory dish that has been steamed or boiled, like Christmas pudding.
Self-Raising Flour - Self-raising flour is the same thing as self-rising flour. It contains baking powder and salt so it provides a good rise to baked goods.
Sponge - The word sponge is sometimes used interchangeably with cake, but specifically refers to a cake made with butter, sugar, eggs, flour, and a rising agent to make the texture light and airy.
Strong Flour - Strong flour is the same thing as bread flour or hard flour. It has a high gluten content and requires strong kneading. Different types of flour yield different results and strong flour is the best choice for crusty, chewy breads.
Suet - Suet is animal fat that comes from around the kidneys of a cow or sheep. It's prized because of its high smoke point, which makes it suited to baking pastry and puddings.
Sultanas - Sultanas are made from dried seedless white grapes and look like small, golden raisins. They are more plump and sweet than raisins.
Treacle - Treacle is the equivalent of molasses, a byproduct of sugar refining. There are two types of treacle used in British baking, light treacle and black treacle. The light form is gold in color and can replace maple syrup or honey. Black treacle is thick, dark, and richly flavored.
British Weight Conversions
While following a British recipe, you'll notice that ingredients are measured by weight and not volume. In the US, we use measuring cups and measuring spoons, but the rest of the world relies on a kitchen scale to make sure they have the exact amounts needed. Baking requires a high level of accuracy and using a kitchen scale is the best way to ensure that you get consistent results every time. Weighing your ingredients is highly recommended, but here's a cheat sheet to get you started.
| | | | | | | |
| --- | --- | --- | --- | --- | --- | --- |
| Ingredient | 1 Cup | 3/4 Cup | 2/3 Cup | 1/2 Cup | 1/3 Cup | 1/4 Cup |
| Flour (unsifted) | 120 grams | 90 grams | 80 grams | 60 grams | 40 grams | 30 grams |
| Flour (sifted) | 110 grams | 80 grams | 70 grams | 55 grams | 35 grams | 27 grams |
| Granulated Sugar | 200 grams | 150 grams | 130 grams | 100 grams | 65 grams | 50 grams |
| Icing Sugar | 100 grams | 75 grams | 70 grams | 50 grams | 35 grams | 25 grams |
| Brown Sugar | 180 grams | 135 grams | 120 grams | 90 grams | 60 grams | 45 grams |
| Butter | 240 grams | 180 grams | 160 grams | 120 grams | 80 grams | 60 grams |
| Sultanas | 175 grams | 150 grams | 130 grams | 100 grams | 65 grams | 50 grams |
Now that you've brushed up on the basics, you're ready to tackle some British recipes! Impress your customers with a bakery case filled with beautiful cakes and desserts they've only seen on TV.

Posted in:
Foodservice Trends
|
Bakeries
| By Michale Ferguson