WebstaurantStore / Food Service Resources / Blog
Should Your Ice Cream Shop Stay Open This Winter?
When the ground is frozen and the air is chilled, cravings for cold ice cream treats tend to diminish. Many ice cream parlors see a decrease in traffic and a loss of profits during winter months. But, of course, there are many factors that contribute to the decision of whether to stay open for business or close your ice cream shop for the winter.
Read on to explore how you can still make a profit by staying open, and how to best use your downtime if you chose to close for the season. You can use the following links to navigate through the sections:
Why You Might Keep Your Ice Cream Shop Open This Winter
It may seem counterintuitive to keep an ice cream shop open through winter, however, there are some reasons why you might choose this option for your establishment.
Location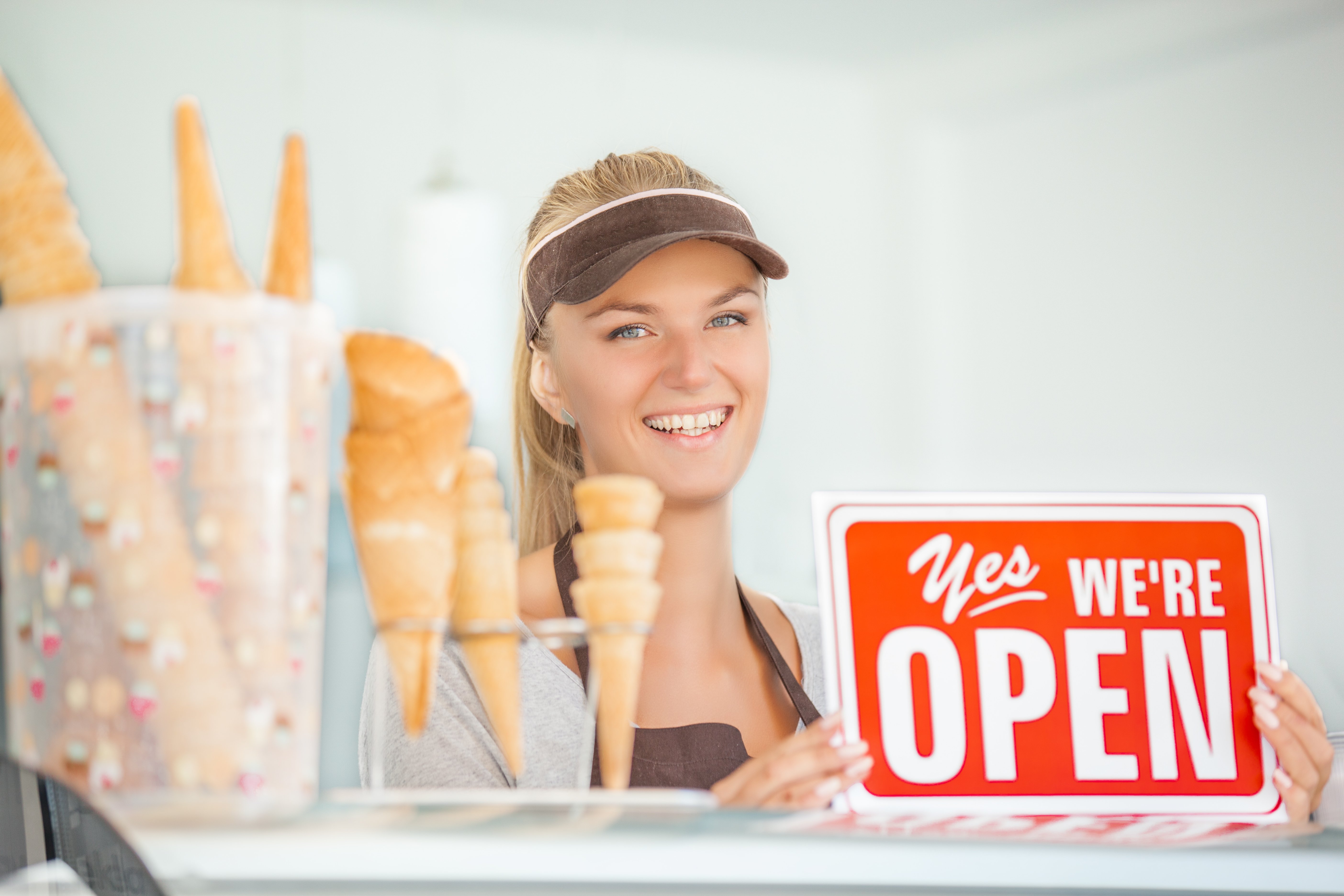 It may sound obvious, but the geographic location of your business plays a big role in whether or not you should keep your doors open all winter long. Of course, regions of Florida, California, and other states rarely, if ever, see snow. These are places where the rest of the country goes to escape winter and going out for ice cream is just another way your guests can indulge in imagining that it's still summertime.
Paying Rent
Some ice cream shop owners have found that it's in their best interest to remain open year-round because they need to pay rent on the space regardless of whether or not they're open for business. In these circumstances, ice cream business owners have found that adjusting their menus held them get through the cold months of winter.
Recognition
Although not many people think about going out for ice cream in the winter, some do. Various customers look to ice cream for celebrations or to satisfy a sweet tooth. Staying open in the colder months means that they still have access to your location while other shops may be closed.
You may choose to continue operations at your business in order to keep your name in the forefront of customers' minds so that they do not forget about you when the busier days of summer roll around. By keeping your location available in the winter, you may create some loyal customers year-round.
How to Successfully Keep Your Ice Cream Shop Open This Winter
If you're looking for helpful ideas on how to prepare your shop for winter and make the most of your ice cream business, consider implementing a few of these tips:
Have seasonal hours of operation. If your shop is open 5 days a week during the summer, try staying open just on weekends in the wintertime. Or instead of being open 7 hours a day, cut back to 4 hours. This helps keep your business in customers' minds while still creating a demand due to your limited hours. You can also bring in some cash while saving on operating expenses during the week.
Only hire seasonal staff during busy months. During the winter months, you can reduce your staff size due to the decrease in demand. If you're an independent business owner, you can oversee your own shop in the slow season, reducing payroll expenses.
Produce less ice cream in the winter. It makes sense that if your hours and staff are cut back, you should make sure to cut down on your ice cream flavor options and quantities, too. You'll have less product to worry about selling, while still keeping the old favorites on hand for your die-hard fans.

Try creating seasonal flavors. Offering unique flavors that are only available for a limited time is a great way to create some hype around your business. Some great ideas for winter flavors include candy cane, gingerbread, and eggnog. You can even use your regular vanilla ice cream to create an innovative milkshake flavor by adding flavored syrups.
Package to-go containers of ice cream. While going out for ice cream may not be as popular during the winter, people will still have birthday parties and other occasions where ice cream is served, so giving your customers the option of taking your product with them can broaden the potential for your sales. This can be in the form of pre-packaged pints or ice cream cakes.
Offer seasonal promotions. Keep your customers engaged with your business through advertisements or social media by offering discounts during the winter months. By reducing your prices, customers may be encouraged to purchase more often.
Make menu adjustments. You may choose to broaden your menu or change it entirely during the wintertime. One option is to add a warm drink menu including hot chocolate, coffee, and hot cider for customers to warm up with. Another alternative would be to include seasonal desserts like pumpkin pie, apple pie, or warm brownies that naturally pair well with ice cream. If you feel that offering ice cream in the wintertime may not work for your business, consider rebranding for the season and offer a new menu altogether with the possible inclusion of seasonal soups like pumpkin, barley mushroom, split-pea, or lentil soup.
Back to Top
Why You Might Close Your Ice Cream Shop This Winter
If your ice cream shop is located in an area that is either sparsely populated or relies on the summer tourist crowd, you may want to consider closing your doors when the snow starts to fall. Additionally, if the rent for your shop is inexpensive enough, it may wind up costing you more to staff your business than if you simply covered the cost of renting your dormant shop.
The best way to approach this decision is to sit down and take a look at your finances. If it will cost you more money to staff your establishment, it's probably a good idea to take a break and spend the season planning out your summer.
How to Use Your Downtime Productively If You Close Your Ice Cream Shop This Winter
If you do decide to close down during winter, there are a few different ways you can stay productive and ensure a successful reopening in the spring.
Brush up on industry trends. The foodservice industry is constantly changing and any business owner knows that keeping up with the competition is an important part of the job. Winter is a great time to do some research. Spend some time going to food shows and conventions, or read articles on the subject. Even something as simple as visiting new ice cream shops that may have opened recently can help give you a better sense of whether or not you're keeping up with trends.
Brainstorm new marketing strategies to try. You can get involved in local events, host musicians or other acts at your shop, or organize some other activities that will help customers get acquainted with your brand. Some ideas might include an ice-cream-making demonstration, or a flavor development session that's open to the public. Anything to help people become more familiar with and invested in your brand can help boost sales in the summertime.

Sell your ice cream to other businesses. Try distributing gallons of your handmade ice cream to other restaurants in your area, so they can include your product on their dessert menu. Creating a partnership with other local business owners can help to create a sense of comradery within your foodservice community. Selling your product in new places is a great way to reach new customers that will keep you in mind when the snow thaws again.
Developing new flavors. Customers will always have their old favorites, but they love trying new things too! Use your winter to come up with exciting new combinations and test them out before introducing them to the public. This way, you can begin your summer with a whole set of new flavors to rotate and keep your ice cream supply interesting.
Prepare for summer. A decrease in traffic is inevitable during colder seasons, but that doesn't mean this time is wasted. You can spend your free time organizing summer events, producing marketing materials, or purchasing nonperishable supplies to use when it's finally warm again.
Back to Top
If you're an ice cream shop owner, there can be a lot to consider when it comes to closing or staying open during the winter months. You may choose to poll your customers to gauge their interest in ice cream availability as the days grow colder and shorter. Whatever you decide, if you find that it didn't work for your business this year, you can always try something else next year!

Posted in:
Management & Operation
|
Seasonal
| By Janine Jones