WebstaurantStore / Food Service Resources / Blog
Top 5 Ways to Drink Apple Cider this Fall
Apple season is here! This is the time of year when apple pie, cobbler, cake, and crisp are all popping out of ovens. From caramel apples to apple coffee cake, we can't get enough of this sweet fruit, especially when fall begins. This season also commences apple-cider-drinking time. A warm cup of cider on a crisp fall day is sure to warm your customers from the inside out and provide a treat to satisfy their sweet tooth.
Can you smell the cooking apples, the spices, and the sweetness in the air? If you answered "No," try one of these top apple cider recipes to experience it. You and your taste buds won't regret it.
Classic Apple Cider
To get started on your recipes, you'll want to make classic homemade cider. This is one of many traditional ways to make your hot apple cider. It will warm you up as the days get colder, and the aroma of apples will make your restaurant or cafe smell amazing.
Recipe
6 - 10 apples
1/2 - 1 cup sugar
4 tbsp. cinnamon
4 tbsp. allspice
Instructions
Quarter apples and cover with water in a large pot.
Wrap spices in cheesecloth. Add spices and the sugar to the pot.
Boil on high heat for 1 hour, then simmer for 2 hours.
Remove spices, mash apples, and strain into another container.
1. Hard Apple Cider (with Rum)
For those especially chilly days (or any day, really), there's also hard apple cider. This cider is different from the effervescent bottled version. It's not carbonated and is spiked with warm and smooth rum, making it a great option for punch bowls at parties.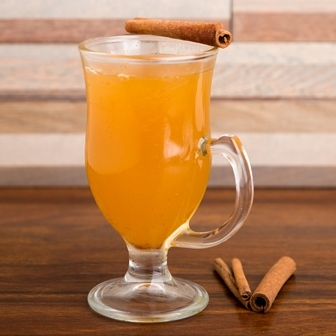 Recipe
1 apple
2 tsp. whole cloves
2 quarts apple cider
1/2 cup brown sugar
1 tsp. allspice
Pinch of nutmeg
1 cup dark rum
Cinnamon sticks for optional garnish
Instructions
Stud apple with cloves and combine it in a pot with all other ingredients, except the rum.
Slowly bring to simmer and cook for 10 minutes.
Remove from heat, discard the apple, and add the rum.
2. Orange Ginger Apple Cider
Ginger and orange blend together very well and evoke a holiday feeling. Although the holidays aren't quite here yet, you can get started early with this spiced apple cider.
Recipe
4 cups apple cider
6 whole cloves
1/2 an orange, sliced
1 inch fresh ginger, peeled and sliced
Instructions
Combine all ingredients and simmer for 20 minutes.
Strain and serve.
3. Salted Caramel Apple Cider
Decadent and sweet, salted caramel apple cider has a creamy texture your guests will get lost in! This indulgent recipe can be served as an after-dinner treat or even as a dessert topped with whipped cream.
Recipe
4 cups apple cider
1 tsp. cinnamon
1/4 cup caramel syrup or sauce
1/2 cup whipping cream
Pinch of salt
2 tbsp. caramel syrup or sauce
Instructions
Cook cider and cinnamon until warm. Add 1/4 cup caramel sauce to the mixture.
Whip cream and salt together.
Add 2 tbsp. caramel sauce to whipped cream and top off cups of cider with it.
4. Cranberry Apple Cider
This refreshing twist on classic apple cider blends tart cranberry juice with sweet apples. This palatable recipe is sure to be a crowd pleaser, and the rich color emulates the changing color of the leaves! You can even add some fresh cranberries on top for extra color.
Recipe
2 quarts apple cider
1 1/2 quarts cranberry juice
1/4 cup brown sugar
4 cinnamon sticks
1 1/2 tsp. whole cloves
Instructions
Combine all ingredients in a pot and simmer for 15 minutes.
Garnish with orange slices and cranberries, if desired.
5. Spiked Pumpkin Apple Cider
Everyone loves pumpkin in their cakes, scones, coffee, and beer. In fact, you can find pumpkin and pumpkin spice in so many foods and beverages, it's surprising that pumpkin apple cider isn't more popular. Serve this cider at your bar during the holidays or offer it as your specialty drink of the fall season.
Recipe
1 1/2 oz. pumpkin puree
1 1/2 oz. vanilla vodka
2 oz. apple cider
1 1/2 oz. ginger beer
Instructions
In a cocktail shaker, add ice, pumpkin puree, vodka, and apple cider.
Shake and strain into glass, then add ginger beer.
With these recipes, you can expand your menu offerings and entice customers to come inside your business on colder days. Whether guests are seated at your dining tables or at your bar, a fresh cup of classic apple cider or a not-so-traditional option will revive them. Happy fall!

Posted in:
Recipes
|
Seasonal
| By Melissa Walters