Can Liner Guide
Choosing trash can liners may seem as simple as finding ones that will fit your trash can. However, there are a handful of terms with which you should become familiar, ensuring that your can liner selection will provide the best result at the best price!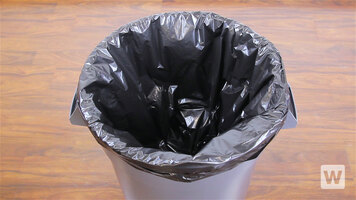 Li'l Herc Low Density Trash Bags
Watch this video to learn more about why Li'l Herc trash bags are the ideal solution for your garbage removal needs. Featuring strength and durability, these trash bags are a reliable and affordable way to hold and transport even the heaviest loads!
Collect Trash and Maintain a Sanitary Establishment with the Proper Garbage Bags
No matter what type of establishment you operate, we have the garbage bags you need to accommodate waste and maintain a sanitary environment. Choose from wholesale garbage bags of different capacities, styles, and material compositions to find the best choice for the type of trash that's produced in your business.
Our selection of garbage bags includes low and high density options, depending on how much strength and flexibility is required to effectively hold the waste produced by your business. Low density bags have thicker gauges and offer the most durability and puncture-resistance, making them great for heavy-duty trash. High density bags are better suited for lightweight trash in your office building or restroom. You'll also find specialty bags for use in your medical facility, warehouse, or eco-friendly establishment.