Find the Best Restaurant Bar Stools for Your Business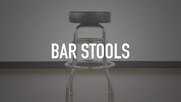 If you own a pub, nightclub, or sushi restaurant, restaurant bar stools are a smart addition to your inventory of furniture. We offer these products in both bar and counter height options, so you'll have no trouble finding the perfect stool for you. You can also choose from stools in a variety of colors, which means you can match them with your existing decor. All of these bar stools are made of durable materials like metal, wood, and aluminum, so you can rest assured they're built to last. If you're short on space, we also offer stackable restaurant bar stools that can be compactly stored when they're not in use. Whether you're looking for bar stools with arms, backless models, or products with padded swivel seats, our wide selection of chairs has you covered. To learn more about the differences between these products, explore the tabs above and the filters on the left side of the page.
Commercial bar stools usually have metal or wood frames with mahogany, natural wood, walnut, or cherry finishes. These style combinations create a polished look, while also keeping customers comfortable. We also offer ladder, slat, window, and perforated back styles, which add a touch of style and flair. For related products, check out our barstool parts and accessories, reusable plastic barware, and bar towels.
If you're wondering where to buy restaurant bar stools, we have a large selection of restaurant bar stools for sale at the lowest prices.