Types of Reusable Plastic Drinkware
Drinkware is essential for any food establishment, and when it comes to high volume restaurants, catering services, hospitals and other busy institutions, reusable drinkware is a must! Be sure to choose the perfect type of plastic for every event, whether you need BPA free for family friendly restaurants, or dishwasher safe for busy kitchens – this guide will help you determine which reusable drinkware is ideal for you!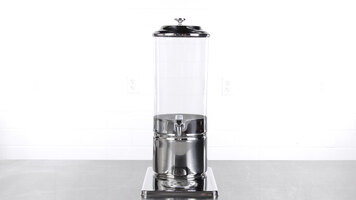 Choice Stainless Steel Beverage Dispensers
If you're looking for a durable yet stylish way to display and serve drinks, watch this short video to learn more about the features of our Choice stainless steel beverage dispensers!
Use a Beverage Dispenser to Hold and Serve Drinks at Events
A beverage dispenser allows you to set up a self-serve drink station at your buffet, catered event, hotel lobby, or cafe. Our models are available in different shapes, sizes, and capacities, so you're sure to find a drink dispenser for your low- or high-volume needs. You can also choose from dispensers of different material makeups, colors, and styles to complement your establishment's decor.
Our selection of dispensers includes both insulated and non-insulated styles. An insulated beverage dispenser is fully insulated to keep hot contents warm and cold drinks chilled throughout events. Non-insulated styles are typically more visually-appealing, but are only suitable for cold drinks like iced tea, lemonade, water, and cocktails. No matter what type of dispenser you choose, it will come with an easy-to-use spigot that enables leak-free dispensing.
You'll also find replacement parts and accessories to use with your drink dispenser. From faucets and gaskets to lids and risers, we have you covered. Accessory items like soup carriers and hand washing stations are also available to increase the functionality of your unit.