Find the Best Coffee Airpots for Your Business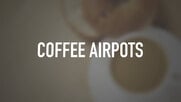 Perfect for keeping beverages hot and fresh, coffee airpots allow your customers to conveniently serve themselves. As such, they're ideal for any coffee shop, hotel, cafe, or office break room. Our stainless steel airpots offer a sleek look that complements any decor, and they're also built to last. Additionally, you can choose between black and orange dispensers to quickly distinguish between regular and decaf coffee. Glass lined coffee airpots offer the best insulation, while stainless steel airpots can withstand daily, heavy-duty use with ease. You can also choose between lever and push button dispenser types, both of which make serving hot, fresh coffee a breeze. Some of these airpots are also NSF Listed, so they're easy to clean. Available in a variety of sizes and dispenser types, finding the right airpot has never been easier. To learn more about the differences between these products, explore the tabs above and the filters on the left side of the page.
Regardless of the specific qualities you're seeking, we have an airpot that will suit your needs! Looking to set up multiple airpots at your convenience store or breakfast buffet? Choose from several rack models to give your business a more organized, professional appearance. Be sure you have a compatible coffee airpot brewer machine to brew directly into your airpots, too, and stock up on paper cups and lids and coffee cup sleeves to provide thorough service to your customers! If you're wondering where to buy coffee airpots, we have a large selection of coffee airpots for sale at the lowest prices.