Choosing a Food Service Cart Guide
If you are running a restaurant, hotel, or school cafeteria, you know the importance of having the right utility cart for the job. Whether you are transporting full bus tubs back to the kitchen or delivering meals for room service, a transport cart with the right weight capacity, caster type, and handle design can make your job infinitely easier. This guide is designed to help you narrow down the search for the best food service cart for your application by outlining factors like plastic versus metal construction, wheel types, ergonomic handle designs, and actual weight capacity.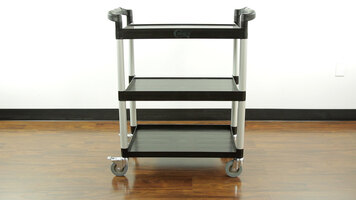 Choice Utility/Bus Cart
Our Choice utility / bussing cart provides the best in transporting goods and supplies at your restaurant, school, or office. Learn how these carts can make your business more efficient today!
Service Carts Make Storing and Transporting Items in Your Establishment More Efficient
Make the day-to-day tasks in your establishment more efficient by using the proper service carts. Whether you're operating a restaurant, bar, school, office building, or hotel, we have an option for you. Choose from portable carts of different styles, shapes, and sizes to find the best choice for your cleaning, warewashing, storing, or transporting needs. We even have carts that can be used for a combination of different tasks. Read more
If you're looking for an option for your foodservice establishment, then be sure to check out our outdoor service carts. These products can be used for front- or back-of-house applications to serve beverages, store silverware bins, or dispense condiments and flatware. You can even find mobilized hand sinks for use at outdoor catered events and cash register stands for cafes and cafeterias.
We carry service carts that make the janitorial process in your hotel, motel, or other public space less strenuous. These items are designed with plenty of storage space and can be used for holding cleaning chemicals, delivering luggage to guest rooms, and transporting dirty laundry.
You'll even find carts for use in any education institution, from elementary schools to universities.  These models are durably built and sturdy enough to hold projectors, display televisions, DVD players, and other electronics for showing movies or presentations.
Top Products