WebstaurantStore / Food Service Resources / Blog
Thanksgiving Dinner for a Crowd: How to Serve 100 People
For every Thanksgiving dinner, there's a skilled cook who worked hard to prepare the food. You've probably filled this role plenty of times, but have you ever made a Thanksgiving meal for 100 people? Cooking Thanksgiving dinner for a crowd this large takes some careful preparation. It can be difficult to find just the right amount of food to make, unless you love getting creative with leftovers. In this blog, we'll tell you how much of each dish you'll need to prepare, provide a Thanksgiving checklist and timeline to help you get it all done, and even offer some serving tips to make your dinner a success.
How Much Food Do I Need for Thanksgiving?
Here are some common Thanksgiving dishes and our suggested portion sizes. We have included some values in quarts, so you can easily compare them to the capacities of your serving pans.
Consider making adjustments to these portions based on your guests' preferences. For instance, if you know that you have a dessert-loving crowd, prepare 25 pies to allow 2 slices per person.
Thanksgiving Checklist and Preparation Timeline
If you're cooking Thanksgiving dinner for a large crowd, it's important to have a plan. Check out our Thanksgiving checklist to start preparing now.
1 Month Before Thanksgiving
Make your guest list. Find out just how many people will attend, so you can start planning how much food you'll need.

Choose your recipes. Try selecting some recipes that require the same oven temperature. That way, you can bake several dishes at once. Additionally, you can use our recipe resizer to convert your favorite recipes to a larger yield.

Ensure that you have adequate kitchen space. Once you know how many guests to expect and how much food you need to prepare, make sure that you have the space to prepare it. If your kitchen isn't suitable for such a large event, try looking into local churches, community centers, or fire halls to find a bigger kitchen that you can rent.

Order your turkeys. If you'd like to save yourself the hassle of tracking down the right turkeys just before Thanksgiving, consider ordering them ahead of time. Some supermarkets offer this service and many times, these turkeys are fresh and not frozen.
2 Weeks Before Thanksgiving
Acquire your serving dishes. Now that you know what recipes you'll be making, it is time to designate a serving dish to each of them. If you want to minimize the amount of dishes that will need to be done after dinner, try disposable aluminum food pans.

Gather your serving utensils. It's also important to make sure that you have enough serving utensils for each dish. If you're having a buffet-style Thanksgiving dinner, a shortage of serving utensils could slow down your guests' line.

Create your shopping list. Outline each recipe's ingredients, and double-check them to make sure you're not missing anything.

Clean out your fridge and freezer. Doing this ahead of time gives you plenty of opportunities to eliminate food items that will take up valuable space closer to the holiday.
1 Week Before Thanksgiving
Go on your first shopping trip. This time, purchase your non-perishable ingredients that will last until you need them the following week.

Create a plan for Thanksgiving Day. Decide when you'll start cooking and determine when your food needs to be finished and ready to serve. Follow up with any helpers to ensure that they can still do their part.

Start making some of your side dishes. This is a great time to make your pie crusts and dinner rolls. Then, simply put them in the freezer until later in the week.

Start defrosting your turkeys. If you have purchased frozen turkeys, you may need to start defrosting them now. Generally, a turkey needs 24 hours for every 4 to 5 pounds to defrost in the fridge.

Pick up the turkeys that you ordered. If you ordered fresh turkeys ahead of time, pick them up from your local farm or grocer.
Monday Before Thanksgiving
Make your second shopping trip. Buy any fresh ingredients and anything you may have forgotten to pick up on your first trip.

Make stock and bread for your stuffing. If you're making your stuffing from scratch, start assembling its elements now.
Tuesday Before Thanksgiving
Put together your brine. If you are brining your turkeys, gather the dry ingredients in your brine and combine them, so they're ready for liquid when you decide to start. You can brine a turkey for a few hours or up to 2 days, depending on the concentration of seasonings in your brine. Use a more diluted mixture to brine over a few days, or a concentrated mixture for 8 to 12 hours.

Defrost the dishes that you made ahead of time. Move your dinner rolls, pie crusts, or any other food that you made from the freezer to the fridge.

Make your cranberry sauce. Because of its high acidity, cranberry sauce has a long fridge life. Put this dish together and store it in the refrigerator until Thursday.
Day Before Thanksgiving
Make your pies. Bake them and put them aside in the fridge. By putting together your pies on Wednesday, you can free up a lot of oven space and preparation time on Thanksgiving Day.

Make your green bean casserole. Put together your green beans and their sauce, but prevent sogginess by leaving the topping off until you warm the dish for serving.

Make your stuffing and mashed potatoes. If you have time, put together these two side dishes, so you can focus on cooking only your turkeys the next day.

Label all of your serving utensils and dishes. This may seem unnecessary, but it will help any others who are helping you in the kitchen to know what food goes in which dish. You won't want to be directing your helpers when it's time to start carving all of your turkeys.

Set up your buffet or tables. If you have access to your venue ahead of time, set up your space for dinner the next day.
Thanksgiving Day
Begin cooking your turkeys. Remember that a minimum internal temperature of 165 degrees Fahrenheit is required for turkey to be safely served. Take the temperature reading from the thigh meat to ensure that your turkey is cooked through.

Bring dishes to room temperature. Remove your rolls, sides, and pies that do not require chilling from the fridge.

Let your cooked turkeys rest. Once they are done cooking, it's best to let your turkeys rest for 15-20 minutes before carving. This will help to keep the meat from drying out.

Re-heat your sides. While your turkeys are resting, put your side dishes in the oven to warm them before they are served.

Make your gravy. Now that your turkeys are done, you can make your gravy from their drippings.

Transfer everything to serving dishes. If you aren't using oven-to-table pans, move everything to the serving dishes that you designated earlier.

Set up your supplies for coffee and tea. Putting these aside before dinner will help your beverage service go much faster once dinner is over.
How to Serve Thanksgiving Dinner
Now that you know how to make Thanksgiving dinner for a crowd, here are some tips for serving your food.
Buffet or Plated?
Whether you choose to have a dinner buffet or a plated meal will depend largely on how formal your setting is. Before you decide, also consider that plating your guests' meals is more work ahead of time, but it allows you to control portions and ensure that you have enough of everything. Buffets, on the other hand, mean less work for you in the kitchen and more customization for each guest.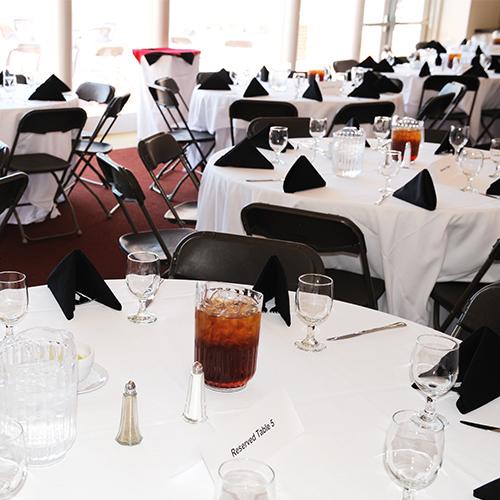 Buffet Lineup
Dishes' positions at your buffet can actually impact the portion sizes that your guests take. For example, putting the turkey at the beginning of your buffet makes your guests more inclined to take larger portions. If you put it at the end, their plates will already be full and they'll take less. Therefore, if you have any dishes that you're concerned will run out, try placing them at the end of the buffet.
Keeping Things Warm
Don't let your hard work go to waste by letting the food get cold before your guests can eat. Chafing dishes have heat sources beneath them to keep food warm as long as they have enough fuel. Alternatively, serving your foods in the same dishes that they were cooked in will also help to retain heat. You can even set up slow cookers on a low setting to keep soups and sauces warm throughout your meal.
When making Thanksgiving dinner for a crowd, the key to success is planning ahead. This month, refer to our table for serving suggestions and follow our Thanksgiving checklist and timeline to make sure that you always know what's ahead. Also, don't forget to enlist help from friends and family to get your meal on the table in a timely fashion. Lastly, make sure that you enjoy the food. After a month of work, you deserve a tasty meal!

Posted in:
Catering Tips
|
Holidays
| By Christine Potts