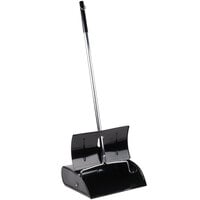 From$20.65/Each
| Reg. | Lots of 6 |
| --- | --- |
| $22.99 | $20.65 |
From$16.83/Each
| Reg. | Lots of 6 |
| --- | --- |
| $17.49 | $16.83 |
$44.25/Each
Contact us or login
for pricing
From$12.26/Each
| Reg. | Lots of 6 |
| --- | --- |
| $12.99 | $12.26 |
$52.15/Each
Contact us or login
for pricing
$29.00/Each
Contact us or login
for pricing
$43.00/Each
Contact us or login
for pricing
From$23.10/Each
| Reg. | Lots of 6 |
| --- | --- |
| $25.99 | $23.10 |
Notify me when this
product is back in stock:
$6.00/Each
Contact us or login
for pricing
Other Brooms and Dustpans
A dustpan is an essential janitorial piece in any establishment. It can be used for both back- and front-of-house cleaning applications, and it can handle indoor and outdoor messes. And, because even the smallest amount of trash can reflect negatively upon your business, it's important for your staff to maintain a clean and welcoming environment for your customers. For additional janitorial supplies, be sure to browse our mops and mopping accessories, squeegees and floor scrapers, and housekeeping chemicals. If you're wondering where to buy dustpans, we have a large selection of dustpans for sale at the lowest prices.