Find the Best Lobby and Warehouse Brooms for Your Business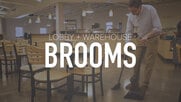 If you're shopping for new floor care supplies for your restaurant, hotel, or factory, our inventory of lobby and warehouse brooms is sure to have what you need. These products are designed to sweep away dirt and dust with ease to keep all of your hard and carpeted floors looking great. Our lobby and warehouse brooms are available in bristle materials like polypropylene, natural corn, and nylon, so you can choose one that works best for your needs. We also offer broom handles in several colors, which is perfect for color-coordinating them with other cleaning supplies. Additionally, you can choose between flagged and unflagged bristles depending on the size of the dirt particles you will typically be sweeping up. Whether you're picking up food particles in your restaurant or sawdust in your warehouse, we have the best broom for the job. To learn more about the differences between these products, explore the tabs above and the filters on the left side of the page.
Each lobby broom we offer is designed to grip, pull, and remove dust particles while catching larger items, so you can keep your facilities spotless. Choose from options with flagged or unflagged bristles, depending on the type of dirt or debris you need to sweep up. You can even find replacement brush heads that you can attach to your current broom handle. This way, you don't need to replace the entire broom every time. For additional products to go with your brooms, check out our dusters, floor squeegees, and mop racks. If you're wondering where to buy lobby brooms and warehouse brooms, we have a large selection of lobby brooms and warehouse brooms for sale at the lowest prices.