Learn About Table Tops to Choose the Best One for Your Business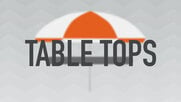 If you're shopping for new table tops for your restaurant, bar, or banquet hall, our inventory of products is sure to have what you're looking for. We offer table tops for both indoor and outdoor use, and you can also choose from products in rectangular, round, and square shapes. Additionally, these table tops are available in a variety of colors and finishes, so you'll be able to match them with your existing furniture, decor, or color scheme. All of our table tops are also made of durable materials like resin, laminate, and melamine, which means you can rest assured that they're built to last. Because we offer these products in a variety of sizes, you'll have no trouble finding table tops that allow you to seat two-tops, four-tops, and large parties. Regardless of the type of establishment you own, restaurant table tops are must-have pieces of furniture. To learn more about the differences between these products, explore the tabs above and the filters on the left side of the page.
When it comes to restaurant table tops, our selection of shapes, sizes, and colors are sure to have something to match your unique decor. We also offer rectangular, round, and square table tops in many combinations of lengths, widths, and diameters. A few of these tops are also reversible, which maximizes functionality. For related items, check out our linens and table covers, tabletop display items, and tabletop accessories.
If you're wondering where to buy table tops, we have a large selection of table tops for sale at the lowest prices.