Find the Best Uninsulated Beverage Dispensers for Your Business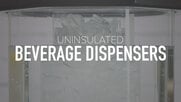 If you're looking for a stylish way to serve your buffet or catering company's signature drinks, uninsulated beverage dispensers are a smart choice. We offer these products with single, double, and triple containers, so you'll have no trouble finding the best dispenser for your large or small business. If you're looking for durable, break-resistant containers, choose polycarbonate, polyethylene, or acrylic products. On the other hand, glass and porcelain containers are more fragile, but work well at upscale catered events. You can also choose NSF Listed or dishwasher safe dispensers, all of which are easy to clean after use. Additionally, you'll find BPA free dispensers, products with ice cores and infusion chambers, and even items that come with compatible stands and label signs. Regardless of the type of business you own, uninsulated beverage dispensers are versatile, easy to use, and sure to come in handy. To learn more about the differences between these products, explore the tabs above and the filters on the left side of the page.
Whether you're looking for durable polycarbonate styles for use at your outdoor cafe, or you need quality glass options to set out in your five star hotel lobby, we're sure to have uninsulated beverage dispensers to complement your establishment's decor. These units also have removable lids, so staff can easily refill dispensers without having to carry them back to the kitchen. Select styles even include drip trays to help contain spills and leaks. To complete your beverage station, be sure to set out these juice glasses, white beverage napkins, and straws. If you're wondering where to buy uninsulated beverage dispensers, we have a large selection of uninsulated beverage dispensers for sale at the lowest prices.