Find the Best Multi-Stream Recycling Station for Your Business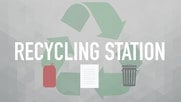 Multi-stream recycling stations are designed to simplify the recycling and trash disposal process at your establishment. You can choose from 2-, 3-, 4-, and 5-stream stations to accommodate everything from cans and bottles to organic waste and landfill refuse. Because these stations come in a variety of colors, you can also easily match them with your existing trash and recycling cans for color coding. All of these multi-stream recycling stations are made of durable materials like stainless steel and heavy-duty plastic, which means they can handle daily, high-volume use with ease. Some of these products are also ADA Compliant, so handicapped employees or guests can comfortably dispose of their trash or recycling. Regardless of the type of business you own, multi-stream recycling stations are an excellent choice. To learn more about the differences between these products, explore the tabs above and the filters on the left side of the page.
Having a recycling program in your business not only helps the environment, but it also helps improve your company's image in the eyes of eco-conscious customers. Every recycling station is sectioned for different recyclable materials, making sorting a breeze! With our large selection of stations, you'll find it's easy to provide an organized, sanitary disposal center in your office space, hotel, or cafeteria. Be sure to check out other great waste disposal options such as decorative recycle containers, trash can and recycling bin kits, and step-on trash cans. If you're wondering where to buy multi-stream recycling stations, we have a large selection of multi-stream recycling stations for sale at the lowest prices.