Learn About Outdoor Cigarette Ashtrays and Trash Receptacles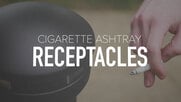 Having outdoor cigarette ashtrays and trash receptacles at your bar or restaurant allows customers to safely and easily dispose of smoking-related waste. These products cut down on litter outside of your restaurant and also reduce the risk of accidental fires from cigarettes that are not put out properly. Our selection of outdoor ashtrays and cigarette receptacles come in a variety of models and colors and are made of durable materials, so you can rest assure that they're built to last. Some also feature weather urns and are ADA Compliant to accommodate all of your guests. Additionally, you can choose between freestanding units or wall mounted receptacles that save you space in outdoor areas. If you're looking for a simpler look, we also offer several cigarette pails that don't take up much room and are easy to empty. To learn more about the differences between these products, explore the tabs above and the filters on the left side of the page.
Use an outdoor ashtray or cigarette receptacle at your food service business so customers who choose to smoke can properly dispose of cigarette waste. A cigarette receptacle keeps all used cigarettes in the same location to prevent accidental fires and to keep waste from littering your property. Our selection of cigarette receptacles boasts a number of sizes, shapes, and material types to suit your requirements for safe and sanitary cigarette waste disposal. Check out our glass and ceramic ashtrays, plastic ashtrays, and disposable foil ashtrays for more options to discard cigarette waste. If you're wondering where to buy cigarette, ash, and ashtray / trash receptacles, we have a large selection of cigarette, ash, and ashtray / trash receptacles for sale at the lowest prices.